College Football 2011: Nebraska's Reed Is Best Among Big Ten's Top 10 Tight Ends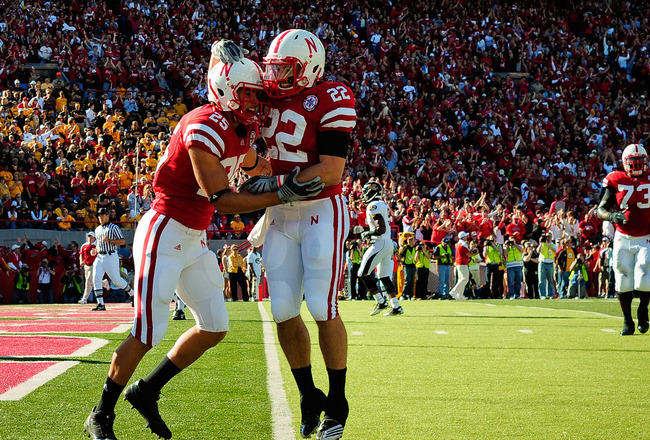 Nebraska tight end Kyler Reed (No. 25) and running back Rex Burkhead (No. 22) celebrate after Reed scores a touchdown.
Eric Francis/Getty Images
A big Cornhusker greeting to the rest of the Big Ten and, oh by the way, Nebraska's Kyler Reed will be the best tight end in the Big Ten this season.
Northwestern's Drake Dunsmore is the best tight end with Big Ten experience, but he will need to stay healthy to keep pace with Reed.
Here's how Reed, Dunsmore and the others rate as we focus on the top 10 tight ends in the Big Ten.
No. 10 Tight End: Wisconsin's Jake Byrne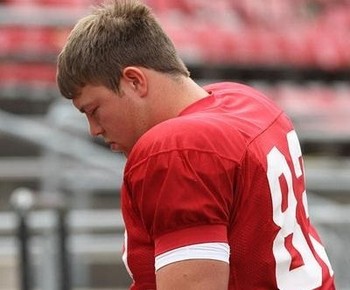 Badger tight end Jake Byrne has to replace Lance Kendricks (selected by the St. Louis Rams in the 2011 NFL draft), but he's already faced many challenges.
Byrne has type 1 diabetes. He was diagnosed in high school and by following a specific regimen has been able to play and progress in football.
This year Byrne has the regular opportunity to block for two of the conference's best running backs in James White and Montee Ball plus catch passes from Wisconsin's quarterback. Last year he caught five passes for 43 yards and one touchdown. Expect Byrne to triple those numbers.
No. 9 Tight End: Iowa's Brad Herman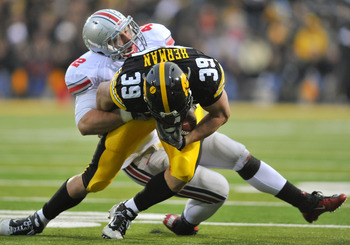 David Purdy/Getty Images
Brad Herman wants some touchdown catches this year. As Iowa's second tight end in 2010, he caught nine passes for 154 yards. That's a 17.1 yard-per-catch average, but he had no touchdowns.
This year will be different. Now that he's the No. 1 tight end for the Hawkeyes, expect three to five touchdown catches, 25-30 pass receptions and 500 receiving yards.
No. 8 Tight End: Illinois' Evan Wilson
Evan Wilson is one of two sophomores who should make major contributions to their respective teams. (The other sophomore is Indiana's Ted Bolser.)
Illinois quarterback Nathan Scheelhaase's primary receiving target will be wide receiver A.J. Jenkins this year, but he'll need a capable secondary receiver. Wilson seems to be the perfect candidate as the Fighting Illini starting tight end.
Wilson caught 10 passes for 135 yards and two touchdowns in 2010. Like other tight ends on this list, the expectation is he will triple these numbers and be a solid contributor to the Illinois offense.
No. 7 Tight End: Ohio State's Jake Stoneburner and Reid Fragel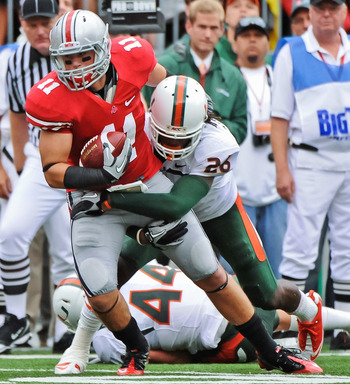 Jamie Sabau/Getty Images
One day you read that Jake Stoneburner is the next great Buckeye tight end. The next day you see an Ohio State depth chart and Reid Fragel is listed as the No. 1 tight end.
One Ohio State tight end is tough enough, but imagine opposing defensive coordinators trying to figure out how to cover two tight ends (don't put it past interim coach Luke Fickell to deploy some two tight-end sets).
Here are the 2010 numbers for these two tight ends. Stoneburner caught 21 passes for 222 yards and two touchdowns. Fragel had nine receptions, 121 yards receiving and one touchdown.
Let's consider Stoneburner and Fragel as a tight end duo and project them to have a combined 40 catches, 450 yards receiving and seven touchdowns.
No. 6 Tight End: Michigan's Kevin Koger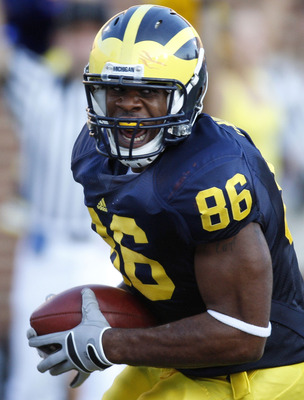 Gregory Shamus/Getty Images
Michigan tight end Kevin Koger should benefit from the new offense installed by new head coach Brady Hoke.
Under the Rich Rodriguez regime, Wolverine quarterbacks had a tendency to fling the ball toward their wide receivers.
Koger caught 14 passes for 199 yards and two touchdowns in 2010. Michigan quarterback Denard Robinson should see his tight end open more frequently in 2011. Look for Koger to finish with over 30 catches, 400 yards receiving and four touchdowns.
No. 5 Tight End: Michigan State's Brian Linthicum
Jonathan Daniel/Getty Images
Michigan State has never been reluctant to include the tight end in their offensive pass scheme. Brian Linthicum is the latest line of solid senior tight ends to star for the Spartans.
Playing behind senior tight end Charlie Gantt in 2010, Linthicum still caught 18 passes for 230 yards and one touchdown. If the Spartans hope to repeat as Big Ten champions, they will need a solid contribution from Linthicum.
Look for 40-45 catches, six touchdowns and 550-600 yards receiving from the senior tight end.
No. 4: Indiana's Ted Bolser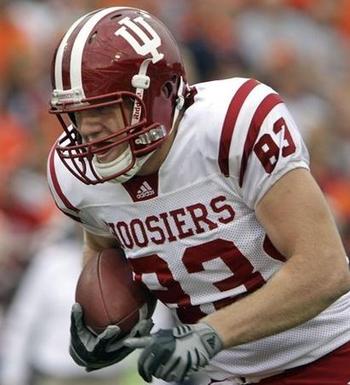 Indiana sophomore Ted Bolser is one tough 240-pound tight end. Last year he had 27 catches for 363 yards and one touchdown.
Given new head coach Kevin Wilson's passing schemes, Bolser has an opportunity to shine during the 2011 season. I suspect he'll be in the 40-45 catch neighborhood with at least 600 yards receiving and four touchdowns.
No. 3 Tight End: Minnesota's Eric Lair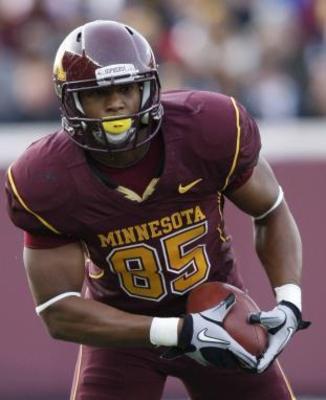 New head coach Jerry Kill is leaning on players like tight end Eric Lair, wide receiver Da'Jon McKnight and quarterback MarQueis Gray to be difference makers this year.
If Lair can improve on his 2010 numbers, the Gophers should fare pretty well.
Last year Lair caught 39 passes for 526 yards and two touchdowns in 2010. He should add six or seven catches to his total this year and finish with 600-700 yards and at least five touchdowns.
No. 2 Tight End: Northwestern's Drake Dunsmore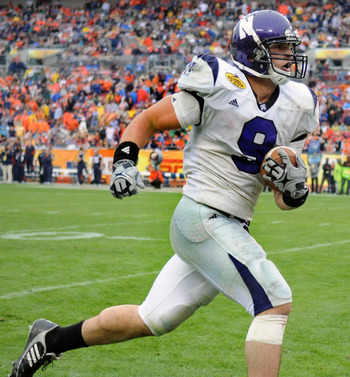 Al Messerschmidt/Getty Images
Northwestern's Drake Dunsmore provides the best competition for Nebraska's Kyler Reed among the returning tight ends in the Big Ten.
The Wildcat senior seems primed for a big season and quarterback Dan Persa is certain to throw more passes in Dunsmore's direction.
Last year he caught 40 passes for 381 yards and five touchdowns. Dunsmore should at least be able to catch 50 passes for 750 yards and score eight or nine touchdowns.
No. 1 Tight End: Nebraska's Kyler Reed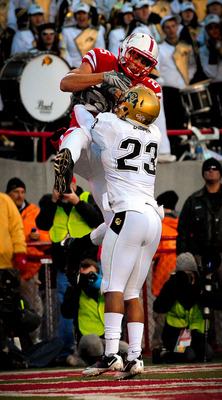 Eric Francis/Getty Images
Okay, Big Ten defensive backs, your new assignment is to cover Nebraska's Kyler Reed. I hope you're ready, because Reed led all tight ends on this list with eight touchdowns in 2010.
He caught 22 passes for 395 yards, which translates into almost 18 yards per catch. It;s like giving Cornhusker quarterback Taylor Martinez an extra wide receiver to catch passes.
Expect at least 50 receptions, 800-850 yards receiving and over 10 touchdowns for this Nebraska junior in 2011.
Keep Reading