Arsenal FC: Barcelona's Thiago Alcantara Is Not Better Than Cesc Fabregas
June 27, 2011
Laurence Griffiths/Getty Images
Before reading this article, I request you all to go through this discourse.
It's ridiculous that some fans have shown up with the notion Spain's upcoming midfield starlet Thiago Alcantara is better than Arsenal FC captain Cesc Fabregas in the wake of Alcantara's 45-yard screamer in Spain's U21 triumph.
It may sound like a bunch of sour grapes from the Barcelona lot as the Catalan club have so far surrendered to the resilience of Arsenal in holding on to their star midfielder.
The comparison itself shows how good a player Fabregas truly is and how badly Barcelona need him.

However, they still don't have him despite their continual overtures and considering Barcelona's derisory bids things will stay as it is now.

Hence, the need to satisfy the ego of Barcelona fans, and the obvious candidate for that was the prodigious talent Alcantara.

So on to the question: Is Alacantara better than Fabregas? Or at least is he as good as Fabregas?
You can laugh off the question, as it's as clear as day who's better than whom.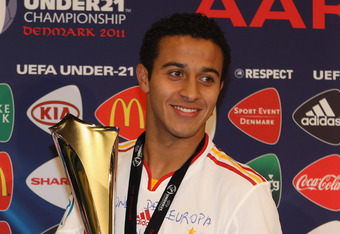 Michael Steele/Getty Images
Do remember that we're comparing a player who has excelled in the most fast-paced, rugged league in the world to a player who has caught the attention in U21 games.
See how the level of football dips, but still that didn't stop the comparison creeping up from some section of Barcelona fans under illusion. 

Some may even ask who Alcantara is!
For those few, Alcantara is a 20-year-old Barcelona midfielder, a player with undoubted potential, but still a peripheral figure.
If winning trophies makes a player better than the rest, then Alcantara is better than Fabregas. But in reality, it's not as straightforward as that.
I can show you many better 20-year-old players than Alcantara, like Lille winger Eden Hazard, 19-year-old Mario Goetze of Borussia Dortmund etc.
Why not compare Alcantara to those players? And how many of you would say those two players I've named are better than Fabregas? 
First off, a player has to establish himself in a team. He has to play regularly. He has to be consistently good in order to earn himself a place alongside the very best.
You simply can't compare a player who has achieved more in his career at the age of 24 than most players in their whole career with someone who spends more time on the bench than on the field.

There are many talented youngsters around in world football.
Talent doesn't make you one of the best. Application is important. At the same time, talent without opportunity is a waste.
Alcantara is talented without a doubt, but opportunities are far and few.
That's where Fabregas made the right choice by leaving Barcelona at a young age in search of regular first team football.
He knew he was too talented to sit on the bench for eternity and had immense faith in his abilities and had foreseen how his future would turn out if he stayed in Barcelona (would've been similar to Alcantara's had he stayed).
So, he decided to exit. Not because he wasn't talented, but he knew how to maximize his potential.
In hindsight, that was the best decision. Not because he has won a multitude of trophies, but he has progressed into a a top-notch player in one of the best leagues in the world with regular playing time, which wouldn't have been possible had he stayed at Barcelona.
At 24, now he's vastly experienced and is widely regarded as one of the best creative midfielders in the English Premier League, which is arguably the best and toughest league in the world.
Take the case of Alcantara—he's talented, but at 20, he hasn't even completed double figure of domestic games in one full season.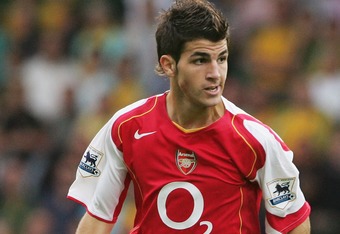 Phil Cole/Getty Images
He has played in 14 odd games for Barcelona so far, and compare that to what Fabaregas had achieved by 20.
He piled up 100 odd appearances for Arsenal by 20 and was also awarded the prestigious PFA Young Player of the Year honour before he turned 21.
That shows the magnitude of comparison between the two players which makes the comparison itself nonexistent.
People will ridicule me if I compare one of the top 10 midfielders in world football to one of the top 10 prospects. Those who make this ludicrous comparison are strolling in fool's paradise and need a reality check.

Just because a player you covet is not yours, you can't belittle his quality by comparing him with an U21 player and conclude that a prospect is as good or even better than an established star.
Jordan Henderson is better than Steven Gerrard, anybody?

One day Fabregas will depart Arsenal to replace Alcantara on the bench at Barcelona, thereby pushing the Spanish starlet further down the pecking order; until then shall we just fold up this farcical analogy?