UFC 132 Results: Questions Answered and Lessons Learned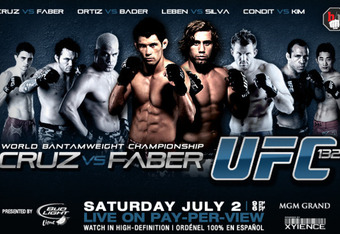 Bleacher Report's Matthew Saccaro:
The Effectiveness of Solid Muay Thai:
In the fight between Anthony Njokuani and Andre Winner the MMA community learned the effectiveness of solid Muay Thai.
Njokuani managed to pepper and brutalize Winner—who fought more like a boxer rather than a mixed martial artist—by using an array of kicks, punches, elbows, and knees.
A fighter with efficient Muay Thai like Njokuani is always a threat and now the MMA world knows this.
Wrestling is Dominant:
Aaron Simpson used his NCAA Division-I wrestling experience to grind and smother the formerly undefeated Brad Tavares en route to a unanimous decision victory.
The fight proved what dominant wrestling can do but it also proved that Tavares has managed to improve his wrestling to such a degree as to be able to stop a man with Simpson's wrestling pedigree from taking him down on many occasions; he even managed to land a spectacular slam Simpson!
Brian Bowles is Back, but not in Force:

Former WEC bantamweight champion Brian Bowles managed to best Japanese standout Takeya Mizugaki with superior grappling and striking en route to a unanimous decision but didn't look as impressive as he's looked in the past.
This was the first time Bowles has ever been taken the distance, all of his victories before this were finishes. Either Bowles is apparently loosing his edge or he is deciding to adopt a safer style.
George Sotiropoulos was Overrated
Australian George Sotiropoulos was touted as a potential candidate for a lightweight title shot when he met Dennis Siver at UFC 127. Sotiropoulos lost the fight via unanimous decision but many felt that it was a fluke and that Sotiropoulos was the real deal.
However, after UFC 132, the truth should be clear: Sotiropoulos was simply overrated as a fighter.
The Ultimate Fighter season six contestant was easily knocked out by Rafael Dos Anjos.
If Sotirpoulos is to recover from this loss, he needs to return to the drawing board and take on some lesser opponents to build up some steam again.
Melvin Guillard Needs Better Opponents:
Melvin Guillard easily dispatched his opponent Shane Roller in their UFC 132 contest. Guillard's TKO was quick, brutal and efficient.
Guillard has looked excellent in his recent fights and has proven (yet again) that he needs to be fighting against the high echelon fighters in the UFC lightweight division.
Tito is Back:
Tito Ortiz shocked the MMA world by defeating the young and promising Ryan "Darth" Bader via a guillotine choke that was set up by a devastating short right hand.
Ortiz, who hasn't beaten an opponent not named Ken Shamrock since 2006, showed that he's not a "has been" yet and can still throw down with the current generation of MMA fighters.
His unfortunate opponent, on the other hand, only showed what some in the MMA community were beginning to fear: that he was terribly overrated. Ryan Bader really didn't show too much against Ortiz other than a questionable chin and a knack for losing when the competition is stepped up.
Ortiz, due to his name value, will be catapulted up the next card he is on (probably a co-main event of a pay-per-view or the main event of a minor free card on Versus or Spike) while Bader will almost definitely be relegated to the preliminaries due to his recent failures.
Judging Needs Work:
Russian-born German kickboxer Dennis Siver was given a unanimous 29-28 decision despite being bloodied up, out-struck and severely out-grappled by his opponent Matt Wiman.
Why was Siver given the decision despite clearly being dominated? While MMA forums across the Internet will fabricate a plethora of conspiracy theories, the most likely reason is that MMA judging is still far, far away from being perfect and that MMA fans will always have to deal with a bad decision or two every now and then.
Most recent updates:
This article is
What is the duplicate article?
Why is this article offensive?
Where is this article plagiarized from?
Why is this article poorly edited?