New York Yankees: Is Derek Jeter the Greatest Shortstop in MLB History?
June 28, 2011
Jim McIsaac/Getty Images
In my lifetime, there have been very few things in the sports world that remain constant. As a New Yorker, the most important one is this: the New York Yankees will contend for a World Series banner each and every year.
It is comforting to know that there is an organization that cares about titles, especially when sharing a city with teams like the New York Mets and New York Knicks, who may be equally as consistent at losing as the Yankees are at winning.
The Yankees have been great in so many different eras, it is important go back and look at what the trends are amongst them.
The most prevalent throughout every Yankee dynasty is strong hitters and strong leaders.
Derek Jeter combines both of those things so seamlessly in his never-ending hunger for greatness.
When all is said and done, Jeter will undoubtedly be enshrined in monument park next to greats like Babe Ruth, Lou Gehrig, Joe DiMaggio, Mickey Mantle and Yogi Berra. To be mentioned in the same sentence with those legends is the greatest achievement a ballplayer could ever hope for.
But my question is, where will Derek Jeter rank in comparison to the other renowned shortstops?
To narrow it down, let's just agree that the three best are Honus Wagner, Cal Ripken Jr., and Derek Jeter.
No other shortstop can compare. Alex Rodriguez probably has the most incredible numbers of anyone to play the position, but with his proven use of PEDs, he can't be considered in any "greatest of all time" conversation until we figure out how that era will be compared historically.
Ripken's resume is phenomenal, with 19 consecutive All-Star appearances of which he was MVP twice, a two-time AL MVP, two Gold Gloves, eight Silver Slugger Awards and a World Series ring.
It's hard to nitpick on such an incredible career, but here I go.
Cal's career batting average of .276 is extremely mediocre for an all-time great. He only hit over .300 three times in seasons that he didn't miss significant time in. It is kind of fitting, though, for Ripken's career that he was never really great at any one thing; just very good at almost everything.
Also, for a shortstop, Cal's speed was extremely sub-par. Wagner collected more stolen bases on an annual basis plenty of times than Ripken took in his entire career.
In terms of fielding, which the Iron Man was very solid at, he was the weakest of the three.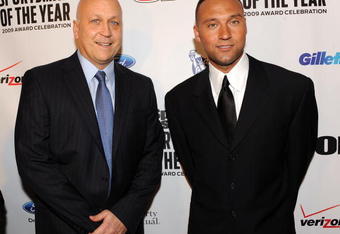 Theo Wargo/Getty Images
Jeter's five Gold Gloves more than double Ripken's two. Wagner played before Gold Gloves existed, but is widely considered to be one of the best players of his time. As the legendary player and manager John McGraw simply put it, "Hit 'em where Wagner ain't."
Well, all I've done so far really is rip Cal, which feels like a sin, but I promise, it's almost over—just one more thing.
Ripken won two MVP Awards, neither of which were against the best competition. In 1983, Eddie Murray finished second in the voting with 33 homers, 111 RBI and batted .306. Those are not very impressive MVP numbers, nor are they actually much worse than Ripken's numbers that year.
In 1991, Ripken's closest competition was Cecil Fielder. Fielder hit 44 out of the park and drove in 133 runs, but he batted just .261. And you can't vote for a guy that hit .261 for MVP.
As for Jeter, the 2006 MVP race was baffling, losing a close race to Minnesota Twins first baseman, Justin Morneau.
Jeter hit .343 with 14 home runs, 97 RBI and a .417 OBP. He was awarded a Gold Glove (say what you want about Jeter's defense now, but he was top-notch that year), and Morneau was not.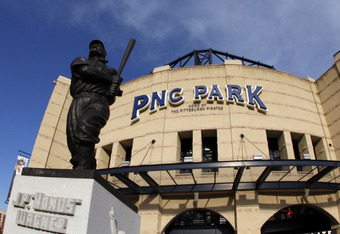 Justin K. Aller/Getty Images
Jeter's WAR (wins above replacement) was an impressive 6.3, superior to Morneau's 4.0.
Jeter was cheated; let's move on.
Jeter's five World Series championships is extraordinary. On top of that, Mr. November's career batting average is currently .312, including a disappointing 2010–and this season hasn't been any better. He's hit 236 home runs; has 1,155 RBI; 330 stolen bases; and, of course, 2,994 hits.
As Jeter slowly moves in on 3,000 hits, it's about time to analyze how he'll compare to one of the most historic players to pick up a bat; the Flying Dutchman.
Wagner became a household name for being the face on a baseball card that's worth just short $500,000; but the stats on the back of the card may actually be more impressive.
The stat line looks like this: 3,420 hits; 101 home runs; 1,733 RBI; 723 stolen bases and struck out just 734 times (571 less than Ripken and 869 less than Jeter).
Also, according to FanGraphs.com, Wagner's WAR over his legendary career was 149.8. Ripken's and Jeter's combined is 172.5, which is startlingly close.
Now, I know Hans' backup wasn't as good as the guys on the bench now, but affecting that many wins is incredible, no matter what era it is. In comparison to his contemporaries, Ty Cobb (a top-five player of all time) is the only player with a higher career WAR than him.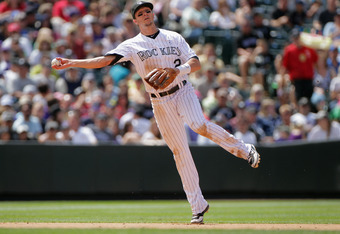 Doug Pensinger/Getty Images
While Ripken and Jeter are both superb players with astonishing careers behind them, Wagner remains untouched.
According to baseball historian and revolutionary statistician Bill James, Honus is the second-best player to step on the diamond, after Babe Ruth. He also claims that Wagner is the best defensive shortstop of all time.
In The Biographical Encyclopedia, James goes as far as to declare, "Acknowledging that there may have been one or two whose talents were greater, there is no one who has ever played the game that I would be more anxious to have on a baseball team."
That's some endorsement.
Unfortunately, the MVP Award came about on the the down side of Wagner's career, so we can't compare him to Ripken and Jeter in that regard.
Perhaps the most impressive statistic, and the number that completely ends this argument, is Wagner's eight batting titles. Eight batting titles! Unbelievable. He's tied with Tony Gwynn for second-most ever.
Also, Wagner was as tough as they came. Once, Cobb, often known as a hard-hitting and hateful player, was asked if he ever had dug his cleats into Wagner when sliding into second base. The Georgia Peach knew how unwise that would be, replying, "Spike Honus Wagner? It would have taken quite a foolhardy man."
Foolhardy indeed, Ty. Foolhardy indeed.

So, in conclusion, it is clear that no shortstop's career can measure up to Wagner's.
Even if Jeter somehow turns it around, reclaims his numbers at the top of the hits list, and leads the Yankees to more titles, it doesn't seem as though he'll overthrow Wagner.
In my not-so-humble opinion, Captain Clutch will be just a shade better than Ripken when Jeter wraps it up—but neither player approaches Honus Wagner.