College Football 2011: Stanford, Boise State and TCU, the "Ones and Dones"
July 7, 2011
Kevork Djansezian/Getty Images
(The "Quiet Guy in the Sports Bar" looks at Stanford, Boise State and Texas Christian and their hopes for the 2011 college football season.  GQ, as the "Quiet Guy" is known by the patrons of the Two Dozen Plus One sports tavern, ranks each of the three teams in the preseason edition of his Lucky 13 Top 13 poll.  "Ones and Dones" is the fifth episode in the "Quiet Guy" series.)
******
They Pass You By
Dr. Mason Bricker, professor, English literature, Charleston (W.Va.) College
Wednesday evening July 6, 2011
I have college football on my mind, and no one takes the field for two months.  That's why I like GQ, when he's around.  His Lucky 13 Top 13, The On Decks and The We Won't Know 'Tils fill my need for information.  I even have his Lucky 13 branded in my mind: Top ranked Texas Christian?  Whoa. Then, number two Boise State?  That's two non-AQ schools lining up for the national championship.  Interesting; like to find out more about his train of thought.  I have to ask him about all this next time.
My female friends would call this a man crush. I would call us Sir Toby Belch and Sir Andrew Aguecheek, drinking buddies from Shakespeare's Twelfth Night.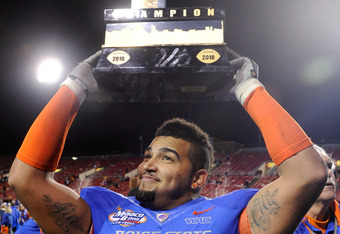 Ethan Miller/Getty Images
Anyway, GQ said in his June 12 poll that No. 3 Oklahoma and No. 4 Oregon are poised to take over if (or when?) the Frogs and the Broncos stumble.  Stanford, another interesting situation, is fifth, followed by Florida State, Nebraska, Louisiana State, Alabama, Texas, Penn State and Florida.  At the 13th spot is Wisconsin, ranked there before the Russell Wilson transfer.
******
As a regular at Two Dozen Plus One, lunch venue selection is always easy.  That's where I'm headed.
Civilized societies break for the midday meal.  A preponderance of workers in Americana wolf down microwaved Lean Cuisine in the office vendeteria while going over spreadsheets.  The nation's productivity gets a bump up, but at what cost?  Ulcerated stomach lining?
I don't know about TCU and Boise State.  Good thing they spare us the guess work.  The two 'mid major' schools play what could be one huge game on Saturday November 12.  That means one of these pesky Mountain West teams will exit the Bowl Championship Series big stage at the end of that day.
Stanford is also puzzling.  When you consider the nine long shots on the Cardinal slate before Lucky No. 4 Oregon visits Stanford Stadium (also on Saturday November 12), Stanford doesn't leave home again.  Big rival albeit also-run California visits, then capricious Notre Dame, as in 'which Irish team will make the flight,' closes out 2011.  Is this schedule really worthy of a fifth-ranked AQ team?  Or, am I off-base on this one?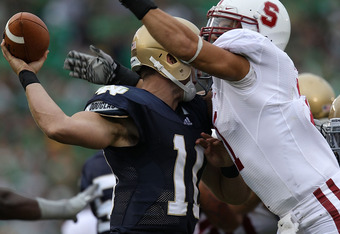 Jonathan Daniel/Getty Images
The Buick LaCross air conditioner strains to cool down the solar collector my navy blue ride has become.  Must be 150 in here. Yet another reason to look forward to autumn.
I turn the front end into an angled space.  Hey, GQ is climbing from the cockpit of his red 2012 Camaro.  Camaro.  Running a college football poll from a bar must be so cool.  I decide to wait a few minutes before my entrance.
Eddie Money's "I Wanna Go Back" thunders from my Buick's satellite radio.  An apt song.  All this talk about college football makes me want to go back to 1975 and once again cover kickoffs for the West Virginia Mountaineers.  Hit somebody, baby!
GQ borrowed the phrase 'one and done' to describe the prospects for Texas Christian and Boise State, and Stanford as well.  The BCS computers won't like the schedules.  There are one huge game and eleven not-so-much games for each.  If any of the three lose the huge game and lose a game to a not-so-much, that team could be out of the BCS bowl running, even with a 10-2 record.  'Ones and dones' indeed.
I exit my Buick and walk to the Two Dozen and One.  The door opens to the typical lunch crowd.  Sifting through the people waiting for tables, I see GQ at his designated perch, looking at the big flat screen and 25 stainless steel beer taps.
It's only been a few minutes and the pollster has papers strewn about, some in type, some handwritten.  He has an iPhone now.  First time I saw him, he had a flip device and an iPod touch.  Whatever G the iPhone is, that's an upgrade from cumbersome for GQ.
There's a bar stool beside GQ.  As I approach the bar, I notice Wimbledon is on the television.  The Championships are far beyond the news cycle, but that doesn't stop ESPN from airing the highlights of one Long Blonde from the former Communist bloc beating the other Long Blonde from the former Communist bloc.
"My man," I say.
"Yo," he replies.  We clasp hands.
"This seat taken?" I ask.
"Not at all.  How's English literature?"
"Hasn't changed in centuries.  Makes lecture planning easy."
I sit, noticing GQ's pint glass is full of the cloudy amber of a hefeweizen.  I order up a Widmer draft.  Danielle, the lunchtime lady barkeep, fetches the beer.  "Usual veggie burger, Professor?" she asks.
"And chips," I say.
"You're duller than dirt," Danielle says as she walks away.
"Good to see you again, Danielle," I say.  "And, you, too, GQ."
"Yeah, Glad to be back.  I was way out of town, but the Internet kept me up-to-date.  I Googled until my keyboard sparked, plus I took the preseason magazines from Phil Steele and The Sporting News for the long, long flight.  Greece is rather far away."
 "Pretty ugly over there," I say.  "It couldn't have been a pleasure trip."
"Can't talk about it."
Wow.  European Union or IMF.  "Can you talk about Texas Christian and Boise State?"
"And, Stanford?  All three are in the same boat seeping a leak.  They're what I call 'Ones and Dones.'"
"You used that 'Ones and Dones' in early June," I say.  "I've thought about that."
"It's a cliché to say that each team controls its destiny, and that of course is true for every team to some degree, but destiny for TCU, Boise State and Stanford means a legit shot at the BCS championship game."
"Even TCU?"
"If they pull off a 12-0, the computers and the humans have to like that."
"And, if they don't?" I ask.
"There's your one and done."
"Every game for those three is a national semifinal, especially the Horned Frogs," I say.  "After I talked with you last month, I've looked over their schedule.  The BCS computers won't like TCU's lineup.  Their most difficult game by far is Boise State in Boise.  Granted, the Broncs are tough, but all the others are not tough."
GQ looks to the television and nods.  Albert Pujols is on ESPN talking about coming back early from his arm injury.  "That could be true, on the surface," he says. "Unfortunately, TCU's first two games are on the road, and they're not cupcakes.  TCU goes to Waco to meet Baylor and robo-QB Robert Griffin III, and to Colorado Springs to battle Air Force's triple option.  All this must fall into place for the Frogs with only eight returning starters, with only five of those on defense."
"Youth has to prevail for TCU," I say. "They could be out of this early. So, GQ, why did you put them at the top?"
"Gary Patterson."
"I mean, Jeez Louise, he's good, maybe great, but you're asking a lot of Patterson.  A lot of talent left Fort Worth last season."
GQ pauses and nods at the flat screen.  Two Dozen has it on the deuce with women's World Cup soccer.  What?  "I think the coach can build the defense back around Tanner Brock and Tank Carder at the linebackers.  They were super last year, although they did have experienced d-linemen keeping guards and tackles off them.  Still, I'm going to say the TCU D is good enough to become an experienced unit before the tenth game of the season on the blue turf."
"Yeah," I say, "but can the offense score?"
"That's the big question.  Casey Pachall has to bring it at quarterback and bring it now.  Provided he has time to get a pass off, he's lucky to have Josh Boyce at one receiver and true freshman LaDarius Brown out there with him.  In fact, the receiver corps is the XZ factor for the Frogs, X meaning as a pair they're essentially unknown and Z meaning they need to zip early."
"GQ, I call the o-line the XZ factor.  There's only one lineman back, Kyle Dooley at left guard.  That's not good.  Again, can an inexperienced line be pieced together early, get by Baylor and by Air Force, and grow into a contender against Boise State?"
"Have you looked at Boise State?"
"Enough to know that Frogs/Broncos might make November 12 national Final Four day," I say.
"Yeah," GQ says, "if Ducks/Cardinal comes through."
I pause.  "To me, Boise State and Stanford are similar," I say.  I pause again. "They're each bringing back enough starters on offense to make each a scoring force early.  Kellen Moore and Andrew Luck provide outstanding leadership, not to mention their unparalleled quarterback skills that just may send them both to the Heisman presentation, again.  In the sense of getting results out of their teammates, Moore and Luck are so much alike the Downtown Athletic Club may just get it over with and forge two Heismans."
GQ laughs. "In terms of point production," he says, "Boise State/Stanford could be the national championship.  However, defense is where the Broncos have it over on the Cardinal.  Boise State has seven defenders back, with five of last year's starters in the 4-3 front.  I thought the Bronco o-line and tackle Nate Potter were formidable, but with an experienced seven-man defensive front, you can do so much with regard to blitz packages and stacking the box."
"So, Stanford has three d-backs and two linebackers back and you don't like that?" I ask.
"I don't like the Cardinal coaching situation.  It's like this: You have new head man David Shaw, an NFL assistant and the Stanford offensive coordinator since 2007, which is great, but his head coaching record is 0-0.  So, combine that lack of experience with joint defensive coordinators, otherwise an ego blowup waiting to happen—ask Andrew Luck's dad at West Virginia—and that makes Chris Petersen, an outstanding coach in his own right, look like Vince Lombardi.  What does all that mean to you, Doctor?"
"It means that Stanford's schedule may not be as challenging as those from other top AQ schools, and they therefore cannot afford to slip on a not-so-much."
"'Not-so-much!'" GQ says.  "Very good!  I would have liked to have said that first."
"I'll tell you when you can use it."
GQ laughs. "Well, tell me this, Doc.  We've talked about Luck and Moore and Potter and coaches Petersen and Shaw and D boxes and Cardinal co-DC dog fights.  So, who has to come through and come through large and in charge for these teams to give them a shot at glory?"
I nodded my head, pursed my lips, squinted, anything to stall.  "GQ, I think Stanford needs that Toilolo kid to heal and play big.  And, speaking of big, he's 6'8" and north of 250, really big, even, and especially for a tight end.  The Cardinal could be weak on the o-line, so Toilolo can block.  And he's one giant target for Luck, one of those targets QBs love.  It's guys like Levine Toilolo and also linebacker Shayne Skov who must appear from the smoke to give Stanford the edge they need to go 9-0 and make the Oregon game indeed a national semifinal."
"Good analysis.  Then, let me take the Broncos.  When you think of Boise State, you think offense.  But it's the three returning defensive linemen, namely Billy Winn, Chase Baker and Shea McClellin, who must play huge and huge early.  They don't have a game on the blue turf until September 24, with a tough opener against Georgia at Atlanta's 'neutral' site. I've got UGa 'On Deck' with a lot of potential.  Thing is, if the Broncs take Georgia to the streets, Boise State gets the kind of road win the human polls appreciate.  That's good.  They also become the 'double circle game' for each of the schools Boise State needs to beat to host TCU at 8-0.  That's not good."
"Interesting.  So, where does TCU fit in all this?"
"It may take Gary Patterson to make it happen.  You can surely bet he'll have the young guns ready for Baylor and Air Force.  I'm going to keep them number one until they don't play like number one.  Could be soon.  Could be never."
"Stanford, Boise State and Texas Christian.  The 'Ones and Dones' of preseason 2011 college football," I say.
We bump fists. "Can't wait!" GQ says.