Tour De France 2011: Hottest Podium Girls from Years Past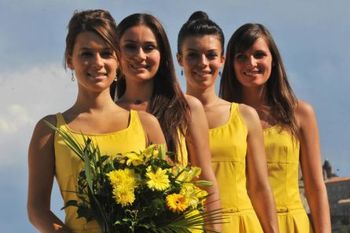 The podium celebration at the Tour de France is one of the most storied and prestigious honors in sports. When beautiful women surround you, it tends to sweeten the deal.
I can only imagine finishing a stage that requires miles and miles of uphill travel. You get to the finish line, victorious, and all you want to do is fall down. Then you see a beautiful woman holding a teddy bear for you.
At some point it looks like a beer commercial or a 1980s movie. The star athlete wins the race and all these women come out of nowhere to congratulate them.
The podium woman is every man's dream girl. She is gorgeous, generous, and knows just enough about sports to show up and clap when good things happen.
25. Two Is Better Than One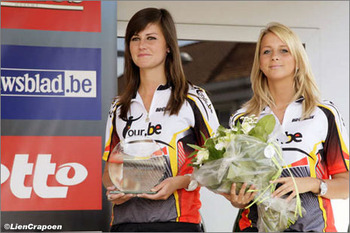 These two girls seem as eager as can be hand out their flowers and plaque to the winner. Luckily for everybody, they are both extremely good looking and they come bearing gifts.
24. Seriously, Two Is Better Than One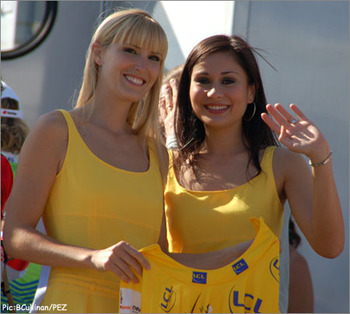 These two have the honor of handing someone the yellow jersey. I do not think there is anyone else out there that I would want more to put that jersey on me than these lovely ladies.
23. A Good Luck Kiss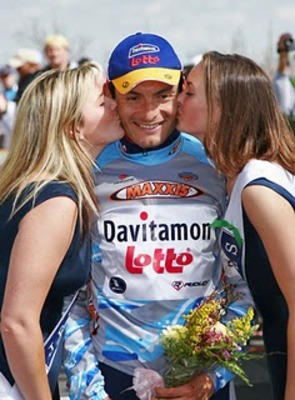 For the podium girls, they have the honor of handing out flowers and stuffed animals. But, what makes them most appealing to the racers is the affection that they show for a job well done. He has certainly done well.
22. Contador Takes Victory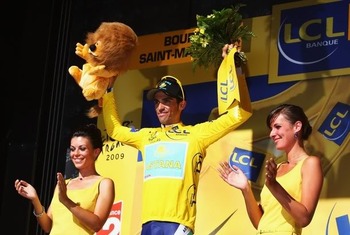 Alberto Cantador won the 2009 Tour de France, and surrounded himself with wonderful women in the process. He has flowers and a stuffed animal, but the crown jewel are the women on both sides.
21. Victory Is Sweet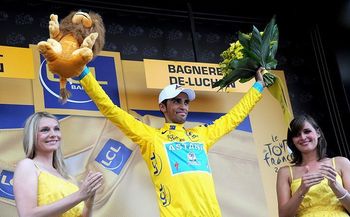 I am sure that he would have expected wearing the yellow jersey would give him a thrill, but then he gets the added bonus of standing between these fine ladies and then his priorities might change.
20. Cantador for the Win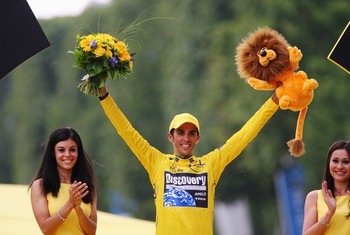 I think that I would have taken some PEDs myself if it would have given me the opportunity to hangout with these hotties. Everyone talks about the glory, but how about the women? They are important too, right?
19. Floyd Landis at the Winners Circle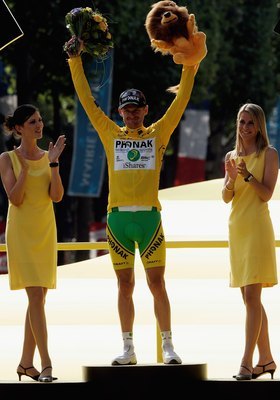 Floyd Landis cheated, we do know this. But, he would have garnered a lot more sympathy if he would have played up the podium girls card. Do you see these girls? I think he was not thinking clearly. Plead insanity Floyd!
18. Lance Armstrong Was Some Experienced with the Podium Girls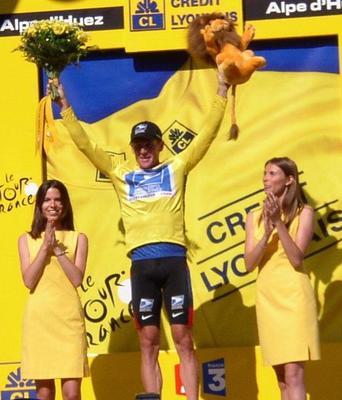 The reason that Lance Armstrong was able to will himself to win so many Tour de Frances was because he wanted to get back on top in order to be with the podium girls. Yeah, it is nice to get the stuffed animal, but how many can a man take? We know what it was really all about.
17. Matching Outfits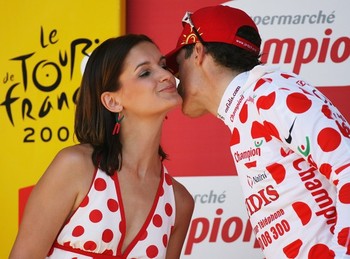 Is it just me or are the girls that wearing the polka dots without a doubt the cutest ones out there. There is no cyclist that is going to turn down the chance to wear the vaunted jersey, especially because it will make the girls so happy.
16. Big Things Come in Small Packages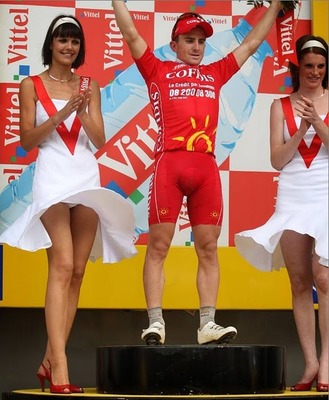 What should we be more impressed with, the fact that he was a 2007 stage winner, or the idea that he is that short and can still be competitive. Come on man! The girls are almost taller than you and you are on a podium!
15. 2010: Jérôme Pineau Wins for the Most Aggressive Ride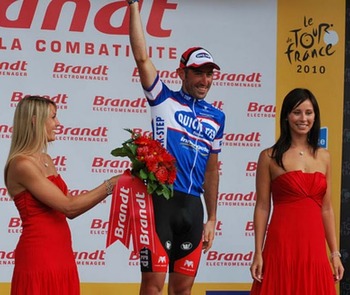 These are girls are giving out the award for most aggressive rider in the field. Of course, this is far from the competitor who is most successful, but it is still an award nonetheless. They even know that it is not a real award, but they still look great and make the Pineau feel special.
14. Best Young Rider Award
Thats right, there is an award for best young rider. Best part is, they get to stand next to her and accept the award. Ask them again in five years what they remembered about that day and I am sure you will get a response about the wonderful women and not the flowers.
13. Beautiful View of France with Beautiful Women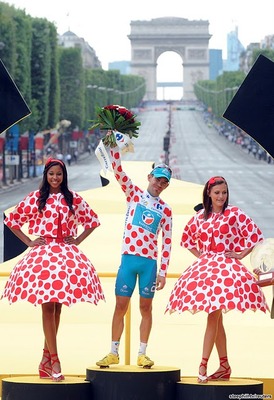 The umbrella skirts are actually one of the craziest things I have seen someone wear, but it only enhances the grandness of the situation. You have a jockey sized man sandwiched between two women he could never have. Got to love the Tour de France.
12. So I Get to Wear the Yellow Jersey and Hangout with These Women??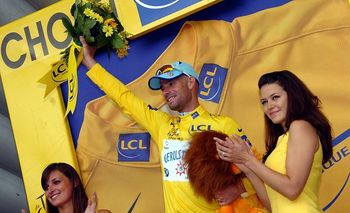 That's right, these guys get it all. I suppose we can let it slide considering they ride hundreds and thousands of miles around an entire country. But seriously, it sort of is not fair.
11. Polka Dots Are for Everyone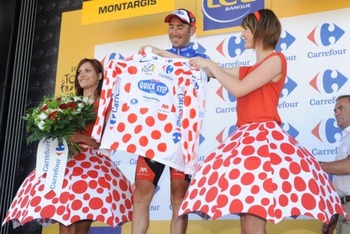 Those dresses may look ridiculous but the women wearing them are so good looking it does not even matter. It is great that she is convincing him that polka dots will look good on him and not to worry. I would listen to anything she has to say.
10. A Girl Who Deserves an Award of Her Own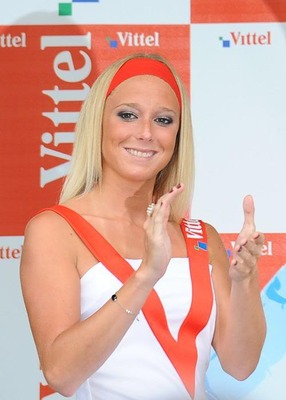 Another one of the Vittel spokeswomen, she must be clapping for herself, because she is much too good looking to be hanging out with cyclists.
9. 2009's Finest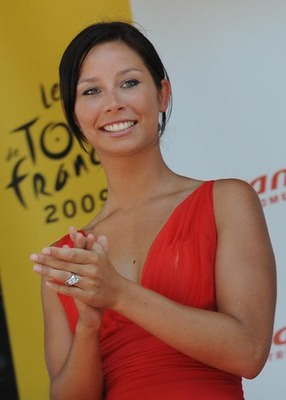 Another one of the lovely women form the 2009 Tour de France, she is looking stunning in that red dress. She was not part of the yellow jersey ceremony, but I am sure that Cantador still wanted to meet her after the race.
8. The Best Looking Girl I Have Seen in Polka Dots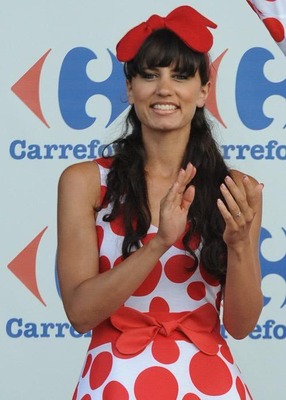 She is a Carrefour girl. For those of you who are not familiar with the store, it has everything you could possible need in the entire world. That being said, they sent their best delegate possible.
7. Alberto Contador;s Lucky Charm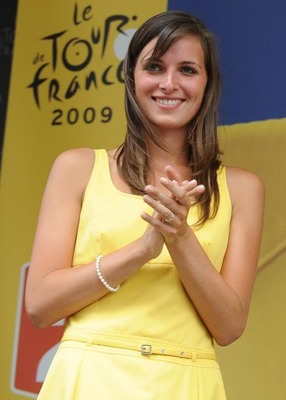 She was one of the yellow jersey women who was side by side with the winner, Alberto Contador throughout the race. I have a feeling that he had her on his mind when he needed to climb those very steep hills.
6. Apparently She Is Drinking Plenty of Vittel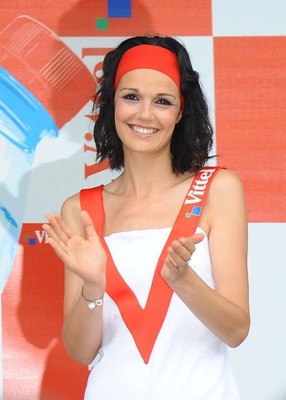 Vittel water, the brand she is sponsoring, is also one of the many sponsors of the Tour de France. They sent her because she is beautiful, classy, and very much makes me want to go out and get some of their water.
5. The Lion Says It All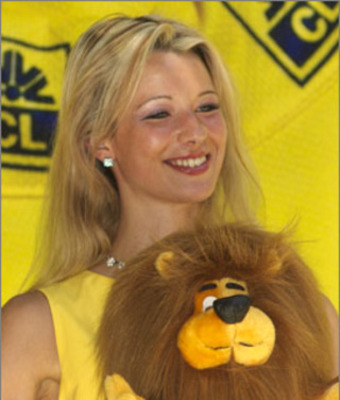 In addition to getting the yellow jersey, the overall winner gets the honor of holding the stuffed lion. If you think it is weird and corny, it is because it is. She looks much more cute with it in her hands than some some cyclist.
4. Yellow = Winner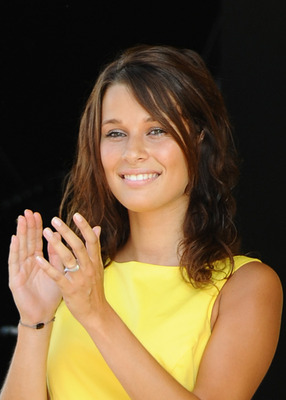 The overall winner of the race and the leader after each stage gets to wear the coveted yellow jersey. Seeing that she is wearing the winning colors, she gets to stand next to the top athlete.
3. 2009: The Year of the Contador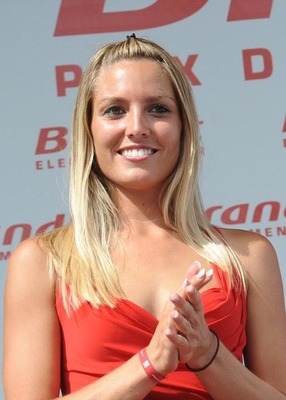 Alberto Cantador's 2009 title might have been fueled by determination and hard work, but from the looks of it, girls like this are all the motivation you need.
2. Laura Antoine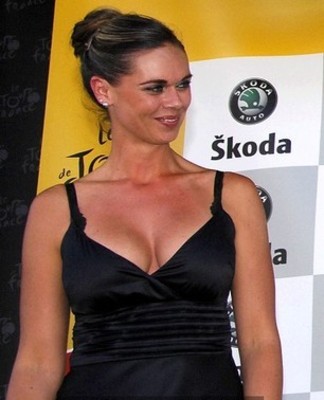 Antoine is an American model who is making her way around Europe, exposing herself to the culture, the food, and the biggest cycling event in the world.
She may not give out the yellow jersey, but I don't think the competitors mind.
1. Julie Blanc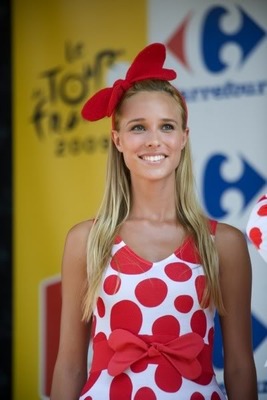 This 2009 podium girl is the cream of the crop. She is gorgeous, into sports, and can rock a minnie mouse type bow in her hair. Though she is donned in Tour de France gear, she has done some pretty serious and sexy modeling in the past, lofting her to the top of the list.
Keep Reading