West Virginia Football: Dana Holgorsen Has a Good Week in Recruiting
June 27, 2011
Since West Virginia University, athletic director Oliver Luck announced Dana Holgorsen as head football coach there are many questions swirling about Holgorsen's ability to lead the Mountaineers into the future.
Of particular interest is Holgorsen's, along with his new staff, ability to recruit at WVU. If the most recent verbal commitments are any indication, Holgorsen is doing just fine.
Since Holgorsen was promoted to head coach WVU has received five verbal's for the 2012 recruiting class QB Brandon Napoleon, OG Tyler Orlosky, CB Albert Reid, WR Deontay McManus, and CB Da'Quan Davis
Napoleon is from Jersey City, New Jersey. Orlosky is from Lakewood (Cleveland), Ohio, Reid is from Washington D.C, McManus and Davis are both from Maryland.
That brings the total of verbal commits for the 2012 recruiting class to 10. None of the five players that committed when Bill Stewart was the head coach have de-committed since Holgorsen was named head coach.
Holgorsen has already proven that WVU could become a destination for recruits in the state of Texas. In addition, having helped sign the 2011 recruiting class Holgorsen and company will still be a force in the state of Florida.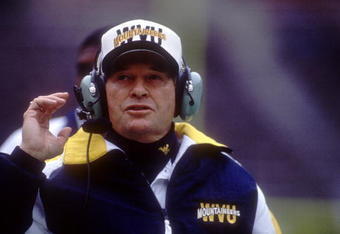 Both Florida and Texas are represented in the current recruiting class.
When Holgorsen was hired in December, he stated that recruiting was different in the southwest compared to the east. In the southwest, it was typical for schools to have completed their recruiting class by mid-summer.
Holgorsen noted that in the east recruiting was more of a media magnet than he was accustomed to, and recruiting stretched until signing day in February.
Mountaineer fans are getting their first view of Holgorsen and his version of recruiting. Holgorsen appears to be combining the eastern and southwestern approaches to recruiting.
Holgorsen is demonstrating his ability to adapt to the existing landscape.
Longtime Mountaineer fans might recognize Brandon Napoleon's last name, his father Eugene played for the Mountaineers. The elder Napoleon was a Mountaineer from 1987 through the '89 season.
One of the most famous WVU football teams of all time was the 1988 squad that went 11-0 in the regular season and lost the national title in the Fiesta Bowl to Notre Dame.
Ryan Nehlen, grandson of Hall of Fame coach Don Nehlen is listed as a starting wide out on Holgorsen's most recent depth chart. The elder Nehlen was the head coach and architect of that 1988 team.
It is worth noting that the younger Nehlen is a walk-on at WVU.
Another walk-on, Reggie Rembert Jr., is the son of All-American wide receiver Reggie Rembert from that 1988 squad.
Add Holgorsen's ability to maintain ties to WVU's past to his list of early accomplishments.
There are 79 players on the depth chart, of that 79, 20 are from the Mountaineers' home state. Morgantown and Parkersburg provide the most players to the depth chart; both cities show four former high school players.
OFFENSE
Matt Lindamood - Parkersburg
Chad Snodgrass - Cross Lanes
Josh Jenkins - Parkersburg
 Cole Bowers - Ona
Tyler Rader - Cross Lanes
Andrew Goldbaugh - Wheeling
Ryan Nehlen - Morgantown
DEFENSE
J.B. Lageman - Huntington
C.J. Huffman - Hurricane
Tyler Anderson - Morgantown
Casey Vance - Seneca Rocks
Wes Tonkery - Shinnston
Lucas Henn - Morgantown
SPECIAL TEAMS
Corey Smith - Bunker Hill
Cody Nutter - Parkersburg
Trent Lusk - Morgantown
Michael Molinari - Parkersburg
I can remember a time, not that long ago, that the WVU football team struggled to put 20 players on the roster from West Virginia much less post 20 players on the depth chart.
During his tenure, Bill Stewart made it a point to recruit the Mountain State and sign as many players as he could from West Virginia. It remains to be seen if Holgorsen will continue that philosophy in the future.
The depth chart will certainly change by the time the season opener rolls around; Holgorsen has even stated as much in recent interviews.
The Mountaineer football team has come a long way since the end of last season. Still, there is a long way to go to reach the goals that the Mountaineers have set for the 2011 season.
Strange how everything new becomes old and everything old becomes new again.