NHL Draft 2011: Report Card for Every Single NHL Team After Day 2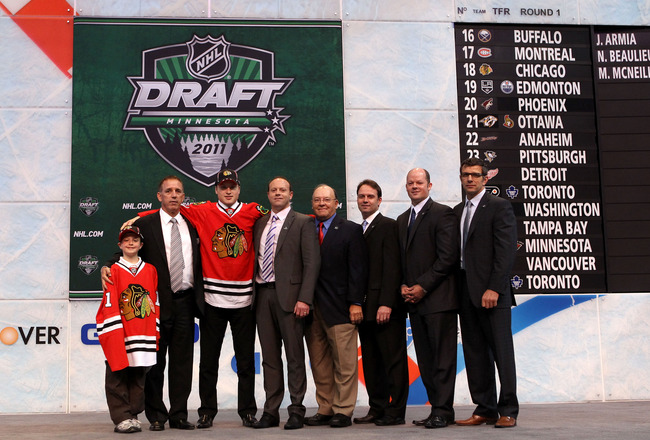 Bruce Bennett/Getty Images
Evaluating a bunch of 18-year-old kids is far from an exact science, and projecting how well each team did evaluating those prospects is even farther from an exact science. Truly, it takes a handful of years before the true value of a draft class shine through.
However, the initial reactions coming out of St. Paul are excellent for some clubs and a bit less exuberant for other teams.
Based on my evaluations of the prospects available and team needs, here are my initial grades for each team in the NHL on their performance at the 2011 NHL draft.
Check back in a few years for a more accurate picture of how these teams did this weekend.
Anaheim Ducks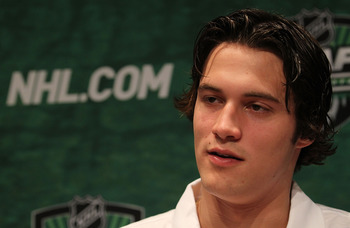 Nick Laham/Getty Images
Grade: C+
Selecting Richard Rakell to close out the first round was a questionable pick, especially with so many talented forwards and defensemen still left on the board.
However, the saving grace of the draft for the Ducks was the selection of goaltender John Gibson. With the uncertainty surrounding Jonas Hiller, Anaheim now has a bit of security behind their franchise goalie.
Boston Bruins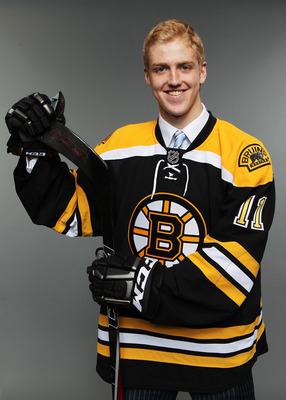 Nick Laham/Getty Images
Grade: B
On the whole, I was not the biggest fan of what the Bruins did on draft day. Alexander Khokhlachev simply doesn't fit into the team philosophy and likely won't pan out in Boston.
However, the Bruins hit a homer with Dougie Hamilton in the first round. There was not a better fit for Boston in this entire draft than Hamilton, and the 2011 Stanley Cup champions were lucky to have him slide into their lap.
Buffalo Sabres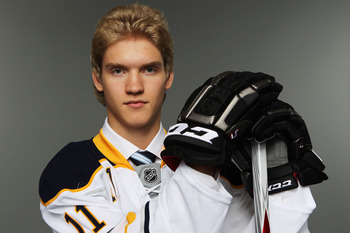 Nick Laham/Getty Images
Grade: B+
The Buffalo Sabres had two major value picks this weekend in Joel Armia and Daniel Catenacci. In addition, the Sabres were able to trade for Flames' defenseman Robyn Reghr.
Armia has the upside to become the best forward in this entire draft class, while Catenacci has a great chance to crack the roster in a year or two.
Quietly an excellent weekend for Buffalo.
Calgary Flames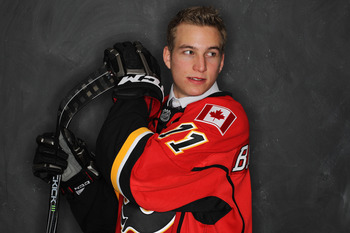 Nick Laham/Getty Images
Grade: B
Calgary's system is full of muckers and grinders, so it was nice to see the Flames bring in some players with a bit of skill and upside.
Sven Baertschi is an ideal fit for the Flames, and I envision him as a top six forward for years in the NHL.
Meanwhile, second-round pick Markus Granlund has a bit of upside. If Calgary is patient in his development, Granlund could become a solid contributor for the team.
Carolina Hurricanes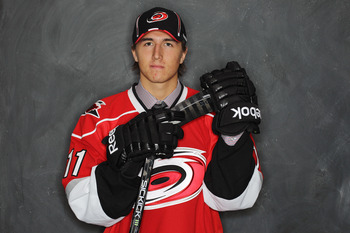 Nick Laham/Getty Images
Grade: C-
Taking a chance on Ryan Murphy with the 12th pick is an understandable risk, but to follow that up by selecting Victor Rask, one of the riskiest prospects in this class, early in the second round is playing with fire.
Carolina's draft class has boom or bust potential, but I'm not a huge fan of their chances.
Chicago Blackhawks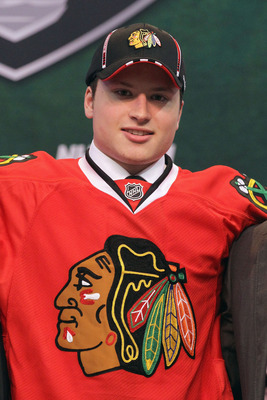 Bruce Bennett/Getty Images
Grade: A+
In addition to their sound drafting in the 2011 NHL draft, the Chicago Blackhawks managed to unload to outrageous contract of Brian Campbell this weekend, marking the trip to Minneapolis as a major success for the 2010 Stanley Cup champions.
As far as their draft picks are concerned, Mark McNeill may have been the steal of the first round at 18, and Phill Danault fits Chicago's system perfectly. Then, the Blackhawks were able to add Brandon Saad in the second round.
Colorado Avalanche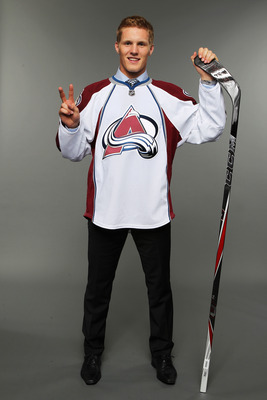 Nick Laham/Getty Images
Grade: A-
The Colorado Avalanche balanced their picks well, filling needs while attempting to maximize value, especially in the first round on friday night.
However, one pick that puzzled me was Duncan Siemens at 11 overall. Siemens is a terrific physical presence on the blue line, but there were several other high upside rearguards still available at that juncture.
Regardless, excellent draft for the Avs.
Columbus Blue Jackets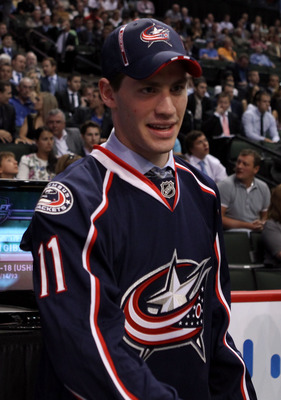 Bruce Bennett/Getty Images
Grade: B-
The highlight of the weekend for the Columbus Blue Jackets was the acquisition of Jeff Carter, who will fit in wonderfully alongside captain Rick Nash.
However, even with their lack of picks, the Jackets were able to come away with Boone Jenner and Seth Ambroz, two physical gritty forwards with a bit of upside.
Dallas Stars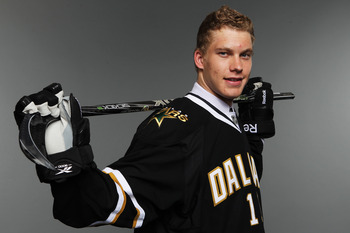 Nick Laham/Getty Images
Grade: B
Overall, the 2011 NHL draft was not a spectacular showing for the Dallas Stars, but they did grab a potential cornerstone for their franchise in 6'7'' defenseman Jamie Oleksiak.
Oleksiak was the best player on the board and filled a huge need for the Stars, who struggled on the backend all season long.
Detroit Red Wings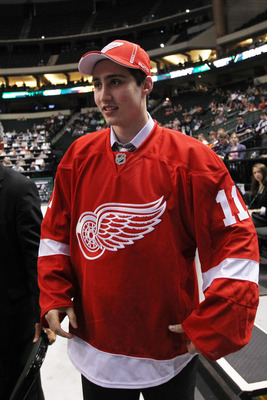 Bruce Bennett/Getty Images
Grade: B+
Some teams just get it. The Detroit Red Wings are one of those teams.
Sitting at number 24 in the first round of the 2011 NHL draft, the Wings traded their first-round pick to the Ottawa Senators for a couple of second rounders. It was a subtle deal that resulted in Detroit selecting Tomas Jurco, who would have been a respectable choice with the 24th pick.
That's how you manage the draft, folks.
Edmonton Oilers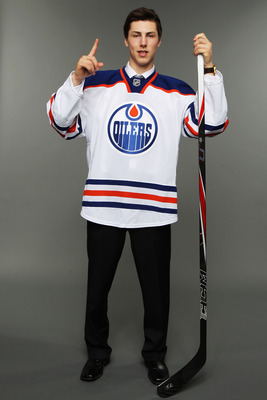 Nick Laham/Getty Images
Grade: A-
The Edmonton Oilers took a bit of a risk, albeit a calculated one, when they bypassed the need for a defenseman and made Ryan Nugent-Hopkins the first overall pick in the 2011 NHL draft.
The risk paid off as the Oilers were able to grab Oskar Klefbom and David Musil with consecutive picks, adding plenty of depth to their barren defensive unit.
Florida Panthers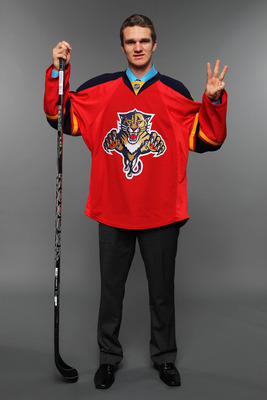 Nick Laham/Getty Images
Grade: A-
Adding the overpriced contract of Brian Campbell to the roster was the lone downfall to an otherwise well executed draft weekend for the Florida Panthers.
Florida kicked off their draft by bringing in Jonathan Huberdeau, who is no stranger to winning hockey games. The Panthers were then able to grab high-energy forward Rocco Grimaldi and poised defenseman Rasmus Bengtsson in the second round.
If nothing else, the Panthers have acquired players who play the game the right way and bring a winning attitude to the locker room.
Los Angeles Kings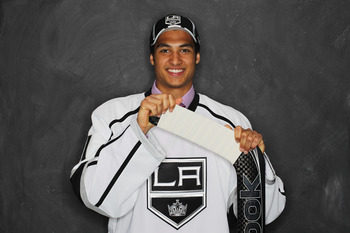 Nick Laham/Getty Images
Grade: C
Luckily for the Los Angeles Kings, their draft weekend will be headlined by the acquisition of Mike Richards and not their mediocre selections in the 2011 NHL draft.
However, the pick of Christopher Gibson in the second round was outstanding. The Kings continue to stockpile on of the most impressive stables of goalies in the entire league.
Minnesota Wild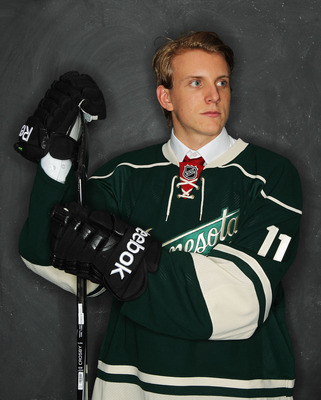 Nick Laham/Getty Images
Grade: B+
The Minnesota Wild got a whole lot younger this weekend, trading Brent Burns for the likes of Devin Setoguchi, Charlie Coyle and a first-round selection.
The picks of Jonas Brodin, Zack Phillips and Mario Lucia only further the youth movement in the state of hockey.
This grade would be in the "A" range, but Jonas Brodin appears to be a slight reach at No. 10 with a few other capable options still available.
Montreal Canadiens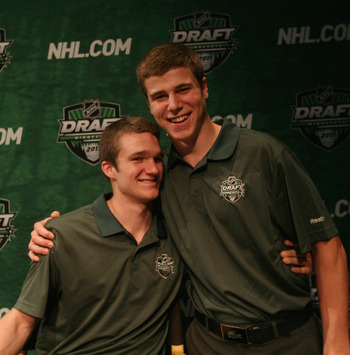 Bruce Bennett/Getty Images
Grade: C
Nathan Beaulieu was an outstanding pick at No. 17, but unfortunately for the Montreal Candiens, they were unable to add any other promising players throughout the course of the draft.
The Habs did add a bit of size later on, which was nice to see, but not a whole lot to get excited about with this year's class.
Nashville Predators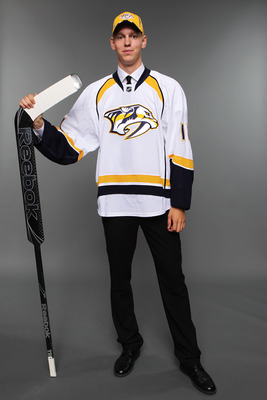 Nick Laham/Getty Images
Grade: B
Nashville was without a first-round pick after trading it to the Ottawa Senators as part of the Mike Fisher deal, but the Predators struck gold with their two second-round selections.
The Preds grabbed Swedish goaltender Magnus Hellberg and high character winger Miikka Salomaki to add depth to an already stacked system.
The rich get richer.
New Jersey Devils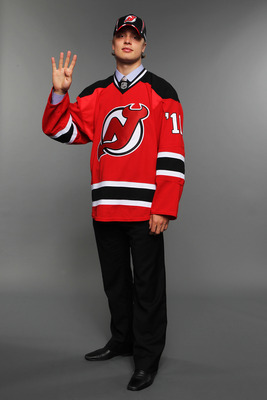 Nick Laham/Getty Images
Grade: B-
The New Jersey Devils have a very thin draft class, but its reputation hinges on Adam Larsson, who should develop into a fine NHL player.
The Devils have to be thrilled that the Swedish defenseman was sitting there at No. 4.
New York Islanders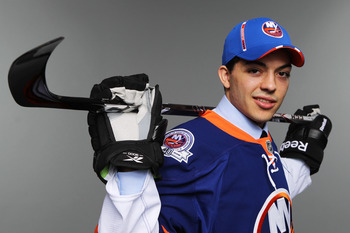 Nick Laham/Getty Images
Grade: A
The Islanders have been in rebuilding mode for a handful of seasons and now appear to be on the verge of contending for a playoff spot this upcoming season. Garth Snow has drafted well and compiled a talented pool of young players, and he continued to add to it this weekend.
Ryan Strome, Scott Mayfield and Robbie Russo were among the best selections the team made this weekend. Strome gives them another elite offensive weapons up front to potentially pair with John Tavares at some point.
Meanwhile, Scott Mayfield and Robbie Russo were necessary additions to a blue line that could use a bit of depth and physicality. Both prospects will have to bulk up a bit to fully satisfy Snow and the Islanders, but it's in the hands of the developmental team in New York now.
New York Rangers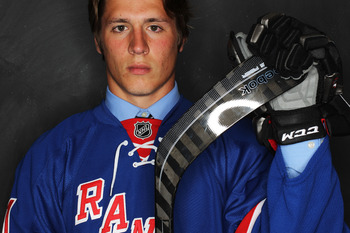 Nick Laham/Getty Images
Grade: B-
Much like the New Jersey Devils, the New York Rangers will be relying on the strength of one player to carry the reputation of an entire draft class.
For the Rangers, Jonathan Miller will shoulder the load, but he has the mental toughness to be a big time leader at the NHL level.
Miller will definitely need some development, though.
Ottawa Senators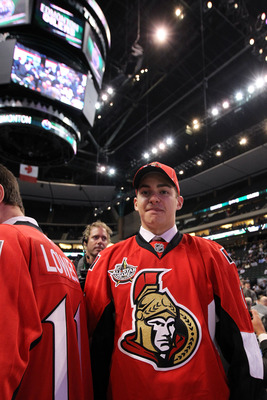 Bruce Bennett/Getty Images
Grade: A-
It was an active weekend for the team in Canada's capital city, and on the whole, it was a successful trip to Minnesota for the Senators.
In addition to grabbing Mika Zibanejad with the sixth overall pick, the Senators were able to add two more talented forwards in the first round in Stefan Noesen and Matt Puempel. Both picks are risky, and I question Noesen's upside, but the Sens needed to add depth up front.
In addition to the three first rounders, Ottawa picked up versatile center Shane Prince with the final pick in the second round, 61st overall.
Bryan Murray and the Ottawa Senators went a long way towards getting back to the playoffs this weekend.
Philadelphia Flyers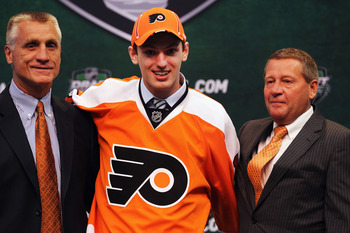 Bruce Bennett/Getty Images
Grade: B-
As is becoming a bit of a theme in the Atlantic Division, the Philadelphia Flyers have a bit of a one-man draft class headed by stud center Sean Couturier.
After dealing away Mike Richards and Jeff Carter, having Sean Couturier slip to No. 8 was a dream come true for Philly, who finally has some talent in its system.
Phoenix Coyotes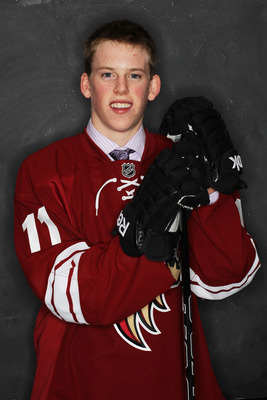 Nick Laham/Getty Images
Grade: C-
Connor Murphy is a promising prospect with solid long-term potential, but drafting him in the first round may be a regrettable move by the Coyotes' brass. Especially considering some of the talented forward prospects that were still available for a team that lacks punch up front.
Also, they selected Alexander Ruutu a couple of rounds too soon.
Pittsburgh Penguins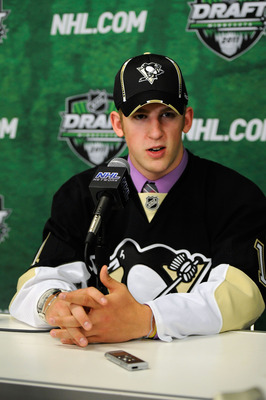 Hannah Foslien/Getty Images
Grade: B
The Pittsburgh Penguins are among the best in the business as drafting and developing top end talent into NHL-caliber players.
Thus, the 2011 NHL draft class, which appears shallow on the surface, only having five players, could end up being one of the best in the league due to the high upside talent they acquired in Joe Morrow and Scott Harrington.
St. Louis Blues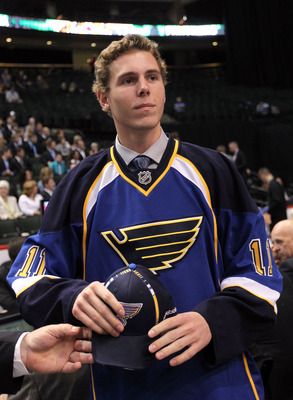 Bruce Bennett/Getty Images
Grade: A
For the St. Louis Blues, the success of their draft started back at the NHL trading deadline, when the club dealt its first-round pick and Erik Johnson to the Colorado Avalanche in order to acquire Chris Stewart and a second-round pick, among other assets.
With two second-round picks to work with, the Blues brought in Ty Rattie and Joel Edmundson. Rattie was considered by most, including myself, to be worthy of selection in the first round. He is a ferocious forechecker and has solid skill, which presents some upside.
Meanwhile, Joel Edmundson is one of the sleepers of the draft at defense. He has plenty of room to fill out his 6'5'', 190-pound frame and has the mean streak teams covet on the blue line.
San Jose Sharks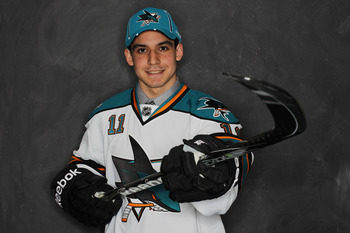 Nick Laham/Getty Images
Grade: D+
Trading away the future of your franchise for the sake of patching a single hole on your roster is a move that often results in short and long-term failure for the team.
The Sharks acquired Brent Burns from the Minnesota Wild on Friday but had to overpay to do so, losing Devin Setoguchi and Charlie Coyle among other assets.
In addition, other than Matt Nieto, San Jose failed to pick up too many promising prospects this weekend.
Tampa Bay Lightning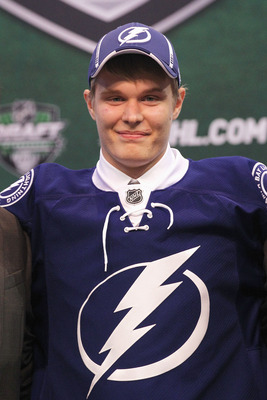 Bruce Bennett/Getty Images
Grade: B+
The Tampa Bay Lightning stuck early, grabbing Vladislav Namestnikov at the end of the first round. If they are able to get him to play in North America, which is very likely, the Russian born forward has a shot at being on one of Tampa's top two lines down the road.
The Lightning added two more Russians in Niktia Kucherov and Nikita Nesterov, both of whom have immense upside.
Toronto Maple Leafs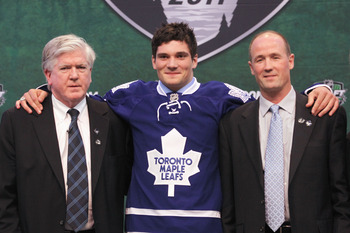 Bruce Bennett/Getty Images
Grade: B
Brian Burke and the Toronto Maple Leafs did not deviate from their plan, drafting the exact type of players they always covet.
The two first rounders, Tyler Biggs and Stuart Percy, should be able to contribute at the NHL level within a few seasons' time.
Vancouver Canucks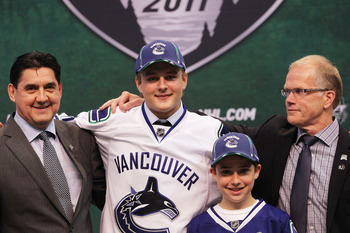 Bruce Bennett/Getty Images
Grade: C
The Canucks made some solid picks early on in the draft but failed to address the blue line, which has to be a major concern going forward.
Vancouver waited until the fifth round to select a rearguard, leaving the cupboard vacant at the position that eventually cost them a Stanley Cup Championship.
The Nucks better be ready to get their checkbooks out on July 1st.
Washington Capitals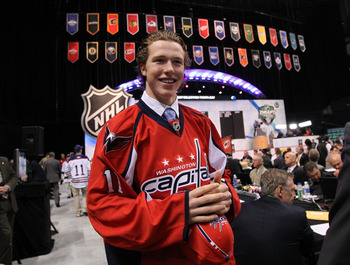 Bruce Bennett/Getty Images
Grade: D
Without a pick in the first three rounds, it's no surprise that the Washington Capitals did not have the greatest weekend.
None of their draft picks have the looks of a potential impact player down the line, and the team gave up picks for players that didn't fit well with the team in the second half of the year.
Better luck next year, Caps.
Winnipeg Jets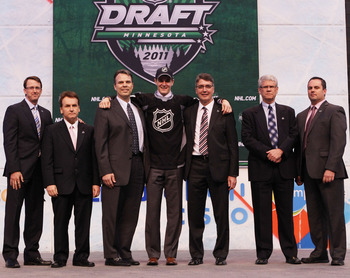 Bruce Bennett/Getty Images
Grade: C+
I was not a huge fan of the Mark Scheifele pick with Sean Couturier sitting on the board, but Scheifele certainly has a chance to develop into an impact player for the Jets.
Winnipeg did take a few fliers on some high upside guys with their later picks which is good to see. Plus, it's their first draft in over 15 years, so we'll cut them some slack.
For more 2011 NHL draft coverage, stay tuned to Bleacher Report for updated NHL mock drafts, NHL draft rumors, NHL draft results and draft grades.
Keep Reading