NFL Schedule 2011: Predicting the Outcome of Every Game in Week 1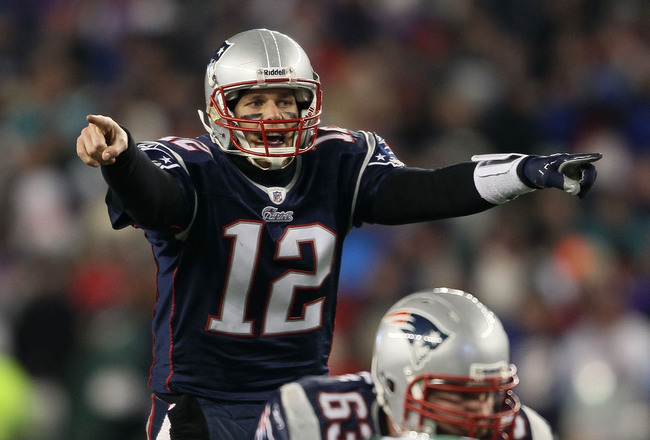 Elsa/Getty Images
It's football time!
The NFL lockout is over, there's a new CBA intact and it's time to get Sunday, Monday, Tuesday—and any other day—Night Football going!
Week 1 of the regular season is closer than ever. Let's take a look at the season-opening matchups for the 2011 season.
As the song goes, "Are you ready for some footballllll???"
Thursday, Sept. 8, 8:30 PM: New Orleans Saints at Green Bay Packers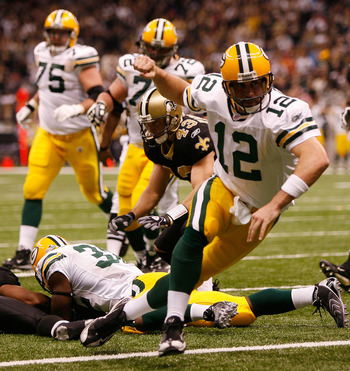 Chris Graythen/Getty Images
The official 2011 NFL season opener kicks off in Green Bay, when the New Orleans Saints will try to sneak a victory over the reigning Super Bowl Champion Packers at Lambeau Field.
The Saints aren't by any means a weak opponent, but they sure aren't the same team they were two years ago. They'll be able to spread the field with their deep array of wide receivers (Robert Meachem, Lance Moore, Devery Henderson and Marques Colston), but they don't have a dominant running back to keep the defense on its heels.
Green Bay will definitely have its hands full, but they should be able to come out victorious.
If Ryan Grant can fully recuperate from last year's season-ending ankle injury, especially with the added rehab time the lockout has added, the Packers should be looking at a hard fought 24-21 victory to open the season.
Sunday, Sept. 11, 1:00 PM: Pittsburgh Steelers at Baltimore Ravens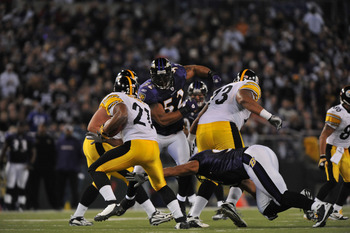 Larry French/Getty Images
It'll be the battle of the best defenses: the Steel Curtain vs. the Purple Pain. And rest assured, someone will leave this game with a broken bone.
Ray Lewis will get a taste of Ben Roethlisberger. Lawrence Timmons, LaMarr Woodley, James Farrior and James Harrison will wreak havoc upon the Baltimore Raven offense, but blood will be shed, and someone will come up victorious.
In a low-scoring game, the Baltimore Ravens, thanks to a timely rush by their star running back, Ray Rice, will inch away with a 13-10 victory for their home fans.
Sunday, Sept. 11, 1:00 PM: Cincinnati Bengals at Cleveland Browns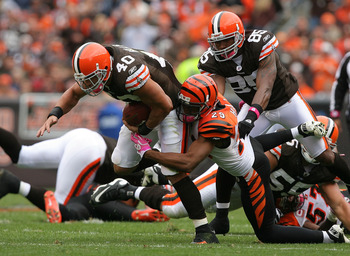 Matt Sullivan/Getty Images
With Chad Ochocinco no longer wearing orange and black, the Cincinnati Bengals will be heavily reliant on Cedric Benson to rush them into a victory over the Cleveland Browns. And seeing as though the Browns offense is severely limited, they simply won't have the firepower to outscore them.
Peyton Hillis might be the face of Madden 12, but it will be Benson who will have a 200-plus yard game and carry his Bengals to a 17-10 road win over the Cleveland Browns.
Sunday, Sept. 11, 1:00 PM: Indianapolis Colts at Houston Texans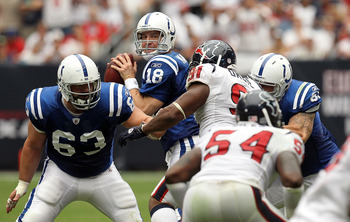 Ronald Martinez/Getty Images
In this intense AFC South rivalry game, the Indianapolis Colts will have a chance at vengeance over the same team who sucker punched them in the season opener of their 2010 season.
Despite Peyton Manning's grandest efforts—the Hall of Famer completed 40 of 57 passes for 433 yards and three touchdowns with no interceptions—Indy simply had no answer for the Texans shining star, Arian Foster, who trampled over the Colt defense for 231 yards.
This time around, Indianapolis will give Houston a whipping, blowing them out of the water and reminding them who's boss of the AFC South.
The Colts will have a landslide 41-24 victory in front of those rowdy Houston Texans fans.
Sunday, Sept. 11, 1:00 PM: Tennessee Titans at Jacksonville Jaguars
Grant Halverson/Getty Images
Now that the Tennessee Titans have decided to part ways with Vince Young, they can finally move forward with incoming veteran Matt Hasselbeck securely at the helm. With the offense revolving around their speedster, Chris Johnson, the Titans are yet another force to be reckoned with in the AFC South.
On the other side of the ball, Maurice Jones-Drew and the Jaguars await, making an exciting, inter-divisional rivalry matchup. It will be a relatively high-scoring match, as both teams have a decent amount of offensive firepower to put points on the board.
But Jacksonville will emerge victorious on the back of Jones-Drew in a 28-21 win.
Sunday, Sept. 11, 1:00 PM: Buffalo Bills at Kansas City Chiefs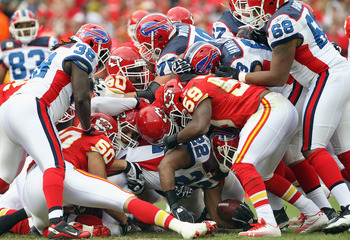 Jamie Squire/Getty Images
It's a battle of the bottom-dwellers. I don't see either of these teams making the playoffs or winning more than eight games this season, but one of them is going to get win number one here.
Both teams have slim pickings when it comes to their depth charts, but the Chiefs do have a better quarterback in Matt Cassel over the Bills' Ryan Fitzpatrick. You won't catch me watching this game because it's a crowd borer.
But for the sake of bragging rights, let's say Kansas City comes out victorious, 17-13.
Sunday, Sept. 11, 1:00 PM: Atlanta Falcons at Chicago Bears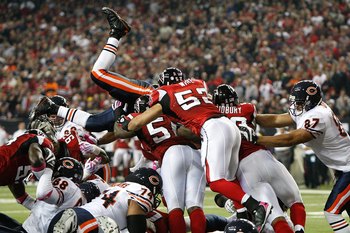 Kevin C. Cox/Getty Images
As stingy as the Chicago Bears defense is, I really like Atlanta in this season opener. They've got a stacked roster with Michael Turner and Roddy White and a smart young quarterback at the helm in Matt Ryan. They've also got a surefire Hall of Fame-bound tight end, Tony Gonzalez, on the roster, making them a dreaded team to face.
I can't downplay the talent of the Bears roster, either. Matt Forte's only getting better each year, and Jay Cutler's arm throws as far as anyone else's in the league. They've got two speedy receivers in Johnny Knox and Devin Hester and an incredibly solid defense to back them up.
Yet, still, as much as the odds might line up against the Falcons, I've just got that gut feeling they'll inch out in the waning moments of the fourth quarter.
Atlanta will win the game by a field goal, 27-24.
Sunday, Sept. 11, 1:00 PM: Detroit Lions at Tampa Bay Buccaneers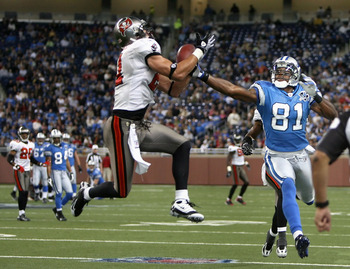 Christian Petersen/Getty Images
Yet another boring game you won't catch me watching.
The Tampa Bay Bucs and the Detroit Lions will have a great first game, but it'll be that renowned Tampa defense that gets them their first win of the season. LeGarrette Blount is bound for another 1,000-plus-yard season, and they've go a young, strong-armed quarterback in Josh Freeman.
The Lions have an incredible wide receiver in Calvin Johnson and young QB on the rise in Matthew Stafford, but they simply won't be able to outscore the Tampa Bay Bucs.
I see the outcome as a 23-10 win for Tampa.
Sunday, Sept. 11, 1:00 PM: Philadelphia Eagles at St. Louis Rams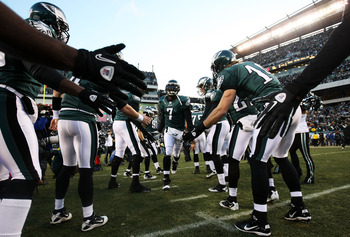 Al Bello/Getty Images
With Mike Vick at the helm, Philly can do no wrong.
The Eagles are going to have a field day with the St. Louis Rams. DeSean Jackson will showboat his way into the end zone several times, and Vick is going to turn the Rams defense into that of a practice squad.
St. Louis will do all they can, but the Eagles' offense will overpower them in every way possible.
Philly will have a blowout victory, 45-14.
Sunday, Sept. 11, 4:15 PM: New York Giants at Washington Redskins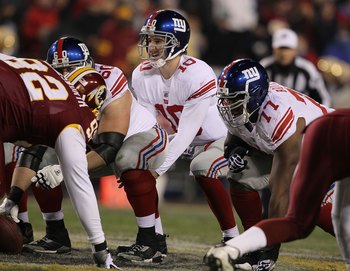 Al Bello/Getty Images
The New York Giants have this game in the bag. And no, it's not because I'm from New York.
New York's offense is way too much for the Washington Redskins to handle. They've got a solid pair of running backs in Ahmad Bradshaw and Brandon Jacobs and a bunch of weapons at the wide receiver position. Not to mention they've got someone of the Manning bloodline leading their team.
It looks to me like the G-Men are in a good position to make a deep run into the playoffs—again. And the Skins aren't going to stand in their way.
A 27-10 victory is what I see in the near future for the Giants.
Sunday, Sept. 11, 4:15 PM: Carolina Panthers at Arizona Cardinals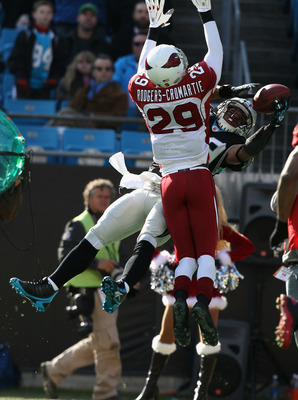 Streeter Lecka/Getty Images
Cam Newton is going to come out of the lockout gun-slinging like none other. I was never a big Newton fan, but putting him next to an elite receiver like Steve Smith is an equation that only results in success.
The Cardinals, too, have a high-powered offense, but Newton's going to live up to all the hype and begin to mold his NFL legacy.
He'll pass for over 200 yards and lead the Carolina Panthers to a 23-17 win over the Arizona Cardinals.
Sunday, Sept. 11, 4:15 PM: Seattle Seahawks at San Francisco 49ers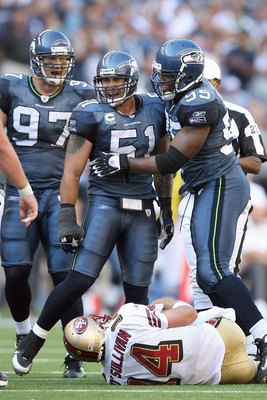 Otto Greule Jr/Getty Images
Who saw Marshawn Lynch completely obliterate the New Orleans Saints defense in last year's playoffs? Well, if you didn't, familiarize yourself with the footage.
While the Seattle Seahawks roster looks a bit weak (is Tarvaris Jackson really a starting QB?), their tight end, John Carlson, and Lynch will help shoulder the load and catapult their team to yet another playoff appearance.
It'll take a lot of work for Seattle to get back to the playoffs, but their first step is by grabbing this easy W over the San Francisco 49ers.
The Seahawks will come out on top with a 21-13 victory.
Sunday, Sept. 11, 4:15 PM: Minnesota Vikings at San Diego Chargers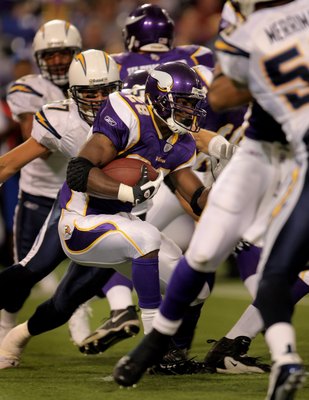 Doug Pensinger/Getty Images
First game of the regular season? You know Adrian Peterson is itching to get back on to the field in a game that counts.
A.P. is going to run all over the San Diego Chargers defense, and there's absolutely nothing they can do about it. Peterson's going to rush for over 250 yards and bring in four touchdowns for the Vikings. The Chargers will keep up, as they too have a rather high-powered offense.
But Minnesota will prevail, 28-24.
Sunday, Sept. 11, 4;15 PM: Dallas Cowboys at New York Jets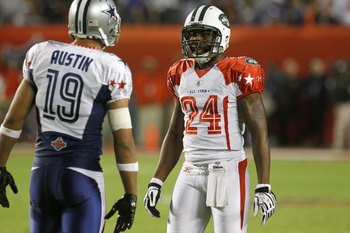 Scott Halleran/Getty Images
Though the New York Jets couldn't find a way to snag Nnamdi Asomugha, Darrelle Revis is still more than enough to shut down Dallas' Pro Bowl receiver Miles Austin.
Gang Green's got one of the toughest defenses in the NFL, and the Cowboys, as fierce as their offense might be, won't be able to penetrate it. The Jets have got a bunch of weapons at every position and can beat the Cowboys defense in the air and on the ground.
Rex Ryan promised a Super Bowl, and honestly, this looks like it could be the year.
The Jets will begin their masterpiece season with a 31-17 win over America's team.
Monday, Sept. 12, 7:00 PM: New England Patriots at Miami Dolphins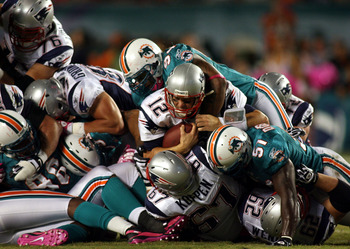 Marc Serota/Getty Images
This is one of those "really?" moments.
Tom Brady, as disliked as he may be, is a top two quarterback in the NFL and will trample over the Miami defense. He'll pass for over 275 yards and get at least three passing touchdowns, especially now that he's got Ochocinco on his side.
The Dolphins just won't be able to keep up.
New England wins it, 35-14.
Monday, Sept. 12, 10:15 PM: Oakland Raiders at Denver Broncos
Ezra Shaw/Getty Images
And the final game of Week 1 features the Denver Broncos' Tim Tebow, who's still in the process of becoming a true quarterback, and the incredibly fast and youthful Oakland Raiders.
The Broncos are in a bit of a pickle at the quarterback position. Whether they decide to keep Kyle Orton, a better quarterback than he's given credit for, or the scrambling Tebow is up to them. But without a pocket-passing quarterback, they won't succeed.
Oakland has a super fast defense, and I think that will be what makes the difference in the game.
Raiders win, 17-10.
Keep Reading