Women's World Cup TV Schedule: USA vs France Trap Game For US?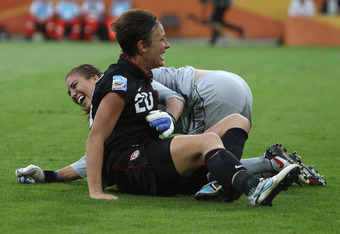 USA vs. France Could Spell Trouble for US if they Lose Focus
The US are coming off of one of the greatest matches in the history of US soccer. The problem is, they haven't won anything yet. Is it possible they could be hung over from the state of Euphoria that ensued after the US knocked off Brazil in the quarterfinals?
Everything about their semifinals game against France screams blowout. Hope Solo is on the top of her game, the US just snuffed out the Brazilian attack and France hasn't beaten any team worth mentioning thus far.
Marta knocked in two goals against the US, but she was offsides on one of them and the other came as a result of a penalty re-kick that never should have happened. The referees fed Brazil two goals and the US still managed to come out on top.
They have to be feeling on top of the world at this moment, but overlooking France would be the quickest way to be ousted from contention.
Germany saw a similar fate when they were taken down by underdog Japan in the quarterfinals. If every match went as it was "supposed to", there would be no reason to play the matches.
The US are the runaway favorites going into the semifinals, but they can't underestimate France. France earned a right to be in the semifinals just like the other three teams. They emerged from a weaker group and didn't exactly face a juggernaut when they took on England in the quarterfinals, but they shouldn't be discounted because of their competition.
We've seen how quickly this tournament can turn in an instant. The US are feeling like the top team in the world, but they will need to play as such. The same swagger and fire they entered the penalty kicks against Brazil with needs to carry over into the match against France.
The US has the leadership to remain focused. Even the young players seem set on approaching the task at hand, rather than looking ahead to a likely matchup of Sweden vs. USA.
The World Cup is won one game at a time. the US needs to remain confident and focused if they want to avoid a German-esque upset.
The match will be shown on ESPN at 12:00 PM EST on Wednesday, July 13th.
For coverage of the United States vs. Brazil match, tune to Bleacher Report's Live Blog.
Most recent updates:
This article is
What is the duplicate article?
Why is this article offensive?
Where is this article plagiarized from?
Why is this article poorly edited?