Nate Marquardt: Recent Suspension Doesn't Mean We've Seen Last of Marquardt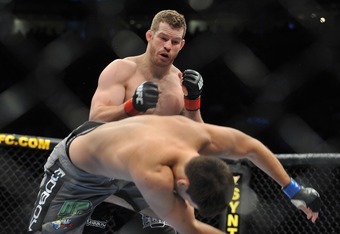 Nate Marquardt Has Been Cut From The UFC, But His Career Is Far From Done
If you haven't heard, Nate Marquardt failed to meet medical requirements and was forced to drop out of the main event in tonight's UFC LIVE. Some fans fave speculated about what happened and the true medical issues revolving around Nate The Great. Here is some food for thought.
Steroids are going to come up in this conversation. Why wouldn't they? Marquardt was suspended a few years ago for steroid use, so the obvious response to his medical "issue" was juicing. I want to point out that it most likely wasn't steroids. With what we know about steroids, would it make sense for Marquardt to take them, even though he was trying to drop weight?
Absolutely not! Fighters use steroids to gain muscle and strength. Ever heard the phrase muscle weighs more than fat? Why would Nate do such a thing, especially since he has been caught once before, right?
I look at this issue and see something to do with dietary supplements. Again, I have nothing to base my thoughts, but hear me out. Some dietary supplements have been banned because of substances in them. Marquardt is a big guy, even for middleweight, so the cut to welterweight couldn't have been easy. On the contrary it might have been hard. So Nate takes a few pills to help cut weight, and gets tested for them. When the PAC tested him they talked to him about it, but without them Marquardt can't make weight.
Now, in all of this Nate was cut from the UFC. This is not a huge deal or a career ending thing for Marquardt. Many fighters have been cut and made their way back. Nate has a very exciting style. His striking is fun to watch and if you don't believe me, go watch UFC 95 against Wilson Gouveia! It was one of the best finishes in UFC history.
Marquardt might be down but he is certainly not out. He is my favorite fighter and I hope that everything is OK with him. He needs to get all of his medical issues resolved so that his fans can see him in the octagon once again.
Most recent updates:
This article is
What is the duplicate article?
Why is this article offensive?
Where is this article plagiarized from?
Why is this article poorly edited?