Manny Pacquiao: Why Manny Is Finally About to Meet Worthy Opponent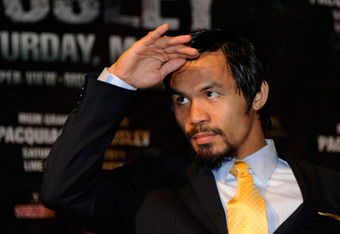 Manny Pacquiao Is The Biggest Name In Boxing
If you follow boxing, you are either love Pac-Man fan or can't stand him. I am not the biggest boxing fan but I do watch all the bigger fights and enjoy the sport. Pacquiao is very skilled and one of the best in the world, but doesn't come without his criticisms.
One of the knocks on Manny is that he fights boxers way below his skill level. It is hard to argue. Yes, he did fight Ricky Hatton, not too long ago. Pacquiao embarrassed Hatton and crushed him in the second round onto a TKO victory. Other than that, who has he fought? Shane Mosley was well passed his prime when the fought and he hasn't fought any of the young studs coming into boxing. This needs to change and it might be on the horizon.
Pac-Man has already dodged Floyd Mayweather by not allowing standard Olympic style drug testing. Argue if you will, but the loss of blood wouldn't effect him as much as he argues. That is water under the bridge and I feel that the superfight may never happen
Yes, Pacquiao's next fight is November against Juan Manuel Marquez. After Pac-Man destroys him, he will look for another opponent and I for one think it has to be Saul Alvarez. If you weren't aware, Carlos Slim has offered Manny $65 million to fight a fighter of his choice in Mexico. There is no doubt that he would choose the undefeated 20 year old.
I would love to see this happen. It is a formidable opponent for Pacquiao, and should he win, the criticisms would stop. Can Pac-Man afford to say no? Not when $65 million is on the table with a chance to shut up the experts.
Most recent updates:
This article is
What is the duplicate article?
Why is this article offensive?
Where is this article plagiarized from?
Why is this article poorly edited?