Ron Artest, Rudy Fernandez, Manny Pacquiao and Today's Top Sports News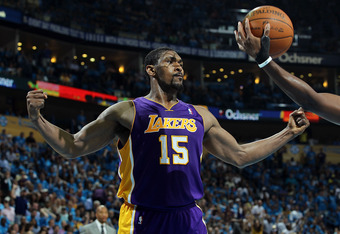 Ronald Martinez/Getty Images
What a fun weekend in sports, huh?
Normally at this time of year we only talk about the NBA draft and several small baseball stories, but there are several topics that I want to touch on. If you missed anything this weekend, it has to start with Ron Artest.
Well, his name is not Ron Artest anymore. Artest has changed his name to Metta World Peace.
Yes, you read that correctly.
When I first heard this during the NBA draft, which I attended live, I rolled my eyes. After all, we have lived with several athletes changing their names. Chad Ochocinco has to be the first one that comes to mind. Being a Cavaliers fan, I was instantly reminded of the player Lloyd Bernard Free, who changed his name to World B. Free.
This name change is just another Ron Artest antic. He needs to stop and just play basketball. Ron Ron needs to realize that basketball is his real career, and it is time to focus on it alone. Sure there are many Artest...er... Peace supporters, but I am not one of them. For a man with the last name Peace, it wasn't so peaceful when he bolted into the stand to fight a fan in Detroit.
This is also the man who wanted to leave basketball for a little while to pursue his rap career. By all means, the name change is just an act from an unpeaceful person.
In other news, Manny Pacquiao might have a true competitor after all. If you missed Saul Alvarez's bout on the 18th, it was impressive. He continues to dominate opponents and is making his way towards Pacquiao.
During the NBA draft, one jaw dropping trade that went under the radar was that of Rudy Fernandez. The Mavericks basically gave up nothing to receive a starting shooting guard.
For more breaking news and buzz in the world of sports, check Bleacher Report throughout the day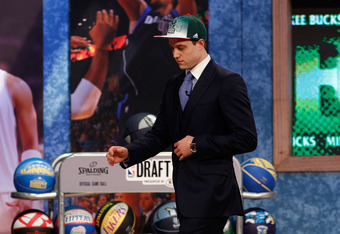 Jimmer Fredette Was College Basketball's Player Of The Year, But Will Not Win Any Awards In The Pros
As his pro career has begun, it is clear that the pressure is rising on Jimmer Fredette. He was drafted in the top ten and ended being a part of the Sacramento Kings. Expectations surround the best scorer in the draft and he will never meet them.
Jimmer is supposed to help Sacramento put points on the board, but there are going to be problems. While Jimmer's range is great, he will not be able to beat athletic defenders in the NBA. Keep in mind, Jimmer is only 6'2" and 195 lbs. He doesn't have much size and a decent defender with a long wing span will neutralize him immediately. I doubt Fredette's ability to create his own shot. He may be lucky to average above ten points off the bench.
One thing is for sure, Jimmer doesn't play defense. He was never a willing defender in college and often had players blow by him. His mind was constantly at the other end of the floor. If he does this in the pros, teams will attack him and he will be a liability. If he can't score or defend what does he add to a team?
Look, Fredette is a great young man. He was a lot of fun to watch and many cheered for him in college. I hope Jimmer proves me wrong, but he has NBA failure and bust written all over him.
This article is
What is the duplicate article?
Why is this article offensive?
Where is this article plagiarized from?
Why is this article poorly edited?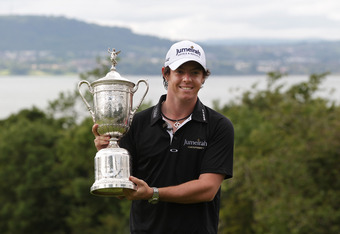 Golf Is Dying To Find The Next Tiger And It Won't Be Rory McIlroy
Let me clarify that I enjoy watching Rory McIlroy play golf. He is very young and has been on the tour since 2007. When he flashes his classy smile after he hits a superb shot, fans tend to smile back. He has an attitude and personality that draws people to him, sort of like Tiger Woods. But, Rory will never be close to captivating and audience the way Tiger once did.
Indeed, Rory is the next superstar on the tour. Golf needs him to be. Their rating depend on it. The more he wins, the higher the ratings will go, but he must be dominant! That dominance is the only way he can reach the needed status. He's off to a tremendous start with leading seven of the last eight rounds in majors. But, golf will never recover fully from losing Tiger Woods.
Woods took America's heart in 1997. If you think golf can recover, it can't. Not unless Tiger comes back. Even tough Woods has been through pain and sorrow, mostly because of himself, the PGA needs him. If Tiger can make a climb back to power, it would be welcome with open arms.
The only way it could be any better, is if Tiger comes back during Rory's dominance. That situation would cause golf to explode and give it the true back and forth action it would need. So once again, gold needs Tiger Woods, not Rory McIlroy
This article is
What is the duplicate article?
Why is this article offensive?
Where is this article plagiarized from?
Why is this article poorly edited?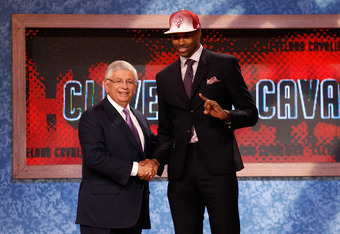 Tristan Thompson Was The Biggest Shocker In The Draft
After the Cavaliers took Kyrie Irving it was clear that Derrick Williams was the next pick. Utah was supposed to take Brandon Knight and the Cavs would choose Jonas Valanciunas or Enes Kanter. Apparently, the Jazz didn't get the memo.
Utah took Kanter, much to the surprise of the crowd. So Cleveland was presumed to take Jonas from Lithuania. Except something happened behind the scenes that many didn't expect. The Cavs loved Tristan Thompson. The love was so high that they pulled the trigger and selected him with the fourth pick. Thompson was slated to be a top ten pick, but not top five, right? Well, I am here to justify the pick.
Jonas Valanciunas isn't playing in the NBA this season and the Cavaliers wanted a big. Tristan Thompson is very young and raw but is an energetic rebounding and defender. One thing that people don't see is his work ethic. Yes, Thompson has a tremendous attitude and wants to expand his small offensive game. Indeed, Thompson has been taking 1,000 shots a day with John Lucas in order to develop his range. This is something that is not heard of from many young rookies.
Thompson also knows teams first pick Kyrie Irving and believes they will develop chemistry fast. This season Thompson will come off the bench, unless the team trades JJ Hickson. He will become a key role player for the team moving forward. In an extremely weak draft, that is a plus for any team to find.
Cleveland might have struck gold in a draft supposedly full of lead.
This article is
What is the duplicate article?
Why is this article offensive?
Where is this article plagiarized from?
Why is this article poorly edited?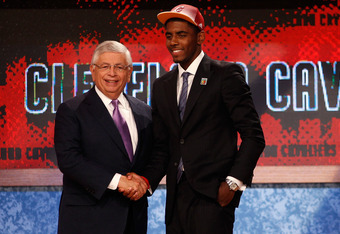 Kyrie Irving Will Not Have It Easy His First Season In Cleveland
I traveled, with my dad, to New Jersey to watch the NBA draft. As we were driving, we listened to the radio fans pour out their hearts about how they wanted Kyrie Irving. If only Cleveland would take Irving, they would be satisfied.
Satisfied indeed. I wanted Irving as well. It is a point guards league after all. So, Irving was the pick and Cavs fans everywhere are happy. We have our next superstar, maybe. Irving is definitely a cornerstone to building a franchise. But, as you sit down and think about it Kyrie will not have it easy.
Irving comes to a Cavs team that has absolutely no scorers. This is very bad because one of his strengths is court vision. While I do expect Irving to make the all rookie team and be on highlights, he will have troubles. His jump from Duke to the NBA will be a rough one. He is not as athletic as Derrick Rose or John Wall, but One thing that Irving has is a jump shot and a high IQ. He will instantly insert himself as a leader on this team,
Irving might have some troubles when he is guarded by quicker defenders, but there is talk that Kyrie has another gear? I sure hope so, but if he shoots 50% from the field, 40% from three, and 90% from the line, fans wont complain that he isn't dunking over people. He instantly makes this team better. With Byron Scott as his coach and Baron Davis as a mentor he will grow faster than a normal point guard might,
Kyrie gives the fans in Cleveland something to be excited about. He makes Cleveland a 25-30 win team next year, and will be a stable for the franchise for years to come.
This article is
What is the duplicate article?
Why is this article offensive?
Where is this article plagiarized from?
Why is this article poorly edited?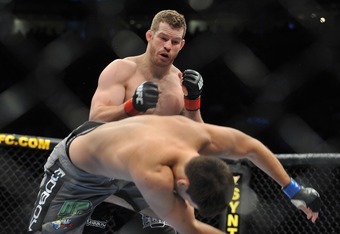 Nate Marquardt Has Been Cut From The UFC, But His Career Is Far From Done
If you haven't heard, Nate Marquardt failed to meet medical requirements and was forced to drop out of the main event in tonight's UFC LIVE. Some fans fave speculated about what happened and the true medical issues revolving around Nate The Great. Here is some food for thought.
Steroids are going to come up in this conversation. Why wouldn't they? Marquardt was suspended a few years ago for steroid use, so the obvious response to his medical "issue" was juicing. I want to point out that it most likely wasn't steroids. With what we know about steroids, would it make sense for Marquardt to take them, even though he was trying to drop weight?
Absolutely not! Fighters use steroids to gain muscle and strength. Ever heard the phrase muscle weighs more than fat? Why would Nate do such a thing, especially since he has been caught once before, right?
I look at this issue and see something to do with dietary supplements. Again, I have nothing to base my thoughts, but hear me out. Some dietary supplements have been banned because of substances in them. Marquardt is a big guy, even for middleweight, so the cut to welterweight couldn't have been easy. On the contrary it might have been hard. So Nate takes a few pills to help cut weight, and gets tested for them. When the PAC tested him they talked to him about it, but without them Marquardt can't make weight.
Now, in all of this Nate was cut from the UFC. This is not a huge deal or a career ending thing for Marquardt. Many fighters have been cut and made their way back. Nate has a very exciting style. His striking is fun to watch and if you don't believe me, go watch UFC 95 against Wilson Gouveia! It was one of the best finishes in UFC history.
Marquardt might be down but he is certainly not out. He is my favorite fighter and I hope that everything is OK with him. He needs to get all of his medical issues resolved so that his fans can see him in the octagon once again.
This article is
What is the duplicate article?
Why is this article offensive?
Where is this article plagiarized from?
Why is this article poorly edited?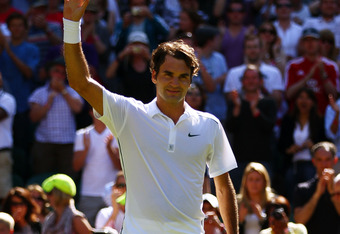 How Much Gas Does Roger Federer Have Left In The Tank
Once upon a time, Roger Federer dominated Tennis. He was unbeatable and held the number one ranking for a record 237 consecutive weeks. In his career he has appeared in 23 grand slam finals and has one 16 of them. Everything I have thrown out to this point is a record, and it still doesn't show the brilliance of his career.
Now at nearly 30 years old, can Roger Federer still be dominant? He most likely will face his nemesis Rafael Nadal in this years Wimbeldon final. The two are both in the fourth round already. But, as it has been recently, Federer won't beat Nadal.
I'm not trying to take anything from the man. To this point Federer is the greatest to ever play tennis, but not by much. Nadal is creeping up quickly. Federer has fallen to third ranked behind Nadal and Novak Djokovic. It is time to realize that Federer is done.
Barring some sort of miraculous career comeback, I can see him winning one more major, but that is it. Too many younger, better tennis players. That doesn't take away from the greatness that has been Roger Federer.
This article is
What is the duplicate article?
Why is this article offensive?
Where is this article plagiarized from?
Why is this article poorly edited?
Nate Marquardt Is In Trouble
According to many sources, Nate Marquardt has been cut by the UFC.
This follows a report that Marquardt was taken off of tonight's Live event. He failed to address a medical issue in which the PAC had brought to his concern weeks ago. At this time, the UFC has kept the issue under wraps and nothing more in known about the issues. Marquardt has been suspended for steroids before, but he is trying to drop weight, so I can't see why it would be steroids again. My guess is a possible dietary supplement to cut weight? I have no backing to that statement, but it might make sense.
Marquardt was scheduled to be tonight's UFC Live main event, where he would face Rick Story. Nate The Great was going to make his welterweight debut. Marquardt has been a top figure in middleweight division for years now. This comes as a shock to many fans, but it seems like many inside people knew.
The Pennsylvania Athletic Commission stated that they gave Marquardt several weeks to clear the problem. The UFC knew about it and when the strict HIPPA laws were not met, the PAC was forced to disallow Marquardt.
This comes as a blow to this card. I am a huge Marquardt fan and was excited to see him try out the welterweight division. He will be back in the UFC once the issue is cleared and we as fans can move on. For now the UFC Live Event is streaming the preliminary events on facebook and fans can watch Kongo vs. Barry in the main event.
This article is
What is the duplicate article?
Why is this article offensive?
Where is this article plagiarized from?
Why is this article poorly edited?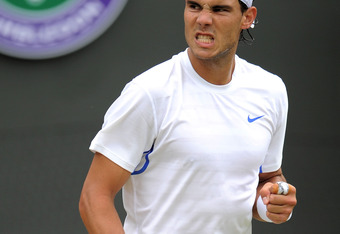 Rafael Nadal Is Close To Becoming The Best Of All Time
So Rafael Nadal is in the fourth round of this years Wimbledon tournament. He is facing Juan Martin Del Potro. Not too far away is the final match in the major, and does anyone see Nadal not in the round?
Indeed, it is impressive to think that a win here would be Nadal's third win in the last four years, at Wimbeldon. That is crazy! Nadal is dominating Wimbeldon and the French Open these days. Who is to stop him? Roger Federer can't come close to beating Nadal anymore. If you watched the French Open, Rafa clearly took over and crushed Roger. It was that simple.
How good is Nadal? Let's have a look. He has ten career grand slams to date. Something remarkable in his career is that he has achieved a career grand slam (winning at least one of each majors). If you think that is not impressive, just think Pete Sampras never accomplished the feat. Nadal has an 82% winning percentage and the number just seems to rise each time he touches the courts. he also won an Olympic gold medal in 2008. He is simply the best in the world.
He will pass Federer for major wins in the next three to four years. No one out there can beat him consistently. When it is all said and done, Nadal will be considered the greatest of all-time.
This article is
What is the duplicate article?
Why is this article offensive?
Where is this article plagiarized from?
Why is this article poorly edited?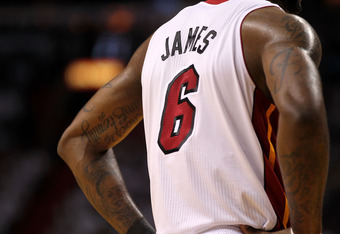 LeBron James Was Beloved By Many Not Too Long Ago
If you missed the NBA draft, let me sum up a few things. I was at the Prudential Center with my father and while every fanbase happened to be represented, one fact was clear. NBA fans hate LeBron James.
My father and I counted the number of James jerseys through the crowd and spotted two. Wait, two!? Yes, that is all there was. There was no mistaking the hatred either. Top ten highlights were shown on the jumbotron ever commercial break and anything that had to do with LBJ was booed by the packed arena. When ESPN did a special report about the Heat's financial breakdown fans were ruthless. You might have heard the boos at home, but you didn't hear the swearing or see the foul gestures.
As a lifelong Cavaliers fan from Ohio, I got to see LeBron several times in high school and many times in the pros. While playing for the Cavs, LeBron was everyone's hero and the city loved him. Actually, the whole league really liked him. He was rarely jeered and most analysts, save Skip Bayless, defended him. So, what changed?
Had LeBron not made the decision on ESPN and said he was going to test free agency waters, many wouldn't have cared. But, after he went on ESPN and stabbed a city in the back, he proceeded to go onto a stage like a rockstar and declare multiple titles for his new team. LBJ has also made a series of stupid post game remarks throughout this season.
When the Heat lost the finals to Dallas, LeBron took most of the blame. I don't place much blame on him as I do the entire team, after all winning a championship takes an entire team.
LeBron finds himself as the NBAs villain. This is a place he has never been before and a title he has never known. While James says he likes being hated, don't let him lie to you. LeBron is human and highly emotional. Trust me, he wants to go back to being loved by all. There is a few things he can do to help his image.
He must fire his PR staff. Get rid of LRMR, his firm, which is made up of his friends. Get someone with real experience and maybe some education in public relations? This will help him prepare in front of the media, which LeBron is not strong in doing.
He must improve his free throw shooting. In critical times he needs to drive to the lane and will himself to the line. Then with his improved stroke, hit clutch free throws.
Lastly, LeBron must see a sports psychologist. Many superstars have done so in their careers, what makes LeBron different? He is obviously unstable in the final minutes of a game. Seeing a shrink might allow him to calm his mind in these closing seconds and hit game winners, instead of deferring to Dwyane Wade.
LeBron, I do not root for you. I don't hold the decision against you anymore as I passed that long ago. It is time to get your image back! Follow my plan and you will see a difference.
This article is
What is the duplicate article?
Why is this article offensive?
Where is this article plagiarized from?
Why is this article poorly edited?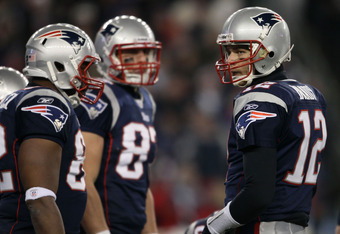 While The 2011 Season Is Up In The Air, Tom Brady Is Poised To Be At His Best
Before fans go spouting off about how Tom Brady will not throw for 50 TDs or for 4800 yards, like he did in 2007, hear me out. Yes, he was the MVP in 2007 with mind blowing numbers, but did his team win a Super Bowl? No.
Heading into the 2011 season Tom Brady is going to be at his best. No he won't have Randy Moss, but he does have Deion Branch, and Brady's chemistry with Branch is not in question. He also has Wes Welker and the dynamic duo at tight end. There is the kicker. Aaron Hernandez and Rob Gronkowski had amazing years , least year, and that was their rookie season! So imagine how much better these two are going to be? Brady will have these two shining in 2011. He had timing issues in several moments with the young studs, but another season will heal those wounds.
Another reason I feel the Patriots will do fine is their backfield. Benjarvus Green-Ellis and Danny Woodhead are getting more experienced and better each time they touch the ball. The team also added Shane Vareen from Cal. This running game will take some of the pressure off the passing game.
Lastly, the first round pick of Nate Solder has to be a positive. Solder will be plugged into the line and if he doesn't start at left tackle immediately, he will be groomed to become the franchise left tackle for years to come. Solder adds a young solid piece to the veteran o-line.
Take all these ideas, combine them with a talented young defense, and the Patriots have a great shot at winning the Super Bowl. Brady will lead this team yet again, and although his numbers might not be as inflated as 2007 were, I expect them to very high. The Patriots are my favorite to win it all this year. Throw in Brady's high projected stats and you have his best season to date.
This article is
What is the duplicate article?
Why is this article offensive?
Where is this article plagiarized from?
Why is this article poorly edited?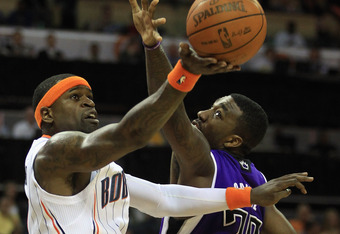 Stephen Jackson Makes The Bucks Better Immediately
The Milwaukee Bucks have a scorer and leader. Michael Redd has been an NBA all-star and an Olympic gold medalist. He is one of the best shooters in the game and has averaged 20 points a game in his career. Sadly, Redd has played only 61 games in the last three seasons. At 31 years of age, Redd has battled knee reoccurring knee problems. When he is injured, the Bucks are without a huge scoring threat. That is, until they traded for Stephen Jackson on draft night.
With the Bucks sitting with the tenth pick in the draft they decided to be a part of a three team deal involving the Kings and Bobcats. This trade had them sending out John Salmons, Corey Maggette, and the tenth pick. In return Stephen Jackson, Beno Udrih, Shaun Livingston and the 19th pick all came to Milwaukee.
Udrih, Livingston, and the draft pick aside, let's focus on Stephen Jackson. He is 33 years old, but has a few good years left in him. Just two seasons ago he averaged a career high, 21 points a game for the Bobcats. His numbers slumped down a bit to 18 points per game this season, but that is around his career averages. Jackson is a good shooter and very aggressive offensive player. He will start right away for the Bucks at small forward. Captain Jack adds experience do a decently young roster and might give them the boost to grab a low seed in the playoffs.
If Michael Redd can stay healthy, the Bucks have a good scoring duo with he and Jackson. Now all the Bucks fans need to do is
This article is
What is the duplicate article?
Why is this article offensive?
Where is this article plagiarized from?
Why is this article poorly edited?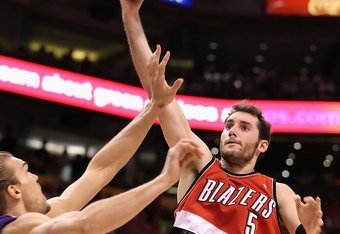 The Best Trade In The NBA Happened To Involve Rudy Fernandez
For the last three years, Rudy Fernandez has provided a spark off the Portland Trailblazers bench. He plays for about 24 minutes a night and gave his team a decent scoring option. Now he finds himself on the World Champion, Dallas Maverick's roster.
Dallas traded the 26th and 57th pick in a three team deal that involved Portland and Denver. The Mavericks received Petteri Koponen and Rudy Fernandez in the trade. When the trade was announced I was shocked that a team coming off a title, could acquire someone with such talents. Dallas gets Fernandez and all they give up is two players that haven't proved anything.
This is a pivotal point in Fernandez's career. The time has come for Fernandez to start for an NBA team. He is a great guard/forward coming off the bench and would be a player that the Mavericks have to see starting at the two. Again, for two unproven draft picks, this trade is a steal for Dallas!
Fernandez is only 26 and adds youth to a very veteran team. I see him as a fixture on the team for years to come. Vegas has already put Miami as the favorites to win and NBA title, but I have to believe to be the best you have to beat the best. However, the Mavericks are getting old. Dallas needed to add more talent in the offseason, to stay at the top for the next few years, and succeeded.
Rudy's numbers will only get better with time increased on the court. Dallas get a viable starter and a weapon this offseason. It is clear that the Mavericks aren't resting on their accomplishments.
This article is
What is the duplicate article?
Why is this article offensive?
Where is this article plagiarized from?
Why is this article poorly edited?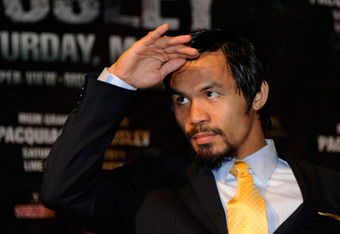 Manny Pacquiao Is The Biggest Name In Boxing
If you follow boxing, you are either love Pac-Man fan or can't stand him. I am not the biggest boxing fan but I do watch all the bigger fights and enjoy the sport. Pacquiao is very skilled and one of the best in the world, but doesn't come without his criticisms.
One of the knocks on Manny is that he fights boxers way below his skill level. It is hard to argue. Yes, he did fight Ricky Hatton, not too long ago. Pacquiao embarrassed Hatton and crushed him in the second round onto a TKO victory. Other than that, who has he fought? Shane Mosley was well passed his prime when the fought and he hasn't fought any of the young studs coming into boxing. This needs to change and it might be on the horizon.
Pac-Man has already dodged Floyd Mayweather by not allowing standard Olympic style drug testing. Argue if you will, but the loss of blood wouldn't effect him as much as he argues. That is water under the bridge and I feel that the superfight may never happen
Yes, Pacquiao's next fight is November against Juan Manuel Marquez. After Pac-Man destroys him, he will look for another opponent and I for one think it has to be Saul Alvarez. If you weren't aware, Carlos Slim has offered Manny $65 million to fight a fighter of his choice in Mexico. There is no doubt that he would choose the undefeated 20 year old.
I would love to see this happen. It is a formidable opponent for Pacquiao, and should he win, the criticisms would stop. Can Pac-Man afford to say no? Not when $65 million is on the table with a chance to shut up the experts.
This article is
What is the duplicate article?
Why is this article offensive?
Where is this article plagiarized from?
Why is this article poorly edited?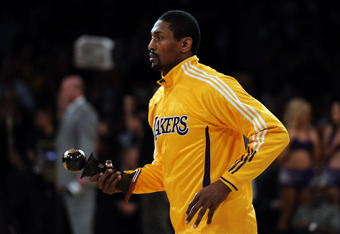 Ron Artest Has Come Up With Another Idea So We Don't Overlook Him
Well he's at it again. Ron Artest is back in the news for something other than basketball. No, he didn't punch anyone or do something malicious, actually it is the exact opposite. Ron Artest has changed his name. The former Artest shall now be called........ Metta World Peace?
That is right. The same man that: flew into the stands and assaulted a fan, has been to court for domestic violence, and is known for his physical, and sometimes dirty, defense. Now this guy changes his name to something about World Peace!? Wait, Ron, did you find religion and inner tranquility somewhere?
Personally this is a publicity stunt and an act. Nothing new for the man who tried out a rap career and failed. I am not shocked that Artest has pulled a Chad Johnson, or should I say Ochocinco? It is time to man up and realize what this all means. Artest doesn't care about hoops anymore. He is coming off his worst season as a professional.
He started all 82 games, and averaged only eight points a game which is well off his career average of 14 points. He also shot under 40% from the field for only the second time in his career. Phil Jackson must have thought the same thing, because he dropped Artest's minutes to only 29 a game. Some analysts will also tell you that his defense took a step backwards.
If fans don't believe that Artest is slowing down, then please explain the name change? It has to be a stunt to put his name back in the media. Why else do it on draft night of all things? Artest is very selfish and it is about time to stop this act. He is 31 years old and is a veteran in the league. If he cannot take the game serious, he needs to retire.
That's my peaceful opinion.
This article is
What is the duplicate article?
Why is this article offensive?
Where is this article plagiarized from?
Why is this article poorly edited?