Cage Contender CEO John Ferguson Breaks Silence on Exclusive Signings
June 26, 2011
Since Cage Contender began the trend, many other Irish-based promotions have followed suit, signing fighters that will compete solely for one promotion.
Mixed emotions have surrounded the subject since the first announcement of Damien "The Rage" Rooney signing an exclusivity deal in May. Yesterday, Cage Contender CEO John Ferguson made a very public announcement about the topic, to clear up some of the doubts that people have regarding the issue.
"Yes, any fighter contracted to the promotion is contracted exclusively. This means they will not be released to fight anywhere else, otherwise there is no point in having the contract," said Ferguson in his weekly blog.
"We did agree that the fighters could fulfill any commitments made prior to putting pen to paper. This was the fair thing to do, Cage Contender has never been in favour of disrupting other people's business, so it was important that we let the fighters stick to the fights they had already agreed to," he continued.
Ferguson also highlighted the fact that deals given to the four exclusive Cage Contender fighters—Damien "The Rage" Rooney, Paddy "The Hooligan" Holohan, Rich "Sauza" Gorey and Artemij Sitenkov—will help their reputations grow alongside the company's in its promising quest for international accreditation.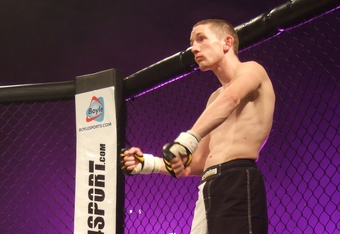 "It's about much more than just the purse-per-fight. Our list of signings will be kept small, this way we will be giving maximum publicity to each of the fighters involved, building there profile side by side with the Cage Contender brand.
"Common sense tells me that if a fighter signs for a show with 25 to 30 signed fighters, then the fighter will not be able to get the same individual attention and back up," said the enthusiastic promoter with regard to his vision of a small roster.
Ferguson then went on to speak on his selection policy, what he expects of his signed fighters, and the future they have under the Cage Contender banner.
"I choose talented fighters who I think I can work with. I have no time for signing prima donna fighters or working with prima donna managers. The guys I have signed are all top lads who I will have little trouble working with," he started.
"These guys are all talented enough to become champions in the promotion. The validity of a promotions title can only be judged on its champions.
"Just look at our list, guys like McVeigh, Roddy, Fields and Pendred. These guys are the top of their respective divisions and we are happy to have them as champions on the promotion with the largest broadcast footprint in European MMA.
"Our signings all have, in my opinion, the ability to top their own divisions over the next while, but we will not be shielding them from tough fights. This is the fight business and fight they will," Ferguson concluded.