MMA: 10 Fighters Who Are Primarily Referred to by Their Nicknames
Due to the many comments I received I added five more fighters that were mentioned and I felt were deserving.
Certain fighters are known and referred to more frequently by their nicknames than by their actual names.
Some fighters have been so thoroughly embraced by their nicknames that they are known almost exclusively as such.
For example, ballplayers George Ruth and Lawrence Berra are historically known better as Babe Ruth and Yogi Berra, respectively. Here are five fighters best known among fans by their nicknames.
Begin Slideshow

»
The Strikeforce and UFC fighter who is popular due to his show on MTV and his overall wacky personality, is usually known as Mayhem Miller.
The former Strikeforce champ is commonly known by his nickname of King Mo.
King Mo takes the nickname to heart and routinely walks out wearing a crown and cape.
The former Pride and UFC champion is known by many fans simply as Minotauro Nogueira.
Chan-Sung Jung is known to most fans as the Korean Zombie.
He received this nickname due to his aggressive style and his ability to take large amounts of damage and still come forward. This is best shown in his first fight with Leonard Garcia.
The TUF 6 veteran is primarily known by his nickname, War Machine.
After his brief UFC stint, he fought for many other organizations and as of this publishing is in jail for assault.
The UFC and Pride star is commonly referred to as Rampage.
According to Jackson, "Quinton" and "Rampage" are two different personalities: Rampage comes out for fights, and Quinton does everything else.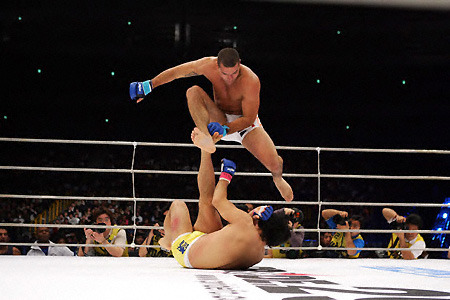 Due to the many many comments, I decided Shogun Rua deserved a spot on this list.
While I was at it I figured I'd add his brother Ninja Rua as well.
The former Pride and UFC champion is more commonly known by his nickname of Shogun. The nickname originated from the brand of gi he wore when he was originally learning BJJ.
The Croatian MMA star is known primarily as Mirko Cro Cop or just Cro Cop.
The nickname comes from the fact that he used to be on Croatia's elite anti-terrorism police squad. Cro Cop was shortened from Croatian Cop.
Most of you probably know the early UFC bad boy as Tank Abbott.
Tank was given the nickname by UFC officials to make him sound more intimidating, being named after Tank Murdock from the Clint Eastwood movie Every Which Way but Loose.
I'm guessing few of you knew that Kimbo Slice was actually the nickname.
Kimbo was Ferguson's childhood nickname, and he got the last name Slice from a large cut he opened on his opponent in one of his first internet fights.