Wimbledon 2011: Previewing Week 2 at the Tournament
June 26, 2011
Julian Finney/Getty Images
While watching the Wimbledon championships and everything that all the experts have had to say, the main topics of the championships so far are the big four in the men's side, who will be the fifth man, and just how far can the Williams sisters go.
Well the big four all moved into week two but after seeing all of them in action it's looking like we are all going to get the dream final once more in Roger Federer vs. Rafa Nadal.
Although Novak Djokovic is seeded second coming off his huge start to the year and Andy Murray has the home-field advantage, The way that those two have played in week one does not compare to the way that Roger and Rafa have played in week one.
Murray has dropped two sets already and has shown that he still beats himself up when things aren't going his way. Until he cuts that out of his game completely, he will never beat any of the three men above him. Saying that though, if he is playing well then there is no need for him to beat himself up and then he can beat any of the top three. He showed this in 2009 when he reached number two in the world.
I saw Novak's first real test against Marcos Baghdatis and he did not look like he enjoyed playing against him. He dropped the second set and he looked like he was in real danger of losing the third set until Baghdatis let a 40-15 lead slip on his service to eventually lose that game.
Novak and Andy both look vulnerable to the upset and there is a big chance of that happening when Murray takes on the impressive Richard Gasquet.
As for Rafa and Roger, well, they have both moved into week two without dropping a set and have done so impressively. Federer's last match was against his bogey man, David Nalbandian and he disposed of him with relative ease.
Nadal's hardest challenge was against big server Gilles Muller with Nadal winning in straight sets and only had three unforced errors.
This begs the question, how do you beat a man who doesn't make any mistakes? It is something that somebody needs to find the answer to and I don't think anybody will.
The next big subject going on during these championships is who will be the fifth man to challenge the big four. Before the championships the talks of the fifth man were out of Robin Soderling, Andy Roddick, Tomas Berdych and Juan Martin Del Potro. Well, Soderling and Roddick both crashed out in week one.
A returning Juan Martin Del Potro has made it into the second week and he will have a chance to stake his claim at being the fifth man when he takes on No. 1 seed Rafa Nadal. Although I think Rafa will win in four sets, maybe five, I think that the fifth man of these championships is none other than last year's finalist Tomas Berdych.
Berdych has lost only 19 games on his way to the second week and that is fewer than any of the top four. Albeit it has been against easy opposition but you can only beat what is in front of you and he has done it better than anybody so far in these championships. He will be the one to watch in week two as he will face the winner of the match between Rafa Nadal and Juan Martin Del Potro.
Before I go on to talk about the women's side, one more name to mention is Australian Bernard Tomic. The only Aussie man left in the draw defeated Robin Soderling in straight sets and I expect him to carry on his momentum to beat Xavier Malisse and then face Novak Djokovic in the quarterfinals where we could see one of the biggest upsets in Wimbledon history.
Now on to the women's draw and I love the current women's game because it is so wide open. Seeds have fallen left right and center and the favourites to win the championships is not the first seed or the second seed, it is instead the fifth and seventh seeds Maria Sharapova and Serena Williams.
With Kim Clijsters dropping out of the tournament before it even started, this helped with the excitement of the draw because I felt that she was a big favourite coming into the championships.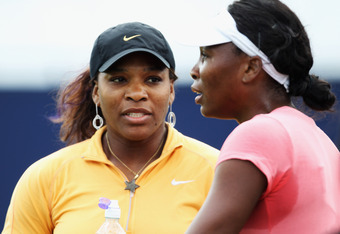 Bryn Lennon/Getty Images
As it stands Maria is the bookies' favourites in England and I can see why. Yet to drop a single set so far and has only been troubled when she was taken by surprise by British hope Laura Robson.
She is seeded to face No. 1 seed Caroline Wozniacki in the quarterfinals and the winner of that match will quite possible face Serena Williams in the semifinals.
I believe the winner of Wimbledon is in the top half of this draw as the bottom half looks relatively weak, even though it includes No. 4 seed Victoria Azarenka and Venus Williams.
I think Venus will make it to the finals, but I do not think she will have enough to beat any of the three women I mentioned in the top half of the draw.
Now as for one of the major talking points in these championships is the Williams sisters and their seedings of seven and 24 despite not playing for such a long time. I can see why some of the players didn't want them seeded so highly.
As you could see in their first matches, they both struggled and both of them could have been eliminated early on, Serena more so than her sister.
However, Venus in her last match won 6-0, 6-2 while Serena advanced to the last 16 with a 6-3, 6-2 victory. If you wanted to face a Williams sister in these particular championships, you would have wanted to get them early when they're vulnerable.
Now with a few games under their belts, I wouldn't say they're back to their best, but they're getting there and that level is enough to beat most of the women on tour today.
With all that said, week two is set up nicely in both the men's and women's draw and I can't wait to see how it unfolds.