NBA Free Agency: Trail Blazers Should Stand by and Wait for Frontcourt Help
June 26, 2011
Doug Pensinger/Getty Images
When the Blazers' season prematurely ended with their first-round exit by the Dallas Mavericks, they were already talking about what they needed to do for this upcoming season (if there is one).
During the draft earlier this week, the front office was clamoring while trying to figure what they should do to fill their two biggest needs—adding youth to the point guard position and getting frontcourt help for LaMarcus Aldridge and Marcus Camby.
They definitely filled their need for a point guard, as they were part of a three-team deal that sent aging point guard Andre Miller back to the Denver Nuggets, while receiving up-and-coming point guard Raymond Felton.
Felton was having a breakout season for the Knicks before being traded to the Nuggets, as part of the Carmelo Anthony blockbuster trade. It was reported that Felton did not want to be a back-up to Ty Lawson, whose potential is through the roof. He is also a favorite of head coach George Karl, so Felton knew that it was time to leave Denver.
They also used their first-round selection (No. 21) on Duke point guard Nolan Smith, who has the ability to become a great point guard someday. The 1-2 punch of Felton and Smith should be one of the best combinations in the league when Smith is able to settle in to his new role and a new league.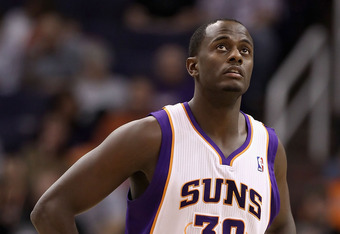 Christian Petersen/Getty Images
However, instead of the Blazers using their second-round draft pick on a big man, they drafted Ohio State's Jon Diebler, who is particularly a shooter and nothing else.
The move was questionable to some, as the Blazers have a glaring need in the frontcourt, especially since 2008's first overall pick Greg Oden is set to become a free agent this summer.
But if the Blazers re-sign Oden, it could just become a bonus. They may already have all the help they need—the other NBA teams just don't know it yet.
Currently on the roster, the Blazers list Aldridge and Camby as the starters. On the bench, there is Earl Barron (who will also have to be re-signed), Jarron Collins and Chris Johnson, a personal favorite of mine.
Barron and Johnson are basically no-names, but they both have shown promise that they can last in the NBA.
A seven-foot center out of Memphis, Barron put his name in the draft, but would not get selected. The Miami Heat would eventually sign him prior to the 2005-06 season, but he would rarely see the floor as he had Shaquille O'Neal, Alonzo Mourning, Udonis Haslem and Michael Doleac in front of him on the roster.
He played in just eight games during his rookie season, averaging a paltry 1.6 points and 1.3 rebounds in roughly 5.6 minutes per game.
That year, the Heat would go on to win the championship and they would also bring Barron back for a second and third season.
However, he would end up flourishing with the Knicks, although it was very short-lived. With an injury-plagued lineup, the Knicks decided to bring him in at the end of the season and he would start six games, while averaging a surprising 11.7 points and 11 rebounds per game.
He would bounce around from Milwaukee to Phoenix and now to Portland, but he should be given a shot with the Blazers.
If anything, he showed massive amounts of potential with the Knicks, as he is a big body who can fill the paint.
He may not be the most offensively-gifted player in the league, but he is one hell of a rebounder on both sides of the ball. Barron may be at his best when he is grabbing offensive rebounds, which is something the Blazers need.
His ability to grab offensive rebounds will give the team the ability to get second-chance points, a statistic that they were lacking in last season.
Barron also has an exceptional mid-range game, as he can knock down shots a few feet outside of the paint. He can hold his own in the paint on the offensive side of the ball, as he has developed his skills at the rim.
He's not very good at posting up players at the basket, but he can use his big body and length to move past smaller players.
Barron also has a decent amount of experience, as he has been in the league since the 2005-06 season. His maturity levels have increased significantly, which would help the Blazers with their team chemistry.
Rounding out the no-name duo is Chris Johnson, a power forward/center out of LSU.
Johnson showed glimpses of promise last season with the Blazers and he should be a lock to make the roster next season.
An undrafted free agent, Johnson immediately went overseas to play in Turkey and Poland before returning to the states to refine his game.
He spent the 2010-11 season in the NBA Development League for the Dakota Wizards, where he would eventually rack up award after award.
He played in 35 games for the Wizards, while averaging outstanding averages of 16.2 points, 9.2 rebounds, and 2.8 blocks in just a little less than 32 minutes per contest. Arguably, Johnson was the best defensive player in the league and he was awarded for it.
Johnson would eventually be named the NBDL's Defensive Player of the Year and was also selected to the All-NBDL first team, the All-NBDL defensive first team and was an NBDL All-Star.
The big man did play against weaker competition, but I firmly believe that the best defensive player in the Developmental League can definitely make it to the NBA.
He showed that he was ready with his great and gritty performances and the Blazers awarded him with an NBA contract. Personally, I think many teams are going to regret their decisions to not sign Johnson, as he could become a valuable back-up.
Ironically enough, Johnson is like a younger version of a poor man's Marcus Camby, who is also his teammate in Portland.
Johnson has outstanding abilities on the defensive side of the ball, as he is a great shot-blocker. He has great anticipation when it comes to shot-blocking and is able to get his hands on most opposing shots.
Not to mention, if he doesn't block the shot, he is somehow able to alter the shot while using his size and length.
His rebounding talents still need to be refined, but his ability to block the ball makes up for that. (And he's not a horrible rebounder by any means.)
Standing at 6'11", Johnson is also a very athletic big man with exceptional length. He just needs to add a little bit of weight because he is really not able to hold his own against opposing big men.
Like Barron, Johnson isn't the most offensively-talented player in the world, but he can definitely alter a game with his defensive abilities.
If the Blazers fail to re-sign Oden, they should look into adding Barron and Johnson to the rotation. They still may need some help at the frontcourt positions; more veteran leadership than anything.
The front office needs to put these two players on the radar, as I believe that they are capable of being considered diamonds in the rough.