NBA Draft 2011: Bismack Biyombo, Tristan Thompson and Tobias Harris Set Low Bar
June 26, 2011
Mike Stobe/Getty Images
All across the wire, critics, fans, and beat writers are courting two silly notions regarding two of the three players above.
In regards to Bismack Biyombo, the seventh pick in the draft to Sacramento whose rights were then traded to the Charlotte Bobcats, fans have jumped all over the mystique of the long and lean shot blocking power forward from the Democratic Republic of Congo as if he were the next Serge Ibaka.
As for Tobias Harris, "the mega steal" of Thursday's draft at 19th, fans are wagering him as one of three of the better players in the draft alongside the first pick Kyrie Irving and the third pick Enes Kanter out of Turkey. But is this true?
Can I say we have been here before, wagered our bets on the notion of potential only to lose over and over again? Do I really have to come back to bigs like Mike Olowokandi and Kwame Brown, who were both drafted first overall in 1998 and 2000 and are now the terms used in a game of name-calling?
Can I continue by saying this years draft in its totality was "Kwame Brown'd" on Thursday and that the bigs look too much like Yinka Dare with a bad left foot?
Biyombo has shown nobody anything at all that even warrants "potential." According to league sources, Biyombo blocked a lot of shots in the rookie camp. I would find that impressive if it were not also known that he cannot shoot free throws, or as Jeff Van Gundy said on Thursday, they don't have a "single offensive play drawn up for him." 
Talk about setting the bar low for the rest of his constituents who now have to either simply tie their shoes or breathe successfully to get consideration for playing time.
The comparisons to Yinka Dare are just too perfect to ignore. Dare, the 14th pick in the 1994 draft to the New Jersey Nets, was a similar shot blocking big with literally no offensive game and no understanding of it either.  
The 7'0", 265-pound center out of Nigeria who played for Mike Jarvis at George Washington, played four years in the league with averages of 2.6 points, 2.1 rebounds, and a total of four assists. Dare, like Biyombo, was a shot blocking machine but was more seasoned by playing four years at a major College program.
For Biyombo, the question marks regarding his age, his maturation, and his ability to dumb-down athleticism in order to play within the bounds of a 48-minute strap are not impossible but highly improbable. Whether it be Dare or the likes of past Colgate great Adonal Foyle—who had far more game than both Biyombo and Dare combined—the amount of draft busts far out weigh the notions of success.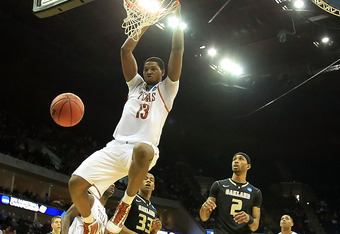 Ronald Martinez/Getty Images
Stories like Serge Ibaka of the Thunder, who has matured into a double-double power forward with a nice face up game for Scott Brook's in Oklahoma City, are few and far between.
Tristan Thompson, the reigning Big 12 Freshman of the Year, with a wide 6'9" frame on 230 pounds, gathered most of his 13.1 points on the rebounding side of the ball. Playing in Rick Barnes' run, bash, and run-style offense, Thompson benefited from the high volume of jumps shots.
Though Thompson has shown flashes of solidity, he lacks the ability to shoot free throws, has poor foot work, has no go-to move, or a 10-15 foot face-up game. The difference between a guy like him or his comparison in Emeka Okafor, is that Emeka works harder than anybody in the league and had four years of college experience.
Okafor was a raw talent when he first entered Jim Calhoun's UConn program in 2001. But by the time he left in 2005 with a national title and a Player of the Year award, he was a defensive- minded power forward with a smell for the ball, a jump hook on the block and impeccable body control.
Thompson has so much work ahead of him it makes it hard to get excited. His maturation period will be somewhere between three to five years, and by then, the 23 or 25-year-old could be bereft by a quandary of injuries. That alone questions Cleveland's faith in him with the fourth pick and judges the draft class as a whole.
It is hard to dismiss Tobias Harris, the freshman center from Tennessee who truly had a great season. The 6'8" and undersized combo forward-center was second on the Vols in scoring (15.3) and first in rebounding (7.3). He is tenacious on the low block, with a low center of gravity, a wide shoulder set and natural ability to play under control.
But his low shooting percentage at 46.0 percent cannot be ignored. At 6'8" and with a low center of gravity, Harris struggles getting his shot off against like-size bigs or those taller than him. Because of his heavy-footed nature, Harris lacks lift on his inside post moves, explosions toward the hoop and offensive put backs. Countless times last season Harris would drop step a la Charles Barkley, only to have his shot rejected.
The difference between an undersized player like Chuck Barkley and Harris is obvious. Barkley had an amazing step back jump shot and face-up game. He did not live and die in the paint and had the quickness to take taller and stronger players off the dribble.
For this reason alone, Harris compares to past college greats like Mike Sweetney (ninth pick in 2003) or Othella Harrington (30th pick in 1996). Both players were skilled bigs with a fine body control, but  could not compete with NBA bigs who had better lift and similar post discipline.
Lucky for us sports fans, we can always find positives in dismal situations. Though this draft is highly disappointing, with the bigs over-hyped (Derrick Williams...really?) and the young guards unproven (Irving), there is always the glimmer of hope that one if not many more can prove us wrong and leave us "Joe Montana'd."