2011 NFL Free Agency: Possible Destinations for the Top 11 Free Agent Receivers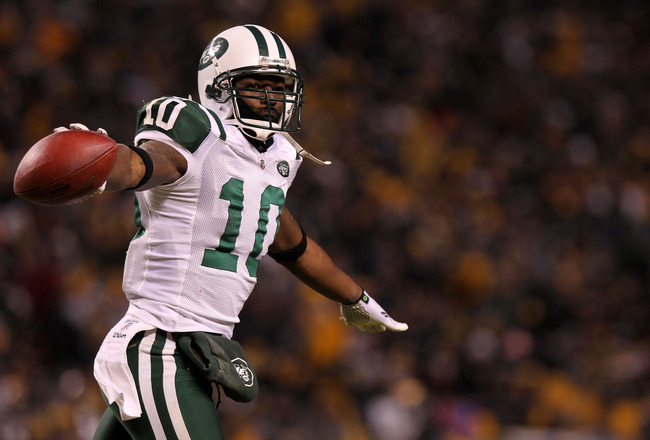 Nick Laham/Getty Images
For whatever reason, the wide receiver position is the position of the diva.
Luckily for NFL teams, there are plenty of divas to choose from in the free agent market this year.
But what is so good about the NFL is most of these divas have the talent to back it up, adding that much more excitement to what is already the most exciting sport out there.
In an offseason that has been filled with uncertainty and controversy, free agent signings haven't been the first thing on most people's minds. It is unclear as to when, but at some point these guys are going to have to sign somewhere.
Here is a list of possible destinations for the top receivers on the free agent market this offseason.
Plaxico Burress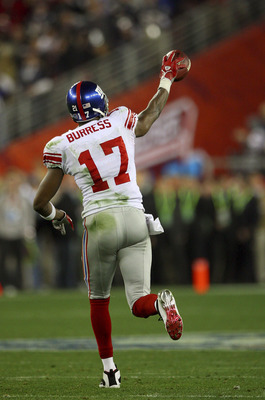 Donald Miralle/Getty Images
Away from the game for the past 2 and a half seasons, Plaxico is back and hoping to make a Michael Vick-like return.
The question is, which team is willing to take the risk on him?
Many teams have shown an interest in the 33 year old, who was a huge factor in the New York Giants Super Bowl XLll victory.
Burress is easily the biggest question mark on this list, but he could turn out to be a very beneficial investment.
Possible Destinations: Philadelphia Eagles, St. Louis Rams, New York Jets
Malcom Floyd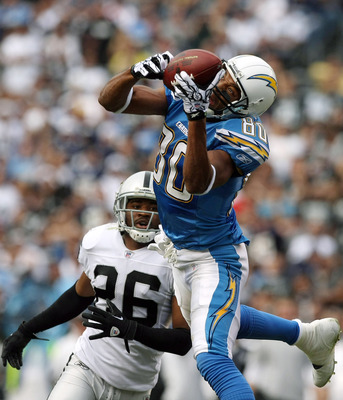 Donald Miralle/Getty Images
Floyd played in only 11 games last season, but still managed to score six touchdowns and register 716 yards receiving.
The five-year veteran is beginning to make a name for himself in the league, and his current team, the San Diego Chargers, are aware of that. It's going to be tough for them to retain both Floyd and Vincent Jackson.
Floyd is a tall, deep threat who has the potential to be a number one receiver.
Possible Destinations: San Diego Chargers, Chicago Bears
Sidney Rice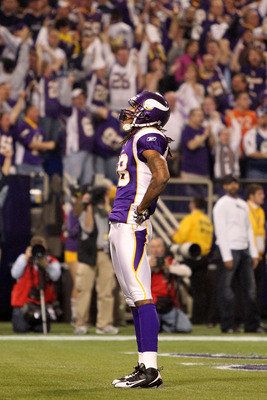 Chris McGrath/Getty Images
There were concerns about Rice after he underwent shoulder surgery last year, but he seemed to come back with no problems.
For a receiver whose team downgraded at quarterback and on the offensive line, he managed pretty well.
With all of the big name receivers in this free agent class, Rice could slide under the radar and make some teams regret passing on him.
If put into the right system, Rice could improve his numbers from the 2009 season (1312 YDS, 8 TDs).
Possible Destinations: Minnesota Vikings, Cleveland Browns, St. Louis Rams
Chad Ochocinco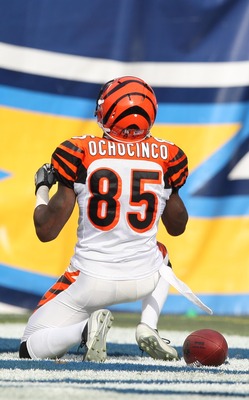 Donald Miralle/Getty Images
The Cincinnati Bengals have the opportunity to pick up Ochocinco's $6 million dollar option for next season, but they most likely won't.
Although his production has been on the decline in recent years, the entertaining wideout is an intriguing option for NFL teams.
If he is paired with the right quarterback, Ochocinco has the capability to be a top receiver. A new city and a new team could just be the motivation he needs to bring himself back to what he once was.
Look for him to return to the NFL and stay out of the MLS.
Possible Destinations: New England Patriots, St. Louis Rams, Cincinnati Bengals
Braylon Edwards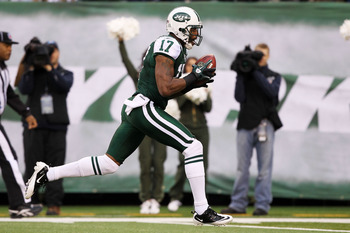 Al Bello/Getty Images
The New York Jets are going to try and retain as many of their free agents as possible this offseason, but Edwards may be the odd man out.
The former Michigan Wolverine is a big play threat and has put up solid numbers throughout his career.
Keep in mind that Edwards has never been matched up with an elite quarterback.
Expect him to be a hot commodity once the lockout is lifted.
Possible Destinations: New England Patriots, Chicago Bears, Washington Redskins
Steve Smith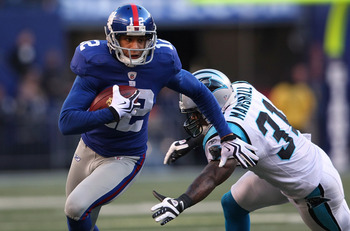 Nick Laham/Getty Images
The New York Giants are extremely interested in keeping Smith, and though it is unlikely he will leave, it is possible.
He has been an exceptional slot receiver for the G-Men for the past few seasons, but underwent knee surgery last year.
The contract that he will eventually sign will be a big one, but it is very likely to pay off.
Smith could certainly help out a number of different teams, but don't expect to see him on the move.
Possible Destinations: New York Giants, San Francisco 49ers, Seattle Seahawks
James Jones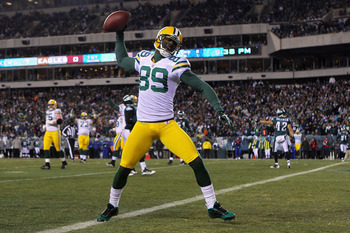 Nick Laham/Getty Images
The name James Jones might not turn as many heads as some other names in this free agent class, but that doesn't mean he can't bring it.
Jones set career highs in yards and receptions this season, and was an "X Factor" on a Super Bowl-winning team.
He has shown flashes that he could keep up with the best, and the Packers may not be able to retain him.
Jones was the 3rd receiver in Green Bay, but expect him to earn starting receiver money when the time comes.
Possible Destinations: Green Bay Packers, St. Louis Rams, Washington Redskins
Terrell Owens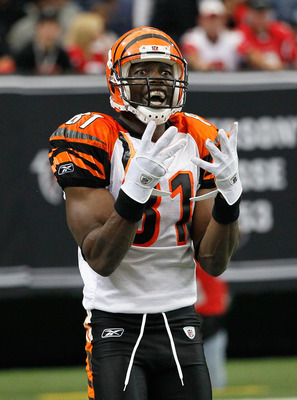 Kevin C. Cox/Getty Images
The apparent ACL injury that he suffered not long ago may have cost T.O. some serious cash this offseason.
The 37-year-old claims he is not retiring, but it is unclear what this guy has left in the tank.
Towards the end of last season, it was starting to sound like the Cincinnati Bengals were through with T.O. and his mouth. If he does leave Cincinnati, he will be moving on to his sixth team in nine seasons.
Given the other talent out there, don't expect Owens to have a whole lot of options this offseason.
Possible Destinations: Carolina Panthers, Cincinnati Bengals, Seattle Seahawks
Vincent Jackson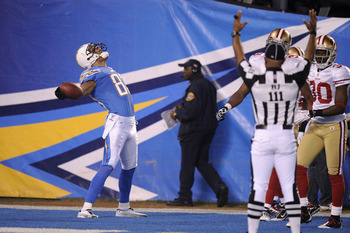 Harry How/Getty Images
As mentioned earlier, it is going to be tough for the Chargers to retain Jackson and Malcom Floyd.
The one-time Pro Bowler is entering his seventh NFL season, and is one of the most talented receivers on the market.
Jackson is looking for a long-term contract, and was willing to sit out the first two months of last season to prove it.
This star receiver is going to earn a big paycheck this offseason.
Possible Destinations: San Diego Chargers, Seattle Seahawks, St. Louis Rams
Randy Moss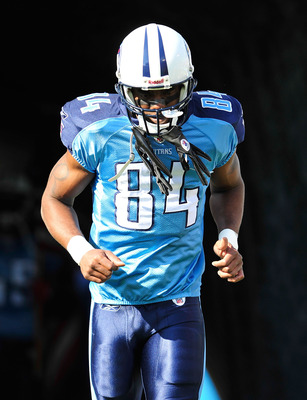 Grant Halverson/Getty Images
It is hard to believe that just a year ago Randy Moss was set to begin another superstar season with the New England Patriots. A lot can change over a year.
Moss is now a free agent, hoping that there's a team out there looking for 33-year-old receiver with a ton of upside.
If you are an NFL team with a decent quarterback, why not take a chance on this guy? His talent is still there, and if he can pair up with a good quarterback, he can be back to superstar status.
Yes, he can be a headache, but there may be a few teams out there willing to take the chance on the four-time First-Team All-Pro.
Possible Destinations: New England Patriots, Chicago Bears, San Diego Chargers
Santonio Holmes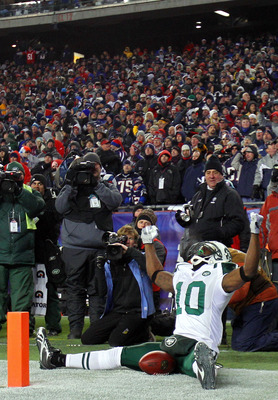 Elsa/Getty Images
The former Ohio State Buckeye was a pleasant surprise for the New York Jets this season.
He put up pretty good numbers (746 yards receiving, 6 TDs) in 12 games this past season, but came up clutch whenever it was needed.
If it came down to it, the Jets would most likely opt for Holmes instead of Braylon Edwards. Holmes had the most targets and led the team in receptions since he made his debut in week five.
Holmes is hoping to receive a multi-year deal, and he will most likely get his wish.
Possible Destinations: New York Jets, Oakland Raiders, Cincinnati Bengals
Keep Reading