WWE's Undertaker: A Fan's View of WWE's Last Outlaw
June 25, 2011
The Undertaker, the seven-time World Champion and the WWE's Last Outlaw, has become one of the most beloved WWE Superstars in history.
I know what you're thinking. You're probably asking yourself, "Rize is an Undertaker fan?" "Isn't this the same guy that worships the likes of John Morrison and the high flying genre?" "How could he possibly be a fan of the Last Outlaw?"
Excuse my nostalgia as I would like to take you back to a special moment for yours truly. It's 1996, like any normal kid at the time, I found myself glued to my TV screen, as I pale guy with a zombie like demeanor made his way towards a wrestling ring.
There isn't a grave to keep this fan away. (personal)
As I observed, my older sibling rebelled in the guy's appearance (mark out), I was instantly amazed by this Superstar, but it would soon be overcome with another emotion.
FEAR (the one emotion synonymous with the enigma known as Undertaker)
The theme that echoed the sound of a bell signifying a departure of this life didn't help my state of mind. Who (or whatever) this man was, he exposed my fear like no movie featuring Jason Voorhees or Michael Myers ever could.
This was the first time I'd ever witnessed Undertaker (and pro wrestling for that matter).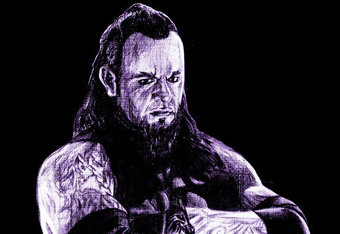 The Undertaker's profound effect on me lead to me avoiding WWF programming and finding WCW as a worthy alternative.  Picking up Sting, DDP, and Booker-T as favorites along the way, I chimed in on WWF RAW at least three times.
Funny thing is, each time, I'd find myself staring at my TV screen, enamored by the one and only, Undertaker.
Some occurrences would be the infamous crucifying of Stone Cold Steve Austin to the kidnapping of Stephanie McMahon. When World Championship Wrestling folded in 2001, I viewed my first WWF pay-per-view in WrestleMania 17.
To my surprise, the satanic, sinister, undead being known as Undertaker had undergone a character change.
In a highly contested match with Triple H, I observed the new Undertaker. He seemed taller, his skin was normal and his attire seemed as if he'd been apart of a biker gang.
In the months that succeeded WrestleMania 17, I'd become accustom to Undertaker and his superiority over most of the WWF Superstars.
This type of Superstar only comes once in a lifetime.
Undertaker is the first form of professional wrestling to ever cycle my train of thought. Despite my obsession with others, Undertaker will always be a favorite amongst yours truly.
Why?
Undertaker is an all-around great superstar/human being.
Unlike his colleagues from the 90s, Undertaker has stood the true test of time. The Deadman has remained in the WWE (WWF) since his debut in 1990. Over 20 years of the strenuous life of WWE Superstar hasn't pushed Undertaker to the edge of retirement just yet.
In the process, maintaining his reputation as a loyal WWE Superstar. Numerous Superstars have come and gone since 1990(Kurt Angle, Jeff Hardy, Chris Jericho, The Rock, Austin) while Undertaker has never left the WWE since his run began.
I think Triple H said it best. "16 years ago, I walked into that locker room for the first time. It was filled with Legends and future icons of this business. I saw one guy that stood head and shoulders above everybody else. One guy that I could clearly see was the glue that held this all together. I watched that guy do things that no human being should be able to do. I watched him duck tape a flack jacket to himself because he broken every rib and still was going to the ring that night. I watched him wrestle with broken bones, torn ligaments, and I watched him crush one entire side of his face and wrestle the next night."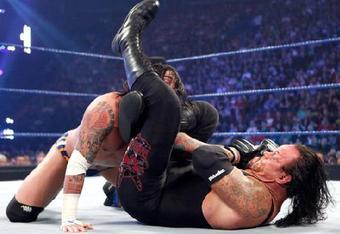 "He did it not because he was told to or because he had to because that's who he was. I learned that if I should pattern myself after anybody in this business, it should be that guy. He represented everything that the WWE was and should be."
Can YOU adapt?
Despite having a number of attributes, Undertaker is famous for his ability to adapt. The Last Outlaw debuted as a power house that was glorified for his speed and renowned striking ability. At his size, it's not walk in the park to obtain as a great in ring technician.
But the sight of a 300-pound man diving over the top ropes onto Batista can change the thinking of any fan.
Besides this, Undertaker has added elements of MMA and submission wrestling to his arsenal. With the inclusion of the Hell's Gate, Undertaker has seemingly cheated age by discontinuing the use of the choke slam and Last Ride.
Simply put, Undertaker can tell a story in the ring like no one (besides HBK) can.
The ultimate sign of respect, dedicated to the world of pro wrestling.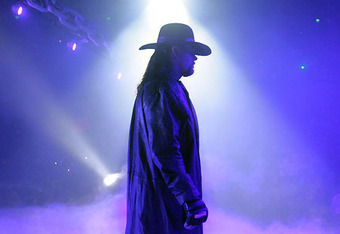 If not anything featured in this article, every pro wrestling fan must respect Undertaker for kayfabe. In case you missed my point, Undertaker possesses the greatest gimmick in the history of professional wrestling.
Undertaker has never broken kayfabe. Despite the potential to make millions of dollars through promotional or other potential business deals. Instead, Undertaker decided to retain his character and refrain from opportunities of financial gain.
For this, Undertaker will always have my utmost respect.
Eulogy: A fan's final goodbye
I apologize if you were expecting more, but this is a one of a kind tribute to Undertaker. Now that his time in the squared circle is coming to an end, I found it appropriate to commemorate the career of the Deadman with this article.
Looking ahead to the future, I realize that Undertaker has one more match left in him. WrestleMania 28 will truly be epic. The night the Deadman cemented his status as arguably the greatest wrestler of all time.
In closing, I must its going to be extremely difficult to watch the WWE knowing you'll never witness Undertaker destroy another opponent.
So it shall end, as it began.
With the irreplaceable ringing of the bell tolling the end of a life (career), but ain't no grave can hold his body down.