NBA Trade Rumors: Which Moves Will Cleveland Cavaliers Make During Offseason?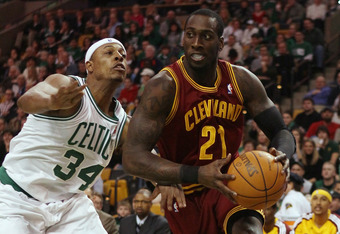 The NBA Trade Rumors Are Thick This Time Of Year And The Cleveland Cavaliers Are Right In The Middle Of Things
Going into the NBA draft something was clear to Cleveland. The team had point guards and power forwards. So it didn't come as a shock when the team drafted Kyrie Irving and Tristan Thompson, right? Well, not exactly.
The Cavs now have three point guards (Kyrie Irving, Baron Davis, and Ramon Sessions) and five power forwards (Tristan Thompson, JJ Hickson, Anderson Varejao, Samardo Samuels, and Antawn Jamison). Several of these players hold decent trade value and the Cavaliers need to add talented wings.
Hickson and Varejao clearly are the ones teams covet. Hickson is a young and improving player, but it seems that the Cavs front office might not see him as a pivotal part of the future. At this point, Hickson might be worth two first round picks. Cleveland is using the Oklahoma City Thunder model for building there franchise. That means that a team has to stock pile and value draft picks. Varejao is a fan favorite, but might not warrant draft picks. Varejao is one of the better energy and defensive players. While Andy is getting older, he would really help those teams that lack a player of his specialties. The Cavaliers need to try and ship these two out in order to bring some young skilled shooters to Cleveland.
It is apparent that Kyrie Irving is the future of the team and Baron Davis is here to mentor him. Where does that leave Ramon Sessions? Sessions got better last year as time went on and his value increased. It was rumored that the New York Knicks have interest in him. Sessions is a decent point guard and has a little upside. Having Byron Scott as his coach last year certainly helped his approach. The Knicks won't be the only team that wants sessions.
The Cavs need to bring in a couple of players this off season, via trade. Cleveland has zero players that can score consistently. While the 2012 draft is full of swing man and dominate guards, the Cavs need to add a veteran shooter. The young players on this team can help with that.
Most recent updates:
This article is
What is the duplicate article?
Why is this article offensive?
Where is this article plagiarized from?
Why is this article poorly edited?