NBA Rumors: Latest Trade Rumors, Coaching Buzz and More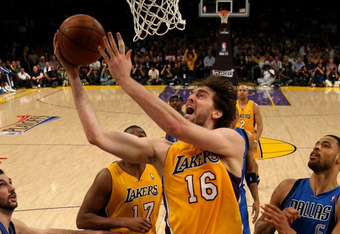 Stephen Dunn/Getty Images
Sadly, the NBA offseason has begun. What a season it was, huh?
It all started with the "Big Three" making claims in front of a semi-packed arena. We saw stars like Derrick Rose emerge, while others, like Kobe Bryant, started to fade.
When the dust settled, fans were treated to the most exciting NBA Finals that the league could offer. The Mavericks won the title, Kyrie Irving led off the top of the draft and now all we have to look forward to is...LOCKOUT TALK!?
Not so fast, my friends.
The lockout might come, but this league will deal with it quicker than the NFL. The NBA knows that it is on the rise and has passed baseball as America's second favorite sport. Now is not the time to take a break and David Stern is quite aware. This will lead to a proper agreement reached and the season fully intact.
There won't be a "decision" this time around in the offseason. However, that doesn't mean fans should be less excited.
Powerful players' names (Pau Gasol, Dwight Howard, etc.) are floating around the rumor mill. Some of them make sense, while others make you scratch your head.
Teams are scrambling to make moves so that they may compete, while others look to dump salary and rebuild. Buzz floats around every team and the one question lies on everyone's mind: What will my team do?
Yes, basketball fans, this will certainly be an exciting offseason indeed.
For more NBA rumors, commotion and trade buzz, check back here at Bleacher Report throughout the day.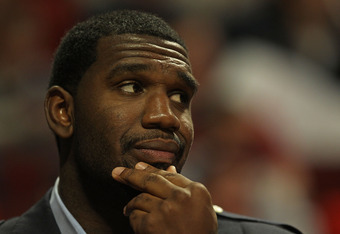 A Small NBA Rumor Is Rising And It Has To Do With The Former Number One Pick
It is said that Greg Oden is 23 years old, looks 53 years old, and has the knees of a 73 year old. If you don't believe it to be true, know that Oden has missed games to start his college career, missed his entire rookie year, and has had three seasons cut short from knee injuries.
This off season he is a restricted free agent. That means that if a team wants him, they can make and offer. If Portland matches the offer they can keep him, if not the offering team gets him. Will Portland match it or is it time to give up on Oden?
This is certainly a huge risk, but also has a high reward. There are teams that would love a healthy Oden. I think that there is a right amount for a team who covets him. Portland has to be about done with the experience and they are ready to move on.
I think that the Cleveland Cavaliers could afford to take a look at Oden. They do not have much inside and if Oden can stay healthy, they add a starting center. I know that most fans do not like Ryan Hollins, but he could be a serviceable backup for the time being, right? Plus, the numerous Ohio State fans would be charmed by Oden's familiar smile.
More teams that could use a defensive interior presence are the Golden State Warriors, New York Knicks, and Denver Nuggets. These heavily offensive team desires players of his quality. He could set a pace later in games. Why not take the risk?
The only question happens to be about Oden's health. It is the one thing that has haunted him his entire career. I hope that Oden overcomes these problems and earns his top pick status in his career.
Only time will tell.
This article is
What is the duplicate article?
Why is this article offensive?
Where is this article plagiarized from?
Why is this article poorly edited?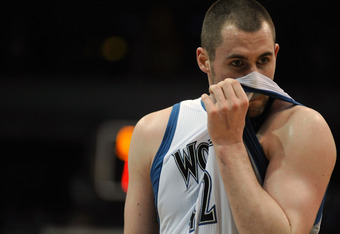 Fans Were Completely Surprised To See That Minnesota Was A Part Of The NBA Trade Rumors
If you missed it, the Timberwolves have at least thought about trading Kevin Love. Yes, they didn't end up making the move, but do you honestly think that David Khan just hung up the phone?
Kevin Love is a double-double monster. He is a fan favorite already and has only been in the league for three years. Love led the league in rebounds this season and made the all-star team this year. He is the Timberwolves best player, so why wouldn't teams like the Lakers be interested? After all, Love is a good shooter with range to go along with his glass eating ability.
The Timberwolves have a decent core with Wes Johnson, Ricky Rubio, Derrick Williams and Love. I am not about to say they are going to make the playoffs, but the team is young and mostly inexperienced. They should be a fun team to watch develop but the demand a veteran presence. Would Love be the man that brings in someone like Pau Gasol?
Either way, I don't think that Love would ever win a title in Minnesota, at least not while David Khan is running the show.
This article is
What is the duplicate article?
Why is this article offensive?
Where is this article plagiarized from?
Why is this article poorly edited?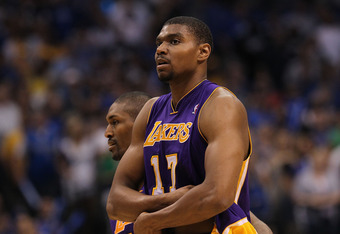 The Most Popular NBA Team Has Been All Over The NBA Trade Rumors
It must be nice being the Los Angeles Lakers. They are the most popular team in the a city that has almost four million people. Actors, actresses, Governors, Senate members, and famous people all alike, attend Laker games. It certainly is a spectacle to see. That is why a team of this caliber can't stay down for long. There is pressure to succeed and they may have a couple of moves to help them along.
The first thing that everyone needs to understand is Kobe Bryant is not a tradeable player. He has played his whole career in LA and still has enough juice in him to make several more finals runs. The Lakers can trade anyone else on the roster, except Kobe. Now that we know that, the Lakers need to work on adding a superstar to the team and I will throw out the name that has everyone talking, Dwight Howard.
Shaq, Wilt, and Kareem all played for the Lakers. It is like a calling to great big men, right? So why not Howard? He has yet to sign his extension and the Magic must look to get something out of him if he doesn't sign soon. Trust me, he is going to pull a Lebron and bail on the team that drafted him. the Lakers have Andrew Bynum. If anyone saw Bynum's last Laker game, they would have been irate at how Bynum left; receiving a flagrant foul and tearing off his jersey before leaving the court. It was disgraceful! He needs a change of scenery and the Magic would be perfect. He still hasn't reached his full potential and that is saying something!
One more piece that the Lakers need to look at is Andre Iguodala. According to multiple sites, the Lakers have already offered a package that involves Lamar Odom for Andre Iguodala. If Iggy is unhappy in Philadelphia, I am sure the 76ers considered. If the Lakers sweeten up the deal a bit more, maybe they find themselves with AI for the next few seasons. New coach Mike Brown would love Iguodala and what he brings to the table, especially defensively!
Lastly, the team must deal Pau Gasol. I think that Pau Gasol must be traded immediately if the chemistry is to fully come back to the Lakers.We know that the Lakers wanted to move Pau to the Timberwolves in order to draft Derrick Williams. While that didn't happen, there were rumors earlier in the year that Chris Paul could be a target in a trade for Gasol. I don't know how true those rumors were, but if Paul is leaving the Hornets, why wouldn't they like to get someone of Gasol's talents in return, right? He will bring the Lakers some type of franchise piece.
Now is it possible for the Lakers to be under the cap with Kobe, Dwight Howard, Andre Iguodala and Chris Paul? Probably not, unless they all take a pay cut to play with each other. While that may not possible, Dwight Howard is coming to LA so take your pick on who you want as the Lakers "Big 3". Chris Paul added to Howard and Kobe sound like a winner to me. It makes the team instantly younger and gives them a load of talent for the next decade.
It must be nice to be a Lakers fan, knowing you have all these potential options.
This article is
What is the duplicate article?
Why is this article offensive?
Where is this article plagiarized from?
Why is this article poorly edited?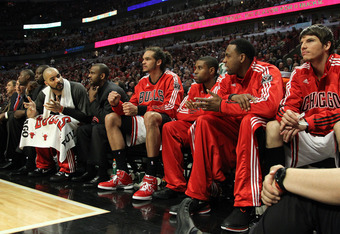 The Chicago Bulls Have To Be In The Market For A Scorer, Now Is There An NBA Rumor That May Have Some Fact To Help The Bulls
During the 2011 NBA playoffs it was clear that Derrick Rose was the only scorer the Bulls had. I am not questioning their front court as Joakim Noah, Luol Deng, and Carlos Boozer are good players. There is a giant whole at one position in which I feel the Bulls need to address immediately and that is shooting guard.
I've been very vocal about my love for Monta Ellis and how the Bulls must take a look at acquiring him. There are two other players that Chicago may take a look at.
JR Smith has to be the number two priority behind Ellis. It will be a little easier to get a hold of Smith as he is a free agent this year and would almost jump to play for one of the best teams in the league. Smith Shot almost 40% from beyond the arc last year and averaged about 12 points. He gave the Nuggets 25 minutes a game off the bench, but I for one feel that he needs to start in this league and Chicago is the place. If Smith would get 36 minutes a game or so, he would average around 18 points a game and be a constant threat that the Bulls need.
Another player that might interest the Bulls is Nick Young. While the Washington Wizards like Nick Young, if the Bulls made them an offer they would listen. This could be a dynamic trade that could really boost the Bulls. Young averaged nearly 32 minutes a game this year and started 40 games for Washington. He averaged a career high 17 points, while 44% from the field and 38% from three point land. Young is also a very good free throw shooter.
I think that the only way the Bulls get to the NBA Finals is to nab a great shooting guard. Ellis will comes with a higher asking price than Young, and I don't know how the team could fit JR Smith in their salary cap, but the Bulls must do all they can to bring one of these players to Chicago.
This article is
What is the duplicate article?
Why is this article offensive?
Where is this article plagiarized from?
Why is this article poorly edited?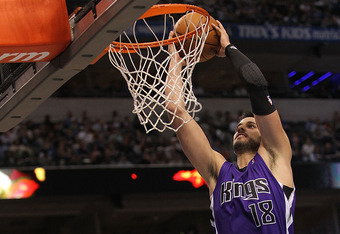 There Are A Few Sacramento Kings That Have Been A Part Of The NBA Trade Rumor
According to The Sacramento Bee Donte Green and Omri Casspi could be on the move very soon. While that might not mean a lot to some NBA fans, I would like to point out that, while inconsistent both of these young players might have some value for teams.
Donte Green is coming into his fourth year in the NBA. He was drafted out of Syracuse in 2008 by the Kings. He played in 69 games this year for the Kings and shot a decent 40% from the floor. His best season was his second season in he league, but he has shown potential throughout his career. That potential and the ability to give a team some quality minutes off the bench, would allow a team to certainly enquire about making a deal for him. I actually could see Green being an above average player in the NBA. He just needs to find the right system with a quality coach.
Omri Casspi is a little better known than Green might be. He appeared in 71 games last year while giving the Kings 24 complete minutes during those contests. He is a good shooter who shoots 43% from the field and 37% from long range. Those types of numbers seem to raise certain eyebrows. While they aren't jaw dropping, keep in mind that Casspi is only 23. He is from Israel and has played two years in the NBA to date. That is not much to go on, if you think he is a bad player. The fact is that Casspi has a lot of room to grow into a great outside threat. Please show me a team that doesn't need that?
You might think it is dumb, but I would take a moment to think about what these players may do for a teams bench. They could bring in some fresh legs and really allow a coach to help their careers along. All they need is a shot and one team to like them.
This article is
What is the duplicate article?
Why is this article offensive?
Where is this article plagiarized from?
Why is this article poorly edited?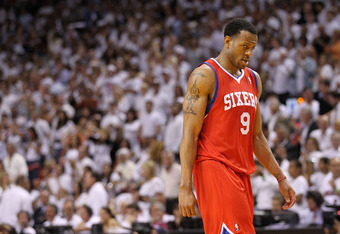 The Best Player NBA Draft Rumors Are Swirling Around is Andre Iguodala
Did anyone watch how the Philadelphia 76ers took on the Miami Heat in the 2011 NBA Playoffs? Call me stupid, but I firmly believe they never backed down and gave the Heat all they had. Save your arguments, Miami had more trouble with Philadelphia than they did against Chicago or Boston. There are many reasons why all this happened, but I drape most of the honor to Doug Collins and Andre Iguodala.
So why are there trade rumors around the 76ers best player? During the draft it was noted that they were trying to deal and offering AI as trade bait. He is known for being a willing defender and was named to the 2011 2nd team all-defense. What is overlooked is his contributions everywhere. He might not be a dynamic scorer but he did average 14 points six rebounds and six assists this year per game. Add that to his incredible defense and you have a player teams drool over.
There are several landing spots that Iguodala could be at sooner than later.
The Lakers supposedly offered a package for Iguodala that included Lamar Odom. While this seems tempting, If I were Philadelphia I wouldn't touch Lamar Odom with a ten foot pole! He is not the player that AI has become. Iguodala is a better defender and plays with more consistency and heart than Odom. If the Lakers really want him, they must pony up and offer more.
Another rumor swirled with the Cleveland Cavaliers. Would it benefit the 76ers to listen? Of course it would. The Cavaliers can offer up their trade exception and a young blossoming JJ Hickson and Ramon Sessions. This trade benefits both teams and their salary cap. If Iggy wants to leave, why not go to Cleveland? He would get to play with Kyrie Irving and Baron Davis, who would set him up for big moments. Then again, if Iguodala wants to be on a winner, this is not the place he wants to be for a few years. The Cavs are rebuilding heavily and AI is already in his late 20's.
I know that Doug Collins has called Iguodala and told him that the rumors false. The best bet for Iguodala might be to stay in Philadelphia as a young team becomes better each year. The 76ers would love to have him back, but if Iggy is barking about leaving the team needs to realize this and get as much as they can for the guy.
This article is
What is the duplicate article?
Why is this article offensive?
Where is this article plagiarized from?
Why is this article poorly edited?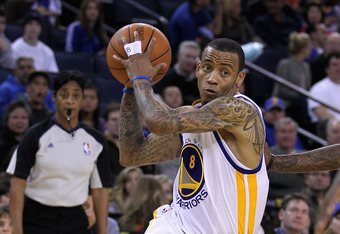 One Recent NBA Trade Rumor Has Surfaced And It's About Time
When Monta Ellis came out of high school he decided to enter the NBA draft. Many thought that he needed to attend college to polish his game. He was overlooked in the draft until the Golden State Warriors took him with the 40th pick in the 2005 draft. What a steal he has turned out to be for the Warriors.
He has had some injury problems to start his career, but in the last two seasons he has player 144 games while averaging close to 25 points. Right now, Ellis' value has never been higher. In a league full of scorers, he is one of the best at putting the ball in the bucket. Teams need a player of his caliber, and that is why Monta Ellis has asked for a trade.
Yes, you heard me right. Ellis has asked Golden State to trade him and it is for the best. While new coach Marc Jackson insists that Ellis is in the teams future plans it might not be a good move on the Warriors part to keep him. Ellis is obviously unhappy with the situation in Golden State and wants to be moved to a winning team that he may push over the edge. The Warriors could ask for a king's ransom for Ellis and they just might get it.
That is why the deal has to be done. Ellis would thrive in a winning system and could provide a team, like Chicago, with a much needed combo guard and slasher. Meanwhile the Warriors would most likely get good developmental players and draft picks back. When was the last time a trade benefited both the team and the player?
While Warrior fans may be upset, there is no denying that the time to ship Ellis is now.
This article is
What is the duplicate article?
Why is this article offensive?
Where is this article plagiarized from?
Why is this article poorly edited?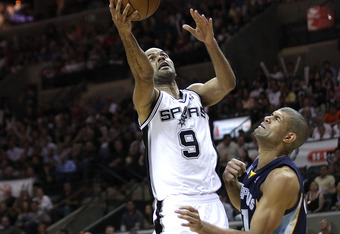 One Of The More Prominent NBA Trade Rumors May Not Have Any Truth To It At All
Tony Parker has been a key figure for the San Antonio Spurs for sometime now. Parker has been a part of the 2003, 2007, and 2009 championship teams. He was the 2007 finals MVP and has made three all-star appearances. Clearly, he has been a dynamic player and one of the reasons the Spurs have been so good for a long time.
So when a rumor broke that the Spurs were shopping him around, I was shocked.
During the draft it was known that the Spurs were looking to get younger and move up in the draft. They had their eyes on several players including: Jonas Valanciunas, Tristan Thompson, and Khawi Leonard. Before the draft we heard that Parker was going to several places in order for the Spurs to pick up one of these coveted players. In the end, the Spurs did get Khawi Leonard after they traded George Hill to the Pacers for the his draft rights.
Hold on, was Tony Parker ever in play? Were the Spurs really interested in dealing him or was that just part of the typical rumor mill?
Parker was never going to be let go by the Spurs. The only reason they would have let him go would have been if someone came along with an option that benefited them greatly. Some people point to Parker's age as a reason for why the team looked to trade him. He is only 29 and still has a great first step. While most people were sure that Parker was out of San Antonio, I doubted it very much. Did anyone watch the playoffs? Jason Kidd is 11 years his elder and still manage to play well throughout several grueling and physical series.
With the emergence of Gary Neal, it would make Parker a little easier to deal, but the team would only have one point guard on the team. Sure they could go out and sign one, but who out there knows the Spurs system better than Parker? No one.
Tony Parker will be in San Antonio this year along with many years to come. Even if Neal does end up passing him on the depth chart, Parker would be a reliable vet that could give the team 25-30 minutes a game. He wasn't dealt and was never fully on the trading block. This rumor sprouted legs of its own and took off.
For now, Parker remains a great NBA point guard on a very good team.
This article is
What is the duplicate article?
Why is this article offensive?
Where is this article plagiarized from?
Why is this article poorly edited?
If One Of The NBA Rumors Are True, The New York Knicks Are Close To Being An Elite NBA Team
The New York Knicks can score with anyone in the NBA. They have a slew of shooters on the roster that provide points from every angle. The Knicks have cornerstone pieces in Amare Stoudamire, Carmelo Anthony, and Chauncey Billups. While the offensive game is critical to a team, everyone knows that defense wins championships, right?
Josh Smith is one of the best defensive players in the game. His elite athleticism allows him to defend just about anyone. He was part of the all defensive second team in 2010. Smith is only 25 years old and is coming into his own defensively. A change of scenery would do him well and it is no secret that the Atlanta Hawks have been seeing if anyone is interested.
The New York Knicks need to acquire Josh Smith. Knick fans would love him immediately and he makes their team better. Right Away, Smith would guard other teams elite players and would provide a great rebounding presence. His dunks are some of the best in the game and would bring more energy to Madison Square Garden, The Knicks would have Anthony to Score, Billups to run the show, Stoudamire to be inside, and Smith to defend. It makes sense.
Smith is the best off season option the Knicks have. If the Knicks are successful in getting him, they will be a top three seed in the NBA. All they have to do is make it happen
This article is
What is the duplicate article?
Why is this article offensive?
Where is this article plagiarized from?
Why is this article poorly edited?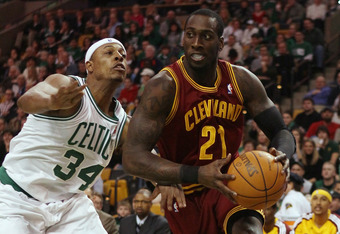 The NBA Trade Rumors Are Thick This Time Of Year And The Cleveland Cavaliers Are Right In The Middle Of Things
Going into the NBA draft something was clear to Cleveland. The team had point guards and power forwards. So it didn't come as a shock when the team drafted Kyrie Irving and Tristan Thompson, right? Well, not exactly.
The Cavs now have three point guards (Kyrie Irving, Baron Davis, and Ramon Sessions) and five power forwards (Tristan Thompson, JJ Hickson, Anderson Varejao, Samardo Samuels, and Antawn Jamison). Several of these players hold decent trade value and the Cavaliers need to add talented wings.
Hickson and Varejao clearly are the ones teams covet. Hickson is a young and improving player, but it seems that the Cavs front office might not see him as a pivotal part of the future. At this point, Hickson might be worth two first round picks. Cleveland is using the Oklahoma City Thunder model for building there franchise. That means that a team has to stock pile and value draft picks. Varejao is a fan favorite, but might not warrant draft picks. Varejao is one of the better energy and defensive players. While Andy is getting older, he would really help those teams that lack a player of his specialties. The Cavaliers need to try and ship these two out in order to bring some young skilled shooters to Cleveland.
It is apparent that Kyrie Irving is the future of the team and Baron Davis is here to mentor him. Where does that leave Ramon Sessions? Sessions got better last year as time went on and his value increased. It was rumored that the New York Knicks have interest in him. Sessions is a decent point guard and has a little upside. Having Byron Scott as his coach last year certainly helped his approach. The Knicks won't be the only team that wants sessions.
The Cavs need to bring in a couple of players this off season, via trade. Cleveland has zero players that can score consistently. While the 2012 draft is full of swing man and dominate guards, the Cavs need to add a veteran shooter. The young players on this team can help with that.
This article is
What is the duplicate article?
Why is this article offensive?
Where is this article plagiarized from?
Why is this article poorly edited?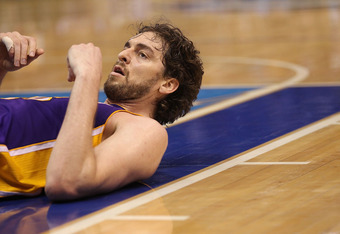 With NBA Trade Rumors Swirling, One Seems To Be More Realistic Than The Others
LeBron James wasn't the only one taking blame for playoff losses this season. If you happened to notice, Pau Gasol took a beating as well. Pau Gasol has been a fixture of the Los Angeles Lakers. He has played a key role during the Lakers championships. While with the team he has attended three straight all-star games and averaging around 18 points a game. Yes, Gasol has been played well but he doesn't come without his criticisms.
When I have watched Gasol play, the word soft has always come up in conversation. Is he tough enough to bang around with the NBA big men? It is known that Gasol is definitely finesse player. He has good court vision and is a very good passer for someone who is seven foot tall. Indeed, he is certainly worth those all-star bids, but we saw something from Gasol this post season that has been overlooked for years.
It seems that Gasol shuts down in big moments. During games against Dallas in this year's post-season, he seemed to fade away in key moments. Kobe Bryant has been very boisterous of his opinions of Gasol. On more than one occasion, he has called Gasol soft.
Whether or not the criticisms are well warranted, Pau Gasol won't be around much longer. If you listened to rumors this week, the Lakers were shopping around Gasol. Right before the draft, there were murmurs of a trade between the Timberwolves and Lakers that would allow LA to obtain the second pick for Gasol. If this were true, the Timberwolves didn't bite.
Gasol does hold value. All-Star centers don't grow on trees and interior talent is needed on any teams.
The Timberwolves aren't the only team rumored to be offered Gasol. Several others have to be in play including the Cavaliers, Pistons, Wizards, and Blazers come to mind. While you might not agree, Pau makes those teams better immediately.
When Kobe is continuing to call you out, it is clear that your time has run out. Gasol won't be in LA much longer. The only thing that remains is someone offering what the Lakers want. The market is certainly open for business.
This article is
What is the duplicate article?
Why is this article offensive?
Where is this article plagiarized from?
Why is this article poorly edited?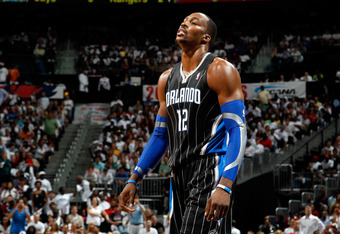 He Is A Superstar And The NBA's Best Center, But Is That Enough To Keep Him In Orlando And Out Of The NBA Trade Rumors
In the NBA, players do not get much more entertaining than Dwight Howard. He is a character and always fun to watch. Howard was dubbed "Superman" after an exhilarating slam dunk contest, in which he put on a cape, dazzled the crowd, and won the memorable contest.
Howard has led the league in rebounding for the past five years. He also has won the league's Defensive Player of the Year award three years in a row. No player in NBA history has done either of those two feats. If you don't believe that Howard is the best big man in the league, please know that he continuously leads the league in blocks and rebounds while being a constant starter in the all-star game. All of his achievements aside, he is only 25 years old and gets better each year.
Going into the 2011-2012 NBA season, Howard has one year left on his contract with the Orlando Magic. They are the team that drafted first overall in the 2005 and the only NBA team that Howard has played for. The Magic have an offer on the table, and even though Howard has said countless times that he is staying in Orlando, he has failed to sign the contract.
The lack of ink on the dotted line has led to fans being irritated at him. I can't blame them. I am a Cavs fan and always heard LeBron make hollow promises or be non-committal. Howard looks and sounds like LeBron, only he slaps a dazzling smile on his words.
If he doesn't sign, will the Magic trade him to at least get some value out of him? Shaq left for the Lakers and left the Magic high and dry. Would the Magic make the same mistake twice? Rumors have been flying around him going to Los Angeles. Andrew Bynum and Lamar Odom would certainly take some of the pain away for the Magic. I've also heard the rumor that the Heat could trade Chris Bosh for Howard and make it a true "Big Three".
I hate to say it but, I feel that Dwight Howard is leaving Orlando. That is not fair to Magic fans as they have supported him throughout his career. They've been there for him and supported him through all his mistakes and growing pains as a pro. Magic fans, you deserve better. You deserve his ink on that contract and another seven years. He is the centerpiece of that franchise. No fan base deserves to go through what Cavalier fans endured last summer.
Dwight, do the right thing and sign the contract. If you don't, Superman will be stripped away and we'll be left looking at Lex Luther.
This article is
What is the duplicate article?
Why is this article offensive?
Where is this article plagiarized from?
Why is this article poorly edited?