NBA Trade Rumors: Why Chris Paul for Russell Westbrook Makes Sense
June 25, 2011
Harry How/Getty Images
It is no secret whether or not the New Orleans Hornets' stocky weave-master Chris Paul is happy. The 2006 Rookie of the Year, four-time All-Star and former USA lead point guard made his unhappiness known last offseason at Carmelo Anthony's wedding celebration.
The former Wake Forest standout, with the keen ability to slice and dice entire defenses, get others involved in Steve Nash fashion and drop a barrage of floaters in the key, decided a super tandem or trio was best for him.
This is what the Miami Heat have started: power-hungry menages a trois, made of spoiled star-children with distaste for winning things on their own. 
Yet considering New York is well stocked with talent and high-profile superstars in Carmelo Anthony and Amar'e Stoudemire, it seems unlikely the superstar could find room in the bustling American mecca. Despite these rumors, another star would disrupt the chemistry of a team laden with duplicitous personality.
Who to give the ball to? Amar'e above the rim or Melo on the perimeter? Perhaps a kick-out to Landry Fields, Mr. Big Shot Billups, or Toney Douglas out at the three?
Multiple options best suit the D'Antoni high volume offense, where anyone and everyone can join in on the scoring parade if they a) know how to the run the floor or b) can hit the open three (think of fellas who have overachieved and thrived under his system: Quentin Richardson and Bill Walker).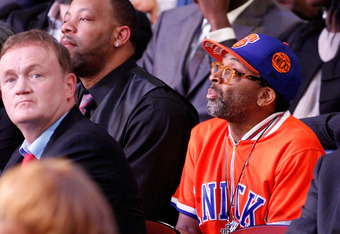 Mike Stobe/Getty Images
Yet even for Paul, I find it hard to believe he could genuinely be happy getting only eight to 10 shots a night. Considering his struggles knocking down jump shots outside 15 feet with consistency, I am unsure whether or not he would genuinely thrive in NYC.
This is why, though thirty-five and clearly a step or two slower, Billups remains the right fit for D'Antoni's run-and-gun system suited for perimeter-oriented guards looking to knock down the open three.
Paul, a driver by nature, would seemingly clog the lanes like dirt clogs a pore, a pore already red and fat with athletes like Amar'e, Melo, and Fields, who have staked their claim to the majority of the ten-feet-and-in region.
What is nice for CP3 is that he has a large list of plausible suitors, suitors with potent, high-profile play-makers, looking to unload them for a pass-first one-in-a-decade kind of point guard like Paul.
This alone is a resourceful chip CP can use in his favor in order to land with a relevant playoff contender. What is so special about points like CP, Nash and Deron Williams is that they get others involved while still scoring enough to be considered second options on the offensive side of the ball.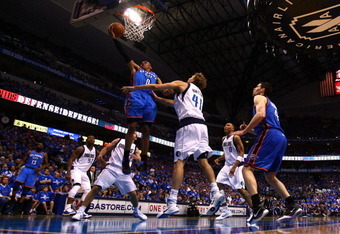 Ronald Martinez/Getty Images
Unless your name is Derrick Rose, you are not safe when it comes to trade talks regarding the three listed above. Talented score-first play-makers with obvious flaws are without question "on the table" when the talks involve an unselfish playmaker in the John Stockton lineage.
Besides Rose, OKC's Russell Westbrook made the biggest leap into stardom in the 2010-11 season. The third-year, 6'5", lengthy and lightning quick guard out of UCLA has garnered praise for his tenacious athleticism at and near the rim. His still-improving jump shot is a small blight on the youngster's game, but it's not a deal-killer for the Thunder or any NBA team.
What may be a deal-killer is the feisty, me-first attitude he displayed in multiple prime time postseason games. A common issue in many of the new generation athletes, the "me-first-gimme-gimmes" deflate team chemistry, cause rifts between coaches and players and usually displace the team's franchise face.
This was evident in the postseason, when, for the first time in their history, both Kevin Durant and Westbrook showed animosity toward one another during multiple timeouts. The three-time scoring champ and one of the best three players in the world, Durant, had a right to heat up in anger during the team's run to the Western Conference Finals.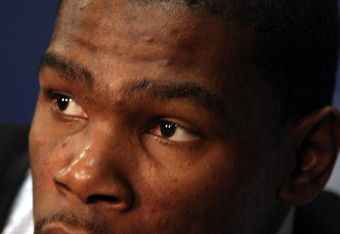 Christian Petersen/Getty Images
Durant is the quintessential star who cares little for the limelight, who quietly goes about his business, has impeccable work ethic, and continues to show vast improvement year in and year out despite already being dominant.
Durant is unlike any player in league history. His lean 6'10" frame, leaping ability, wide wingspan and three point prowess are a radical blend of Clyde Drexler, Larry Nance, and Reggie Miller. For Durant and Scott Brooks, the game plan is simple: get Durant the ball, play defense, and then get Durant the ball again.
But for Westbrook, it seems playing second fiddle is not good enough. He wants to be the man, now or never, and if denied, he will freeze out teammates and his coach. In Game 2 of the Western Conference Finals, Brooks benched the hot-headed star-child for that of college vet and former March standout Eric Maynor.
Though less dynamic, the under-control Maynor swung the basketball, getting his teammates involved as the Thunder outscored the Mavs by seven without Westbrook and won the game.
Ironically enough, that would be their only win in the conference finals. In fact, a common trend can be found in the Thunder's postseason. Over 80 percent of their losses in the playoffs are connected to Westbrook's poor and abundant shot selection. Every time he shot higher than Durant the team lost, and lost big.
So what now? OKC is evidently close to blooming into a true contender for the NBA title. But without Durant being supported as the go-to guy and respected as one of the greatest scorers this league has ever seen, the Thunder will continue to peril as this decades version of last decades Sacramento Kings.
If a trade were to ensue, a couple of things would have to be cleared up beforehand. First, Paul would have to sign a contract extension, which means that second, he would have to approve going from one small market to another.
It is in question whether Paul desires to play more for a winner than he does for a large-market organization, one that could offer him the Hollywood status players like Dwight Howard and Baron Davis have both craved in recent years.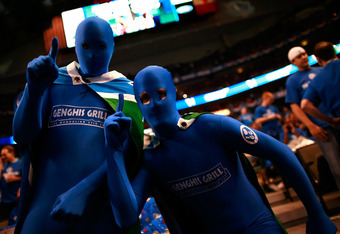 Tom Pennington/Getty Images
Paul has that engaging Hollywood smile, is known as a jester around the league, and could be seen as a future TV star. Such a thing is not automatic death to a Hall-of-Fame sporting career, considering guys like Joe Namath and Shaq balanced both careers extremely well.
For Westbrook, the trade is less strenuous. The twenty-two year old is still in that adolescent phase in his career where shot totals, numbers and averages mean more than playoff wins, titles or league-wide respect.
A team like the Hornets would allow Westbrook to be the face of the franchise, where he could continue to build upon his 21.9 points, 8.2 assists, 4.6 rebounds, and 1.9 steals per game.
If the Hornets re-sign true blue forward David West, he and Westbrook could form a strong enough core to continue pushing the Hornets in a playoff direction.
As for Paul, the West signing seems to hold little weight on his desire to leave New Orleans. I assume he feels a bit like LeBron did in Cleveland, with minimal help to catapult him into the great talks that swirl around the few Hall of Famers who've experienced both individual successes and a gamut of rings.
Though OKC does not have the sex appeal of places like NYC, LA, Miami, Chicago, or Boston, it does have Durantula, a good coach in Scott Brooks, and a deep and talented group of role players willing to sacrifice for the sake of winning.
There is not a single question in any critic's mind whether Paul and Durant would be a dangerous tandem. The question lies with Paul and what he truly desires for the remainder of his career.