NBA Draft 2011: News, Updates, Analysis on Jimmer Fredette, Kyrie Irving, More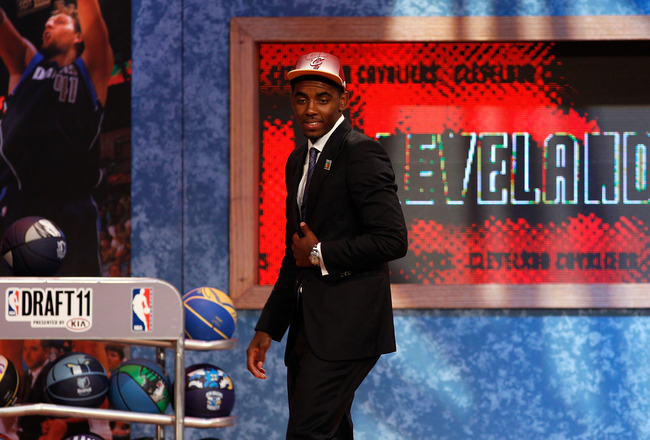 Mike Stobe/Getty Images
Now that the 2011 NBA draft is in the books, it's time to start speculating on the kind of impact that rookies like Jimmer Fredette, Kyrie Irving, Derrick Williams and more will have on their new teams next season.
Some are coming into situations that will allow them to thrive and contribute right away. Others will have to wait a year or two to get their shot (if they ever do).
Typically, we can get at least a feel for the kind of player an incoming rookie will be by watching him play in NBA summer leagues. Unfortunately, this year's has been cancelled due to the impending lockout that will almost certainly go into effect on June 30.
So, trying to predict what kind of impact these players will have next season is based largely (if not entirely) on speculation. Here's hoping that we'll have a season next year for these rookies to display their talents.
You can follow Andy Bailey on Twitter @Andy_Bailey
---
For more 2011 NBA draft coverage, stay tuned to Bleacher Report for NBA draft results and NBA draft grades.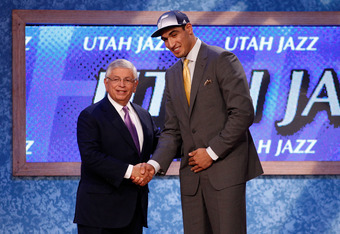 NBA Draft 2011: Will Enes Kanter Start Right Away for the Utah Jazz?
With the No. 3 pick in the draft, the Utah Jazz landed Enes Kanter, who most feel was the best center in this year's class.
The 6'11" big man from Turkey was a near-perfect pick for the Jazz. They already had a wealth of big men, but before last night, no legitimate centers who could make meaningful contributions.
Al Jefferson played the position for them last year, but he's clearly a power forward.
Kanter gives the Jazz some size and toughness at the center position that they haven't had since Greg Ostertag patrolled the lane (yeah, I said it).
Combine him with three other lottery picks from the last two years in Derrick Favors, Gordon Hayward and Alec Burks, and it looks like the Jazz have a great young core to build around for the future.
You can follow Andy Bailey on Twitter @_Andy_Bailey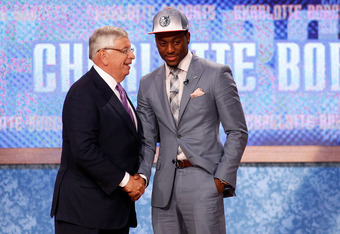 NBA Draft 2011: Will Kemba Walker Start over D.J. Augustin for the Bobcats?
With the ninth overall selection in the 2011 NBA draft, Michael Jordan and the Charlotte Bobcats took former UConn point guard and reigning NCAA champion Kemba Walker.
Many felt the outstanding college player would slip out of this year's lottery altogether if the Kings passed on Walker at No. 7. The Bobcats made sure that didn't happen.
Last year, Walker averaged 23.5 points and 4.5 assists a game for the Huskies and was the unquestioned leader of the team as they made an historic run through the Big East and NCAA tournaments.
Oftentimes, when a team uses a top 10 pick on a player, he's expected to come in, start and contribute right away. But the Bobcats already have a solid young point guard on the roster in D.J. Augustin. Last year, he averaged 14.4 points and 6.1 assists a game.
Augustin had a great college career of his own and was a 1st-Team All-American in 2008. He's always been more of a true point guard than Walker.
It should be interesting to see if the Bobcats go with the more proven Augustin and bring Walker off the bench as an offensive spark (a la Jason Terry), or if they'll go all-in with Walker and make him the team's starting point guard.
You can follow Andy Bailey on Twitter @_Andy_Bailey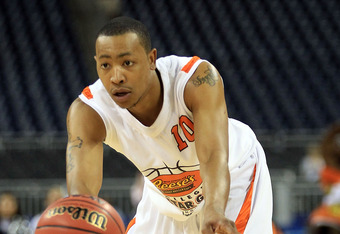 NBA Draft 2011: Where Does Andrew Goudelock Fit in with the LA Lakers?
The Los Angeles Lakers took former College of Charleston scoring machine Andrew Goudelock with the 46th overall pick in the 2011 NBA draft.
His potential impact on the team for next season is based entirely on what position he ends up playing as a pro. Right now, ESPN's Chad Ford still has him listed as a shooting guard, but DraftExpress has Goudelock firmly pegged as a point guard.
If he's the latter, he could be a part of what figures to be a very exciting quarterback controversy. Derek Fisher is the incumbent starting point guard, but almost anyone would have to admit he's no longer a starting-caliber player at this point.
Darius Morris (who the Lakers took five picks before Goudelock) is the most likely candidate to replace Fisher at this point.
But don't count Goudelock out just yet. The 6'3" guard averaged 23.7 points and 4.2 assists a game last year and could fit the mold of a Lakers point guard (which may be different now that Mike Brown's there).
You can follow Andy Bailey on Twitter @Andy_Bailey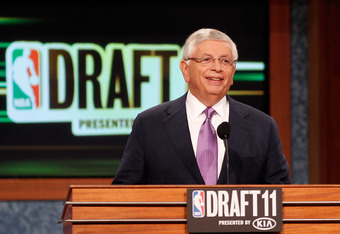 The labor dispute between the NBA and its players is very messy. Right now, it looks like talks are headed in the wrong direction and likelihood of losing regular season games is becoming more real with each day.
My prediction for the amount of games we'll lose is 40.
Send your predictions to me on Twitter @Andy_Bailey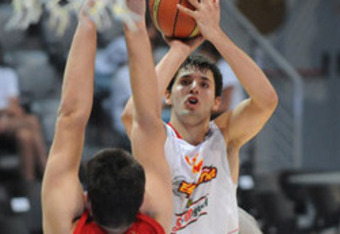 NBA Draft 2011: Chicago Bulls Plan to Keep Nikola Mirotic with Real Madrid
The Chicago Bulls were one of the many teams that confused me a little bit on draft night. I thought they would use at least one of their draft picks to add a shooting guard. Who knows if that player would've filled their void at shooting, but I still thought it was worth a shot.
Instead, the Bulls took two small forwards (Nikola Mirotic and Jimmy Butler), one of whom won't play in the NBA for at least two or three years.
Mirotic is on a pretty big 5-year contract with Spanish club Real Madrid and according to the Chicago Tribune, he'll play at least two or three years over there before we see him in the NBA.
It's tough to predict how this situation will pan out, as most who follow this route come back to be little more than bench warmers. Most really good players are ready to contribute right away.
You can follow Andy Bailey on Twitter @Andy_Bailey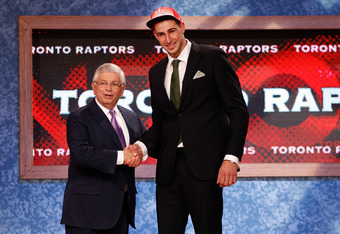 NBA Draft 2011: Valanciunas Buyout Done, Still Won't Play in NBA Until 2012-13
With the fifth overall pick in the 2011 NBA draft, the Toronto Raptors took the second center off the board in 7'0" Lithuanian Jonas Valanciunas.
Some actually feel that Valanciunas may end up being the best center from this year's class, but he had a messy buyout situation that possibly made teams wary of bringing him in with a lofty pick.
According to the Toronto Sun, the Raptors have already resolved that messy situation and have a buyout in place with Valanciunas's Lithuanian team Rytas. The big man was on a three-year contract with the overseas squad, but will now be able to play in the league after next year.
He'll spend the 2011-12 season working on his game and adding some strength and bulk to his frame.
With Valanciunas on the team, the Andrea Bargnani rumors are certain to start swirling again. As a seven-footer with range and versatility, the former No. 1 pick would certainly attract some attention in the trade market.
You can follow Andy Bailey on Twitter @Andy_Bailey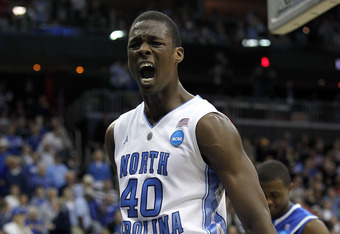 NBA Draft 2012: Anthony Davis, Harrison Barnes and Next Year's Top Prospects
The 2011 NBA Draft is officially behind us. This year's event was either shocking, surprising, confusing or all three. Pick after pick made me shake my head and wonder, "What is going on?" It was hard for writers to get a handle on this class, and draft night made it look like it was hard for NBA teams as well.
Next year may not be as difficult. There will be a lot more guys considered "sure things" in 2012 and draft junkies are already wondering who they are, where they'll go and how they'll perform in the NBA.
ESPN draft guru Chad Ford has already laid out his top 100 prospects for next year's draft and there are some very talented forwards at the top of the list.
Anthony Davis was very impressive in this year's McDonald's All-American game and figures to be an impact player in Kentucky's frontcourt next year. There's a very good chance he could be the No. 1 pick next summer.
North Carolina's Harrison Barnes was extremely good during ACC play last season and has been working on his guard skills with Chris Paul. He should have a dominant sophomore year and is almost certainly a lock for the top 5 (if he enters the draft).
Other big names to look out for include Michael Gilchrist, Perry Jones, Quincy Miller, James McAdoo, Jared Sullinger, Austin Rivers and Terrence Jones.
You can follow Andy Bailey on Twitter @Andy_Bailey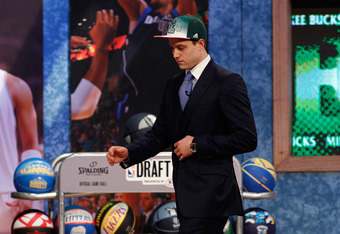 NBA Draft 2011: Can Jimmer Fredette and Tyreke Evans Coexist on the Kings?
The most talked about prospect leading up to the 2011 NBA draft was undoubtedly Jimmer Fredette. The most talked about selection from draft night? Ummm... Jimmer Fredette.
The Sacramento Kings acquired Jimmer in a trade with the Milwaukee Bucks on draft night and now questions are swirling about how he'll fit on this young team.
Fredette is arguably the best offensive player in this year's class. He's definitely the best scorer, but it's hard to imagine him being able to play his game with two teammates in Marcus Thornton and Tyreke Evans who both averaged over 16 field-goal attempts a game last season.
There is reason to believe Jimmer may start alongside Evans in the backcourt, as last year's starter, Beno Udrih, was traded to Milwaukee in the deal that gave Sacramento the No. 10 pick.
I could easily look at the fact that both players are combo guards as a negative, but certainly there's some silver lining.
Jimmer will be able to score a ton of points by creating his own shot (about the only way he scored in college), but now he may be able to produce playing off the ball as well.
Most people talk about transitioning from ball-dominant to off-the-ball as being some near-impossible feat. I've never understood that. Playing off the ball is significantly easier as long as you're willing to move. Jimmer definitely has the motor to move around like Ray Allen or Richard Hamilton.
I think Tyreke Evans and Jimmer Fredette can coexist and the best way for that to happen is if they split the ball-handling duties pretty much right down the middle.
You can follow Andy Bailey on Twitter @Andy_Bailey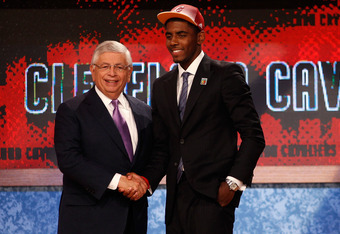 NBA Draft 2011: Who Will the Cavaliers Trade to Make Room for Kyrie Irving?
When a player is taken No. 1 overall in the NBA draft, he's expected to come in and be a contributing factor right away.
Point guard Kyrie Irving is on his way to a team that is already fairly crowded at his position. So, that leads me to wonder who (if anyone) will be traded to make room for Kyrie.
Right now, the Cavaliers have Baron Davis, Ramon Sessions and Daniel Gibson (size of a point guard, game of a shooting guard). The one who will almost certainly draw the most attention in the trade market is Ramon Sessions.
Baron Davis is enigmatic and playing on a contract no one will want to take on. Daniel Gibson's biggest problems were parenthetically inserted after his name in the preceding paragraph. As for Sessions, he's young and has shown some promise in his short NBA career.
He could certainly be a solid backup for almost any team in the league, and his departure would free up minutes for Kyrie Irving.
You can follow Andy Bailey on Twitter @Andy_Bailey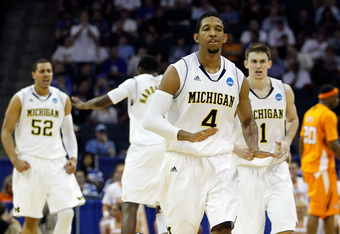 NBA Draft 2011: Can Darius Morris Start over Derek Fisher for the Lakers?
Derek Fisher definitely deserves a great deal of respect for what he has accomplished during his illustrious NBA career. But at this point, it's abundantly clear that he no longer has the physical tools to compete against most of the league's starting point guards.
Last season, Fisher pitched in a measly 6.8 points per game while shooting 39 percent from the field. And his offense wasn't even the problem. For the last two or three years, Fisher has been victimized as much as any guard in the league while trying to defend vastly superior athletes.
Enter Darius Morris. The former Michigan standout put up fantastic numbers for a college point guard as a sophomore last season, averaging 15 points and 6.7 assists a game.
Athletically, he may not be elite when compared to others in this draft, but he's an upgrade over Fisher. As one more bonus, Morris has great size for a point guard. He measured 6'5" with a 6'8" wingspan at this year's pre-draft camp.
The two most glaring weaknesses in the Lakers' lineup were at point guard and small forward. With Morris, they may have just filled one.
You can follow Andy Bailey on Twitter @Andy_Bailey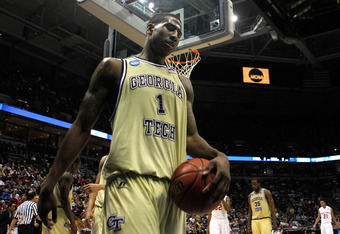 NBA Draft 2011: Can the Knicks Iman Shumpert Defend LeBron James or Kobe Bryant?
New York Knicks head coach Mike D'Antoni most certainly isn't known as a defensive expert, but he seems very excited about the addition of Georgia Tech's Iman Shumpert and his potential as a perimeter defender.
In a report by ESPN New York's Jared Zwerling, D'Antoni is quoted saying this of Shumpert, "He has the athletic ability to guard a Derrick Rose or a Dwyane Wade or a LeBron James."
It makes sense for a coach to praise his team's first-round selection. So you have to take D'Antoni's words with a grain of salt. If this does turn out to be true, New York got exactly what they needed out of the first round.
No one can stop the guys D'Antoni named, but a select few can slow them down.
Terrific defenders generally have a combination of athleticism, intensity and basketball IQ. While the last two are still up for debate with Shumpert, his athletic ability is definitely not.
He posted a very impressive 42-inch vertical and 18 reps on the bench at the NBA's pre-draft camp.
Shumpert was originally projected to be a point guard. If he develops into one of a starting caliber, the Knicks could have a fantastic young backcourt with him and Landry Fields.
Combine that with their ridiculous forward tandem of Carmelo Anthony and Amar'e Stoudemire, and the Knicks are just a free-agent center away from looking like legitimate contenders.
You can follow Andy Bailey on Twitter @Andy_Bailey