FC Barcelona: Where Will Cesc Fábregas Fit in Barça? 4 Possible Starting XIs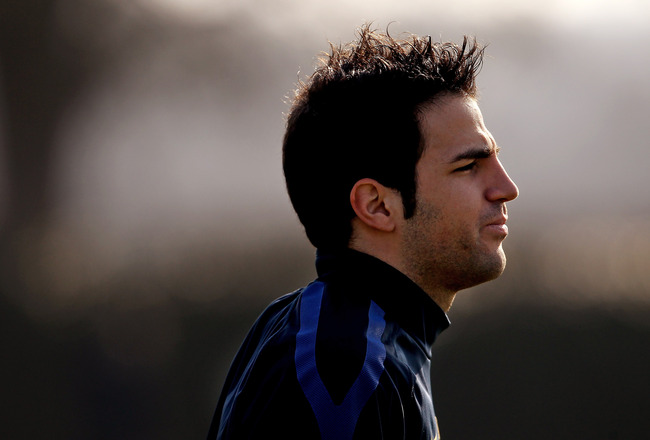 Scott Heavey/Getty Images
Right now it's anyone's guess whether FC Barcelona will finally sign Cesc Fábregas from Arsenal FC or not. The interest from the Catalans and from the player is definitely there, but a difference in the valuation of the Gunner's skipper seems to exist between the clubs.
That said, Pep Guardiola and Barça will have another task at hand when (and if) he arrives at the Camp Nou: where to start him.
The Busquets-Xavi-Iniesta trio is already one of the best in the world, and Cesc definitely has the talent to improve it. But who do you bench to start the Arenys De Mar star?
Starting on the defensive line and taking benching Messi out of the possibilities altogether, here are the four (a fitting number if there is one) possibilities Pep Guardiola must already be considering to fit Fabregas in.
4. Cesc Replacing Busquets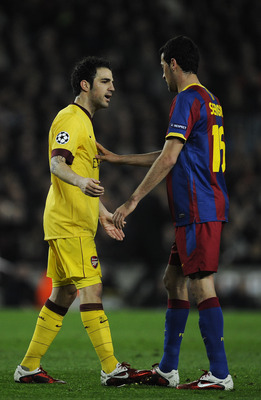 David Ramos/Getty Images
The Starting XI:
Valdés
Alves Piqué Abidal Adriano
Cesc
Xavi Iniesta
Pedro Messi Villa
Who gets dropped?
Sergio Busquets
How Barça would work:
Most people will see Busquets as the obvious player to drop. Cesc can actually play there, but this option will most likely only be deployed by Barça in situations where they have to come from behind to win—or against very weak teams.
Barcelona's defensive midfielder can be a player like Xavi, Iniesta or Fabregas himself, but is more suited to a man that has both creative qualities, great tactical awareness, and destructive play.
In other words, Busquets was born to play there.
Just as Xavi and Iniesta technically are able to play there in Barça's current scheme, they need Busquets' work badly. It will be difficult to see Guardiola bench him and start Fábregas unless there are no other options, or Busquets needs to be deployed on the back line.
3. Fábregas in Midfield and Iniesta as a Winger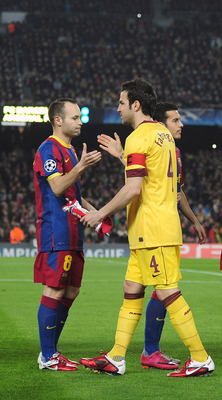 Shaun Botterill/Getty Images
The Starting XI:
Valdés
Alves Piqué Abidal Adriano
Busquets
Xavi Cesc
Pedro/Villa Messi Iniesta
Who gets dropped?
Pedro or David Villa
How Barça would work:
An option Pep Guardiola must be entertaining in full, now that Alexis Sánchez and Rossi seem to be on the expensive side, is moving Iniesta back to his old position as a false left winger and using Cesc as the starter in the middle.
Cesc, like Xavi and Iniesta, was born to play there. If Barça play with this starting eleven, their style of play will remain basically the same—but they'll have more options on the bench and will be a better team overall.
Individually, Fabergas will the add goalscoring chances from the midfielder line that Xavi and Iniesta lack. He'll also be a valuable asset playing close to Iniesta in this midfielder-heavy formation, one that is quite similar to what Barça had when Deco was a Blaugrana and Ronaldinho played in the right wing.
With this formation, Pep might also be tempted to use Messi as a pure winger on the right, with Villa playing as a pure number '9'.
2. Cesc as a Winger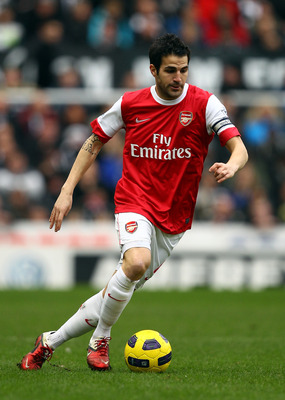 Richard Heathcote/Getty Images
The Starting XI:
Valdés
Alves Piqué Abidal Adriano
Busquets
Xavi Iniesta
Pedro/Villa Messi Cesc
Who gets dropped?
David Villa or Pedro
How Barça would work:
And while we're moving Iniesta around, there is a strong possibility Pep Guardiola might deploy Fabregas himself on the wing.
Seydou Keita has also played there, and the Mali international has qualities that mimic Fabregas'.
Cesc is as good a dribbler and a better goalscorer than both Keita and Iniesta. This might be the "secret" position Pep wants him to play at Camp Nou while Xavi eventually slows down, and Cesc inherits his place in the midfield for good.
1. Fábregas Replacing Xavi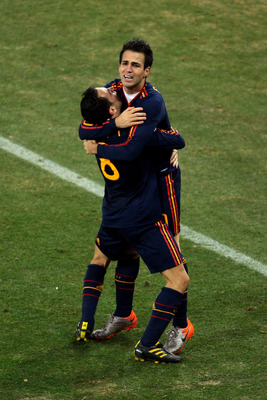 Cameron Spencer/Getty Images
The Starting XI:
Valdés
Alves Piqué Abidal Adriano
Busquets
Cesc Iniesta
Pedro Messi Villa
Who gets dropped?
Xavi
How Barça would work:
Make no mistake about it, the reason Barça is looking to buy Cesc is that Pep and company fear Xavi might slow down soon or will eventually.
The Terrasa midfielder will turn 32 years old next season. It has been a miracle he wasn't hampered by injuries this season after winning the World Cup, immediately starting the season and going on to play 57 matches—and over 4400 minutes.
I'm not an expert on betting, but the odds on that happening again next season must be quite low.
If Fabregas arrives, his first and foremost duty will be as a safety net in case Xavi goes down. And his true reason to arrive will be to eventually inherit the Terrasa playmaker's spot on the starting lineup.
It's sad to think about or say, but Cesc's arrival is a sign that Barça is already preparing for Xavi's eventual decline, and is a move for the future rather than the present.
Keep Reading

FC Barcelona: Like this team?