2011 Gold Cup Final: Tough Decision; Who to Root, Play for
June 25, 2011
Jose Jimenez/Primera Hora/Getty Images
Saturday will be yet another big day in United States Soccer history as the U.S. will host Mexico in the final of the 2011 Gold Cup at the Rose Bowl in Pasadena, Ca. Mexico has won the Gold Cup five times entering the match, and the U.S. has taken the title four times.
But one of the questions that many wonder is the lack of a home-field advantage the U.S. will have.
It is expected that the U.S. will face a crowd that will predominantly favor the opposing side.
Thus, the question we all need to ask ourselves is what is appropriate and what is not appropriate.
We are all immigrants to this great country of ours. Many of us, including the writer of this piece, admit to being a fan of the nation that our parents were born in.
But at the end of the day, cheering against the United States is something that is not for me and I would hope others would follow.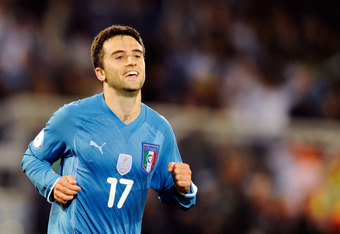 Claudio Villa/Getty Images
We have all come to this great nation of ours, even in spite of tough times recently, because it is better than any other place on earth.
In 2006, I was disappointed to have to see my Americans face Italy in the World Cup. Fortunately for me, the match ended in a 1-1 draw that saw Italian right back Cristian Zaccardo score a goal. I went home satisfied after attending a party in which I wore a hat with American flag and an Italy t-shirt. Had I attended the game in Germany, I probably would have dressed as a neutral. Italy is my favorite team, but the United States is my country, and I feel too American to betray my country.
This issue is something that is not limited to just soccer or to fans. Even the athletes themselves face difficult decisions.
In 2003, representing the U.S., San Antonio Spurs basketball star Tim Duncan chose not to play in a game against the U.S. Virgin Islands—his birthplace and home until he was 18 years old.
"It was a personal decision, of course," Duncan said in a statement at the time. "I did speak with the coaches and some of my Virgin Islands friends, and I came to the decision that it was the best gesture to make and the right thing to do, and that it felt right in this situation."
In the 2009 Confederations Cup soccer tournament in South Africa, American-born Italian striker Giuseppe Rossi chose to play against his birth nation and proved to be the difference as he scored twice in a 3-1 win.
Rossi was born in New Jersey to Italian parents and moved back to Italy at age 13, where he brought his game to a very high level. Now just 24, Rossi has played in the top division in Italy, England and Spain, where he currently plays with Villareal.
Rossi has pledged his support for the U.S. in Saturday's match against Mexico. But playing against the U.S. two years ago certainly didn't increase his popularity abroad. Some, including the writer of this article, feel Rossi should have done what Duncan did out of respect for the nation he was born in and where his mother still lives. His father passed away in 2010.
Rossi is not alone. French soccer star Patrick Vieira played in the 2002 World Cup against his birth nation of Senegal.
While I support the idea of being a fan of the country that represents one's respective ethnicity, any booing or cheering against the United States is unacceptable. It is disrespectful and shows a lack of appreciation for living in the U.S. Last but not least, it defeats the purpose of why we are all here—to experience The American Dream.