NBA Draft 2011: Will the Lakers Be Legitimate Title Contenders Next Season?
June 24, 2011
Ronald Martinez/Getty Images
The NBA Draft took place yesterday where we saw many aspiring young players get drafted to their teams and in the Lakers drafted three players they hope will help to improve their team. 
As a die-hard Lakers fan, I found it incredibly hard to watch us crash out of the playoffs this past season in such an embarrassing fashion. We were outclassed and outplayed by a vastly superior team and as result we swept in devastating manner by the team who went on to win it all.
Don't get me wrong, I'm really happy that the Mavericks won the title this year. Not because of who their opponents were, but because we got to see two of the best players of the modern era win their first championship title.
Dirk Nowitzki furthered his legacy as one of the greatest players of all time and definitely the best European player to ever play in the NBA with the addition of a championship.
Similarly, we get to see one of the best point guards ever retire with a championship ring around his finger in Jason Kidd.
Now, if only Steve Nash can win a championship…
Anyway, back to the main topic.
There are some serious issues that the Lakers need to address in order to become title contenders next season.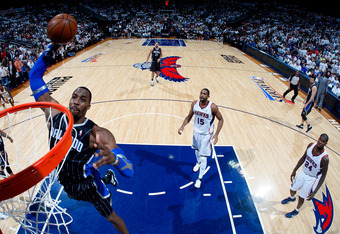 Kevin C. Cox/Getty Images
The first issue is the fact that I can only think of two players on our entire roster under the age of thirty that is worthy of being a starting player. They are Shannon Brown and Andrew Bynum.
I hate to say it, but the Lakers are living in the past. We need youth on this team. We need to start building towards the future so that we can forge a championship calibre team for years to come.
However, if are to bring youth on this team, we face the prospect of trading away the best player for us over the Playoffs series. Andrew Bynum. We also face the possibility of losing one of the greatest bench players ever in Lamar Odom.
It's a steep price, but it may just be what we need.
Let's say we do trade away Bynum for Dwight Howard, who has been linked to the Lakers in the rumour mill for quite some time. We would have Gasol and Howard working together in the paint and our inside game would be near unstoppable. Wow. Enough said there.
Furthermore, some of our defensive issues would also be solved. We would be gaining a fantastic shot blocker and overall, a phenomenal defensive player.
Also, the notion that Gasol is a "soft" player has been thrown around a lot. So having Howard help him out against opponents that oversize Gasol would be another advantage.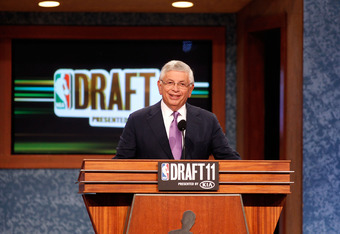 Mike Stobe/Getty Images
Another huge bonus would be that we would have a true superstar to take over the reins from Kobe Bryant once he retires. Dwight Howard would become the face of the Lakers and become a franchise player. From a business point of view, Howard is an incredibly marketable person, his personality and popularity would make him a huge attraction for the Lakers.
But if we don't acquire Howard? What happens then?
Another issue lies in the fact that we do not have a "true" point guard.
I have a lot of respect for Derek Fisher. He has been invaluable for us over the Playoffs and has been a great clutch player for us over the years and his tenacity and his aggression made him great.
However, again, we are living in the past. Derek Fisher is not as versatile as he once used to be. He is approaching the age of 37 and if I am not mistaken, he one of the oldest active players at the moment. To be honest, I can't name a lot of players over the age of 32 or 33 who were as great as they used to be when they were 25 or 26 etc.
Derek Fisher needs to accept some kind of a bench role while a younger point guard such as Raymond Felton who is in his prime and can contribute offensively and defensively, runs the court.
Furthermore, if we have an experienced floor general running the court then some of the pressure on Kobe Bryant can be alleviated knowing that we have a player capable of making decisions and running the team when Kobe is on the bench getting some rest.
Ultimately, if some pressure is taken off Kobe and the more that he is rested, the better he can perform when it matters. The Playoffs.
Will Darius Moore, the 41st pick, address this issue? He certainly is a capable player. but maybe he should be backup (for now) to a more experienced point guard like Chris Paul, who has also been linked to the Lakers.
We also drafted Ater Majok, a big man from Australia. Not much is known about this player but he could become a project for the Lakers who will try to develop him into becoming a back up player for a more experienced centre. 
Should the Lakers have traded up in the draft to try and acquire some of the standout players of this year's draft class? We would have had to sacrifice a great deal, but it may have been just what we needed to take a step towards building a team for the future and not just for the present.
In conclusion, there are may issues that management and coaching need to address before we can become legitimate title contenders and the issues that I have mentioned don't even scratch the surface of the amount of problems that we have.
So to answer the question, can the Lakers become title contenders next season? Lets just say that in the NBA, anything is possible, but in our case, we have a mountain to climb before we can get back to being the greatest team ever.