UFC Live: Kongo vs. Barry Results—Cheick Kongo Survives Onslaught, KOs Pat Barry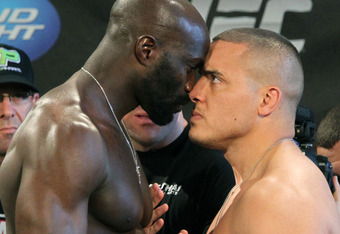 When two strikers the caliber of Pat "HD" Barry and Cheick Kongo come together, you get one of two things—either the explosion of heavy artillery you'd expect or a lackluster snoozefest caused by two men rendered tentative by the other's reputation.
In this case, I'm betting on the former.
Incidentally and apropos of nothing previously written, Dan Miragliotta is the referee for the main event—between Kongo, Barry and Miragliotta, that's a whole lotta dude in the cage.
Barry got off the schneid first with a couple of leg kicks and then the threat of a takedown, but Kongo began to retaliate with leg kicks of his own. That was the first bit of bad news for HD because it created a serious range issue for the massively shorter fighter.
The second bit of bad news was considerably worse.
Barry demolished Kongo with a right hook that sent Cheick sprawling to the ground, then another series of lethal rights and lefts to the at-see Frenchman prompted Joe Rogan to scream (prematurely), "it's over!"
Uh, not quite.
Cheick recovered ever so slightly, re-taking his feet in the process, before another TNT-loaded right hook put him right back on the ground and sent his eyes rolling toward the back of his head. But the big fellas recovered again and quickly this time, scrambling back to his feet in no time.
HD feathered the brakes and tried to pick his spot to finally secure the stoppage, but boy, did he pick the wrong one. Kongo—still not quite back in the world of the firing synapses yet—loaded up a straight right and Barry waltzed directly into it before a short right uppercut landed flush on HD's jaw.
Pat Barry's knees buckled completely and that was all she wrote. A few more short hammerfists knocked HD's eyelids back, which revealed the uppercut had left him with vacant eyes. All in all, it was a spooky last impression as Kongo dazedly celebrated the improbable knockout with Barry's unregistering eyes lolling around in their sockets.
And talk about snatching victory from the jaws of defeat, almost literally.
What a comeback and what a KO for Cheick Kongo.
Cheick Kongo defeats Pat Barry by KO (punch) at 2:39 of the first round.
The most upset man in the arena besides Pat Barry? That would be Matt Mitrione who just watched the Knockout of the Night bonus slip through his hands and into Kongo's.
Crazy finish!
Most recent updates:
This article is
What is the duplicate article?
Why is this article offensive?
Where is this article plagiarized from?
Why is this article poorly edited?