Houston Texans: Matt Schaub Is the NFL's Most Underrated Quarterback
June 24, 2011
Forget what the "NFL's Top 100 Players of 2011" would tell you; because neither the players nor the fans have proven themselves capable of producing sensible rankings by any substantive measure.
Public opinion, general perception, and just "sounding right": these are the criteria that dominate the aforementioned's degree of research and thus, an erroneous list has been developed to keep fans busy during the offseason; or should I say, lack thereof.
How else could one explain the absence of Houston Texans' quarterback Matt Schaub from the league's Top 100?
Not only did Schaub fail to make the cut (a list that includes an asinine attempt at ranking the top 11 quarterbacks of 2011), but he was held off in favor of his own teammate, fullback Vonta Leach, whom all experts agree to be a greater contributor to the Texans productive offense.
It's not a knock on Leach so much as it is a realization (one that the players chose to ignore for understandable reasons) that not all positions contribute equally to a team's chances of winning.
If Leach was in actuality, a "better," or more valuable player than Schaub, he would then prove to be more indispensable to the team; something any one rational person would clearly know not to be the case.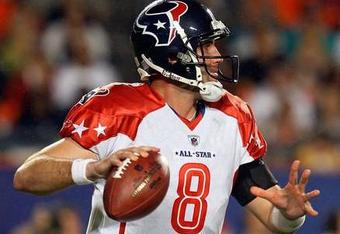 Even if you choose to ignore the obvious position-bias established to help make players who play less significant positions feel better about their contributions to the team, ranking quarterbacks should have proved to be a simple enough (though subjective) task.
Perhaps I ask too much.
With Tom Brady, Peyton Manning, Drew Brees, and Michael Vick expected to be announced within the next two weeks (likely in that order), we can all expect Schaub to be absent from the Top 100 all together.
To be snubbed for the likes of Josh Freeman (No. 86), Joe Flacco (No. 90), and especially Donovan McNabb (No. 100) is not only inaccurate, but insulting to the players who voted themselves. One would hope that they realize their rankings to be a reflection of their understanding of the game; yielding results that few could find reason to be proud of.
Shameful really, especially when you take into account the fact that many (if not most) of the players who voted had to have been completely unfamiliar to the reality that is Matt Schaub's resume.
If any players happen to catch this, feel free to raise your hand if you were already aware of the following.
Matt Schaub (Career)
1,288 of 1,987 (64.8) for 15,457 yards (7.8), 83 touchdowns and 52 interceptions (91.5)
Matt Schaub (2009)
396 of 583 (67.9) for 4,770 yards (8.2), 29 touchdowns and 15 interceptions (98.6)
Matt Schaub (2010)
365 of 574 (63.6) for 4,370 yards (7.6), 24 touchdowns and 12 interceptions (92.0)
Matt Schaub (2009-2010)
761 of 1,157 (65.8) for 9,140 yards (7.9), 53 touchdowns and 27 interceptions (95.4)
I know what many players (if they even took the time to consider production as a part of their criteria) must have been thinking; "Oh man, those are some pretty BIG numbers, but he's had Andre Johnson to throw to. Besides, the Texans still haven't won anything."
Case closed; as far as many were probably concerned.
I mean, "Everyone throws for a ton of yards these days," right?
Is there any sense of context to analyze those "big numbers?"
It might not have mattered to the players who voted, but it matters to me.
You see, throwing for 4,000 yards isn't all that rare in today's game, but doing so for multiple seasons is.
Throwing for over 4,300 yards in back-to-back seasons is almost impossible; but when it does happen, maintaining a high quarterback rating in the process is not much of an option.
To manage to do so and keep your interception totals in check; now you're just being ridiculous because before 2010, it had never happened in the 91-year history of the league.
By The Numbers
Only 18 quarterbacks in NFL history have ever recorded multiple 4,000-yard passing seasons.
Of those 18, only five have ever thrown for over 4,300 yards in back-to-back seasons (Fouts, Moon, Manning, Brees and Schaub).
Of those five, only two have ever managed to do so while maintaining a quarterback rating at or above a 92.0 during both seasons (Brees and Schaub).
Of the two, only one has ever managed to do so while keeping his interception total under 16 during both of the two seasons (Schaub).
So we're not talking about just a couple of "big number" seasons, we're talking about something that has never happened before in NFL history.
Schaub's 4,770 passing yards in 2009 was not just a "big number," it was the sixth-highest total in league history; a season that despite an abundance of productivity, saw Schaub out-produce Peyton Manning, Tony Romo, Aaron Rodgers, Tom Brady, Drew Brees, Ben Roethlisberger, Philip Rivers and Brett Favre.
I'll skip over his 151.3 quarterback-rating performance that earned him Pro Bowl MVP honors in 2009, and the 497 passing yards he put up in a single game against Washington in 2010; there's just so much more to cover.
People are quick to mention the fact that he had Andre Johnson to throw to (obviously a huge plus); but they remain oblivious to the fact that 6,355 of his 9,140 passing yards over the past two seasons (69.5 percent of his total production) went to everyone besides Andre Johnson.
Clearly his presence draws coverage and helps to open things up for other receivers, but those "other" guys are far from elite, and Johnson's presence alone does not make for one of the most dominating receiving corps in the league (collectively).
Schaub has had help; it's just been blown a bit out of proportion.
The Texans ranked 30th in rushing in 2009 and in spite of a horrendous performance in that aspect of the game, loaded up defensive pass coverage schemes could not prevent the Texans from becoming the league's No. 1 passing offense.
The emergence of Arian Foster helped balance the Texans' offensive attack in 2010, but few would realize that even with the production of the league's leading rusher, the Texans' still ranked higher in passing (fourth) than they did in rushing (seventh).
Many will scoff at the team's disappointing 6-10 record as evidence that Schaub could not possibly be an elite quarterback; but how many elite quarterbacks have won championships with community-college defensive squads that ranked 29th in points surrendered and 30th in total defense?
Consider the six wins to be a blessing.
It's not just about the past two seasons though, Schaub's 91.5 career quarterback-rating ranks as the 11th-best in NFL history.
His 7.8 career yards-per-attempt average also ranks him as the 11th-best in NFL history; ahead of the likes of Manning, Montana, Brady and Marino.
Accuracy has always been one of Schaub's specialties, as his 64.8 career completion percentage stands as the fifth-best in NFL history; ahead of virtually anyone to have ever played the game, including notable names the likes of Montana, Brady, Roethlisberger, Rivers and Rodgers.
It's a smaller sample size to work with than guys like Manning or Brady, but it's also a larger sample size to work with than the likes of Freeman and Flacco; both of whom combined have not been able to do what Schaub has done individually.
Hold his team against him, hold his defense against him, and hold his notoriety against him, because apparently, those aspects seem to hold greater weight than what is actually done on the football field.
Unless you can sincerely say that you already knew that Matt Schaub had accomplished all of what is written above, perhaps it's time to bite your tongue and re-evaluate the possibility that he just might be:
The most underrated quarterback in professional football.