2011 NBA Draft Results: Team Winners and Losers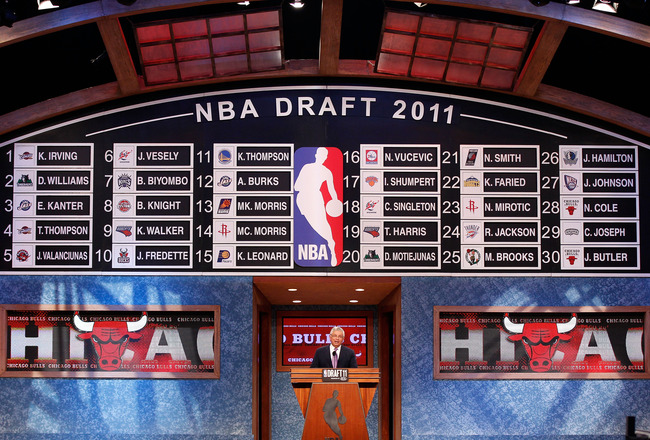 Mike Stobe/Getty Images
The 2011 NBA Draft produced many surprising results. Most of us already knew who the top two picks were going to be, but after that it was fairly wide open.
There ended up being plenty of trading, just without the all-star caliber names were accustom to hearing.
In the end, there are always teams (and players) that are considered winners and losers. This is merely a look at a couple teams who "won" and a couple who "lost."
Winner: Charlotte Bobcats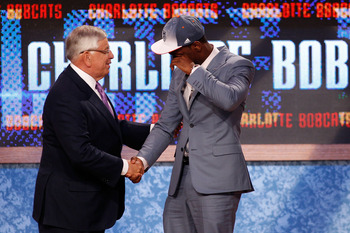 Don't cry Kemba. You're in the NBA now!
Mike Stobe/Getty Images
The Bobcats kicked off their summer with a bang. They traded away disgruntled guard/forward Stephen Jackson and received a lottery pick as a result of the three-team trade. After all was said and done, the Bobcats came out of the first ten picks with two players who will be essential to rebuilding Charlotte.
First, with Sacramento choosing for them, the Bobcats wind up with Bismack Biyombo, a player known for his athleticism, length and defensive prowess in the form of shot-blocking (as well as shot-changing). The guy has a 7'7" wingspan. Shots will be altered. Pairing him with Tyrus Thomas is a dream come true for Charlotte.
With their own pick, they selected the gutsy leader from UConn, Kemba Walker, who is undersized, but has all the heart you need to succeed in the NBA. He brings a winning attitude and a scoring punch to the Bobcat offense.
Winner: Washington Wizards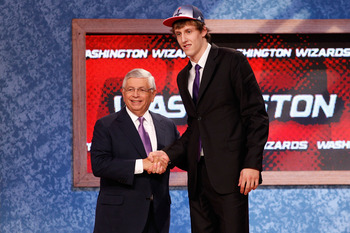 Mike Stobe/Getty Images
The Wiz-Kids had a superb draft, filling several important holes.
With the sixth overall pick, they selected forward Jan Vesely, who riled up the crowd with "the kiss" before joining David Stern on stage. The Czech Republic native was a relative unknown to me until they showed clips of him. All I can say after seeing that is him and John Wall are going to be scary-nasty out in transition.
At first glance, Vesely doesn't look all that athletic. He's a tall, awkward-looking white guy. Hopefully the NBA doesn't see him that way because the kid is incredibly athletic and can jump through the roof. Not to mention he can bury the outside shot and, as stated above, will be a nightmare on the break.
They also selected at No. 18, where Chris Singleton fell right into their lap. A projected lottery pick, Singleton slipped another four spots and Washington was happy to scoop him up.
He's a tremendous defensive talent who also happens to be very athletic. His offensive game needs some work, but he'll provide great energy on the low block, especially on the defensive end. He'll have a spot if the Wizards can find someone to take Andray Blatche.
Not to be forgotten, but picking up Shelvin Mack in the second round was a great value pick. Mack isn't great at all things, but he doesn't have too many weaknesses either. A great back-up guard who is a proven winner and can knock down shots.
Winner: Denver Nuggets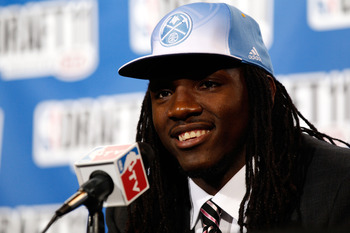 Mike Stobe/Getty Images
I like to call him "The Machine." Does he ever stop?
Kenneth Faried was taken at No. 22 by the Denver Nuggets, which happens to be a great fit for him. He doesn't score much at all, but he is such a high-energy player and his motor never quits.
The Nuggets have scorers in place, so all Faried has to do is clean up the mess on the boards and play defense. He does both. Great pick for the Nuggets.
Denver also dealt Raymond Felton to Portland and received Andre Miller, which George Karl loves. Also a part of the deal was Texas forward Jordan Hamilton, who fell all the way to 26 (Dallas Mavericks). Hamilton is another scorer who struggled at times with shot selection, but with that cleaned up, will be a great all-around player for the Nuggets.
Winner: San Antonio Spurs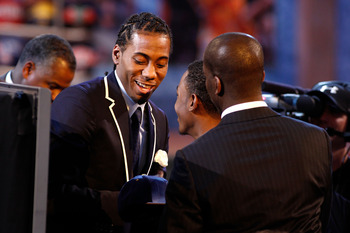 Mike Stobe/Getty Images
Doesn't it seem like year after year, the Spurs are always considered a winner? Their scouts do a tremendous job, especially overseas, and their draft selections almost always pan out as projected.
After a lot of rumors about trading away Tony Parker for a high lottery pick, it ended up being George Hill who saw himself traded. He goes to Indiana for their first-round pick Kawhi Leonard and David Bertans, as well as the rights to another Pacers' pick.
Leonard is a Spurs kind of guy. He's got a high motor, a tremendous rebounder and also is a very good athlete.
Bertans, from what I learned last night, will be an outside threat and will add to the Spurs inside-out game with Tim Duncan still manning the post inside. This, of course, when Bertans comes to the NBA from overseas.
Partial Winners: Dallas Mavericks, Indiana Pacers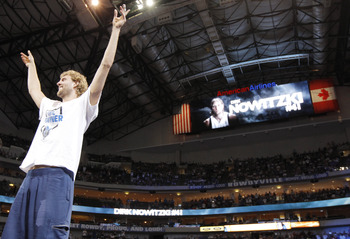 Brandon Wade/Getty Images
Yes Dirk, you should be happy. The Mavs essentially drafted Rudy Fernandez after the three-team trade with Portland and Denver.
Fernandez becomes just another outside weapon for the Mavs to deploy on the floor, he adds a bit of youth to the backcourt and is a slasher and a scorer. So while they didn't draft anyone, they still came out of it a little bit better.
I also consider Indiana a partial winner. They get George Hill in a deal with the Spurs. He's a combo guard who will now play in his hometown and replace the inconsistent Brandon Rush (assuming).
The Pacers now have a young, athletic backcourt along with young talent at the forward positions. They should be able to return to the playoffs with this lineup.
Loser: Cleveland Cavaliers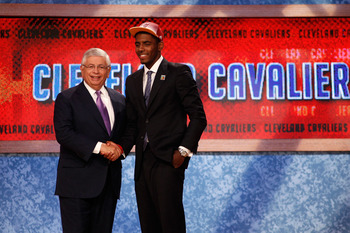 Mike Stobe/Getty Images
Cleveland's refusal to get over LeBron James has gotten irritating. And now this kid is supposed to replace him? That just won't happen. It's a matter of my own personal opinion and view on him, I am just not sold on Irving.
He played in only 11 games of his freshman year at Duke. He doesn't have elite athleticism nor an elite shooting ability. I would have taken Williams with the overall top pick and paired him with Hickson. Instead, Irving will learn behind Baron Davis, not the greatest role model. But hey, Cleveland's choice.
That being said, Irving has the potential to be a very good player. I can't fault the Cavs for believing that and taking him. I felt Thompson may have been a bit of a reach at No. 4 but again, the Cavs saw a lot to like in Thompson, his workouts were very impressive and they feel he'll contribute right away.
My thought process becomes this: you want a number one pick to be a perennial all-star and your No. 4 pick of that same caliber. I just don't see that happening with Irving and Thompson.
But that's just me.
Loser: Minnesota Timberwolves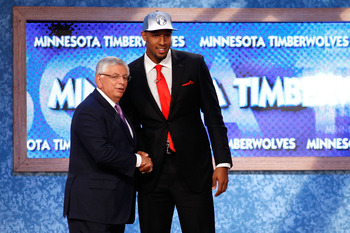 Mike Stobe/Getty Images
I honestly don't even know what to say about the T'Wolves. This is nothing against Williams, I thought he should have been the overall number one selection. Now he goes to Minny where they already have a stockpile of forwards, with Beasley, K-Love and Randolph, among others.
Before the draft even began, rumors of Steve Nash coming to town for the No. 2 pick emerged. Another point guard? Really, or was this just media blowing something up as usual?
They made several trades and did rid themselves of one point guard (sending Jonny Flynn to Houston and receiving Brad Miller).
It was just a bunch of interesting, weird moves made by the T'Wolves. Does GM David Kahn know what he's doing? It's going to be a nightmare trying to get the second-pick Williams playing time for the new Timberwolves coach, whoever that ends up being.
Minnesota says they aren't trading Williams, but they have to do something with all of those guys to get him time on the floor. Most likely scenario is trading away Michael Beasley.
Loser: Golden State Warriors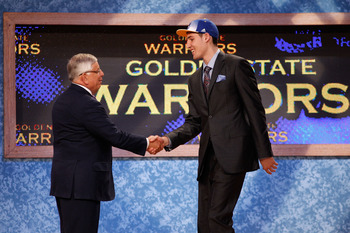 Mike Stobe/Getty Images
It is safe to say that Golden State has guards. Plenty of them. Like a small army of guards. Well, add in another one.
A few weeks back, newly hired coach Mark Jackson talked about his Golden State was going to get back to the roots of basketball; sound, fundamental defense. With their first pick, they took another shooter. I don't get it.
Klay Thompson, out of Washington State, joins the cluttered mess at the guard position on shot-happy Golden State. Where will his shots come from? Ellis and Curry take them all.
They really needed an inside guy to complement David Lee. This was a disappointing result for GS who end up just sticking to their norm of drafting shooters.
One Last Note: Jimmy Butler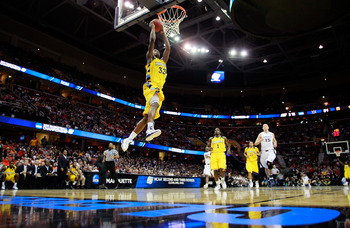 Gregory Shamus/Getty Images
This story is too good to ignore (I'm a D-Wade fan and therefore find myself rooting for other Marquette players).
Jimmy Butler, a combo guard/forward, has a story very similar to that of Michael Oher, the Baltimore Ravens tackle who was featured in the movie "The Blind Side."
Butler was kicked out of his home by his mother at the age of 13. He bounced around for several years before ending up with a family in Texas. He had no other family to turn to. His father had been out of his life since he was a baby. Butler stayed with friends in the area for as long as he could until moving on to another place.
Just as he was finishing high school, he found a family who was willing to take him in.
He started off at a local junior college before finally receiving offers from Division I schools. One of those offers was from Marquette.
He struggled at first, sitting on the bench watching as a sophomore. This gave him the chance to mature and become a team player, which he was unaccustomed to from playing at Tyler Junior College in Texas. By the time he was a senior, he was Marquette's go-to guy.
He developed into a fundamentally-sound combo guard/forward for the Golden Eagles. There was no greater moment (other than him being drafted by the Bulls in the first round) then his senior night at Marquette, where his new "family" escorted him onto the floor.
Butler is an all-around player, he can shoot, pass and defend. He'll split time between the 2 and 3 position in the NBA. He displays mental and physical toughness and will be a guy Tom Thibodeau can depend on.
Will he be a hall-of-famer? Most likely not. But how can you root against a guy considering what he's been through? He goes to a great organization in Chicago with the opportunity to win and succeed. He gets the chance to live his dream.
Congrats to Jimmy Butler.
Keep Reading