MarShon Brooks: 5 Reason the Nets May Have Gotten the Steal of the Draft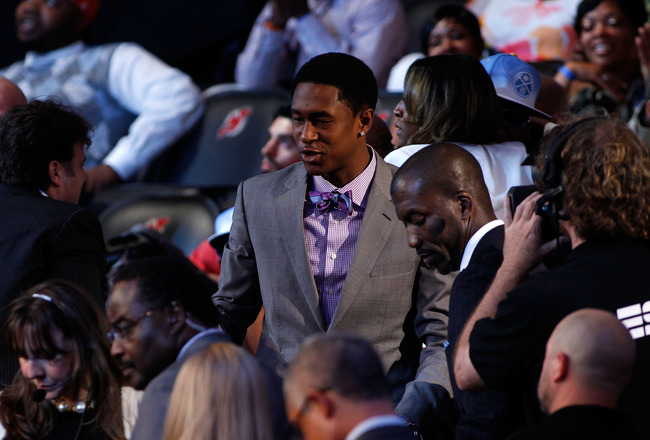 Mike Stobe/Getty Images
Seeing an opportunity in front of them, the New Jersey Nets traded their 27th pick and a 2014 second-round pick for Providence sensation MarShon Brooks, the 25th pick of the draft.
Of the myriad of trades that went down last Thursday, many see this as move as one of the wisest.
With one quick call, the Nets may have gotten the biggest steal of the draft. Here is why.
1. MarShon Brooks Was the Best Scorer in the Draft
Mitchell Layton/Getty Images
It's no secret that MarShon Brooks knows how to score. At 24.6 PPG, Brooks finished second in the NCAA in scoring behind BYU's Jimmer Fredette.
Sure, Brooks' highlight reel may not include 40-foot bombs that leave the opposition speechless, but he can get to the rim as well as anyone, and he did so in the Big East, perhaps college's most competitive conference.
Showing flashes of Kobe Bryant, Brooks lit up Notre Dame for 52 points back in February, a Big East single game record.
It is insane to think that such an NBA-ready talent with this knack for putting the ball in the hole lasted this long in the draft.
2. Brooks Was a Projected Lottery Pick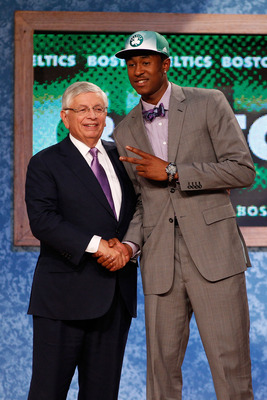 Mike Stobe/Getty Images
In the weeks leading up to the draft, Brooks found himself higher and higher on many mock draft boards. Some final projections had him going anywhere as high as No. 10.
Yet when draft day rolled around and trades sparked up like wildfire, Brooks dropped to No. 25, much lower than he should have fallen.
In a weak draft filled with what ifs and unproven Europeans, Brooks scoring ability alone warranted a lottery selection. If it was enough for Jimmer Fredette, why not for the more versatile Brooks?
Brooks was completely overlooked in the lottery, and the Nets took full advantage of that.
3. Defense Can Be Taught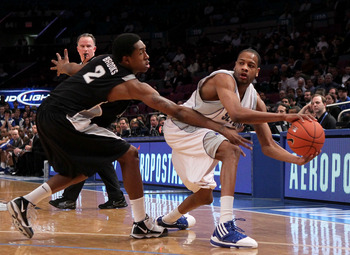 Jim McIsaac/Getty Images
Perhaps the biggest knock on Brooks is his lack of defense, or unwillingness to play it.
That's no reason to overlook somebody with his talent. If he wants to make it in this league, he is going to have to learn to play defense, end of story.
Avery Johnson, a defensive minded coach, will make sure Brooks give one hundred percent on both ends of the court or Brooks will find himself riding the bench.
You can teach defense, but you can't teach the natural ability to score.
4. He Will Make an Immediate Impact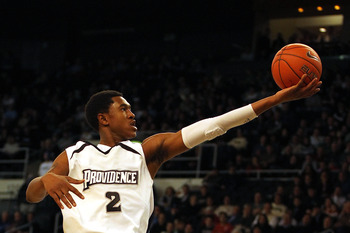 Chris Chambers/Getty Images
Aside from the top few picks of the draft, most rookies play small roles for a year or two before they can really affect the team and grow into solid rotation players.
Brooks, however, will be playing major minutes right away for the Nets. Unlike the Celtics, by whom Brooks was originally drafted, the Nets don't have a star shooting guard at the top of their rotation or a high playoff seed to fight for.
GM Billy King hinted that MarShon will compete with Anthony Morrow right off the bat for the starting job, giving him the ability to play alongside Deron Williams to start his career.
This makes Brooks a perfect fit for the Nets, who will let him start developing immediately. Brooks will hit his stride much sooner than others drafted late in the first round.
5. His Ceiling Is Sky High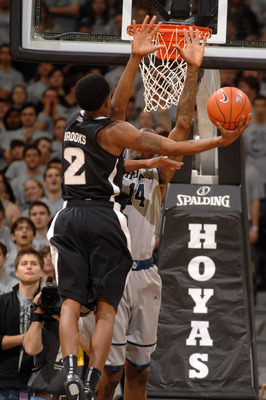 Mitchell Layton/Getty Images
Scouts don't exactly throw the name Kobe Bryant around in comparisons, but they couldn't help but liken Brooks to the superstar.
MarShon's ability to create his own shot in just about every way sets him apart from the rest of the scorers in this draft. He has a knack for getting to the rim, but can also create off the dribble and hit tough Bryant-like fade aways.
Yet, unlike many volume shooters, Brooks is extremely efficient. His 1.01 points per possession rating ranked a surprising third among all draftees.
Scouts also marvel at his impressive 7'1" wingspan, which gives his 6'5" frame an extreme advantage.
Brooks, a natural shooting guard, can also run the point if need be, and may also be able to give the Nets minutes at small forward. Such versatility makes him a valuable player on such a depleted team.
For all we know, Brooks can turn out to be a bust, but his incalculable potential and ability to score makes him a definite steal at No. 25.
Keep Reading

Brooklyn Nets: Like this team?