NBA Draft 2011: Kemba Walker and Why He Could Be a Gem (Interview)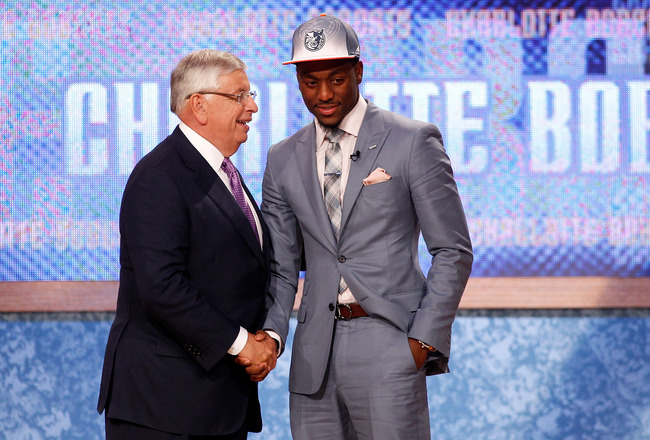 Kemba Walker Has The Tools to Succeed In the NBA
Mike Stobe/Getty Images
The 2011 NBA draft has come and gone and to say it was highly anticipated would be an understatement.

Some were interested in seeing where prospects such as Jimmer Fredette and Kyrie Irving would end up, while others were interested in seeing what types of draft-day trades would be made. For sure, the day was filled with wheeling and dealing and some head-scratching moves.

Fortunately, on behalf of Bleacher Report, I had the opportunity to interview one of the most intriguing members of the 2011 draft class in Kemba Walker. Kemba was excited to have been selected by the Charlotte Bobcats with the ninth overall pick in the draft.

He has all of the tools necessary to succeed in the NBA, and after having the opportunity to speak with him, here are the top five reasons why I believe that we can all rest assured that he'll emerge as one of the top prospects of 2011.
No. 5: Good Support System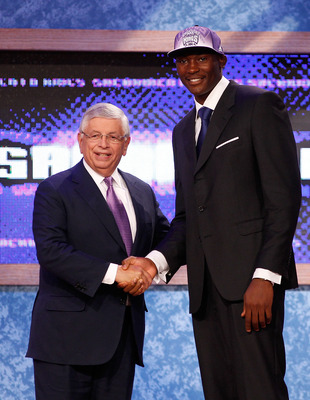 Bismack and Kemba: "Thunder and Lightning"
Mike Stobe/Getty Images
Kemba, how do you feel about going down to Charlotte and playing for the Bobcats?

Kemba: "I'm very excited, I can't wait, Michael Jordan has given me a great opportunity, and I'm excited, man."

Michael Jordan sure has.

But additionally, over the years, Paul Silas has proven himself to be a very capable coach. He has a reputation for getting the most out of his players and demanding nothing less than 100 percent. To this point, one could argue that he was the only coach that got Baron Davis to play to his full potential on a consistent basis.
And while Michael Jordan's record of building a winning basketball culture might be questionable, Kemba Walker is the type of player that can change that. If you put the ball in his hands, let him make plays and give him teammates that can complement him, who knows what can happen?

With newly acquired teammate Corey Maggette, as well as fellow draft pick Bismack Biyombo, Kemba has some teammates who—at the very least—can get up and down the floor and finish. That's a start.

If the Bobcats can retain Kwame Brown and keep Tyrus Thomas healthy and on the floor, they would have a very formidable frontcourt rotation.

If you see Kemba, Bismack and Tyrus coming at you on a fast break, one word…Duck!
No. 4: Confidence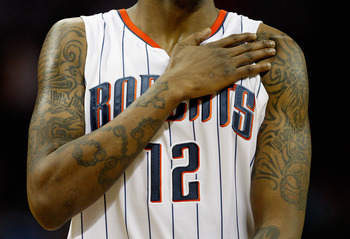 Kemba should provide the Bobcats with some heart, and that's half the battle.
Streeter Lecka/Getty Images
Kemba, the Bobcats missed the playoffs last year. What can you do personally to help them get back in next season?

Kemba: "I'm just gonna come in with a great attitude, you know, respect everyone, and hopefully get the respect of my teammates and help this team get back to the playoffs."

Playoffs? PLAYOFFS?! Yes, Kemba Walker is talking about playoffs.

One thing we can rest assured about this kid, is that he has confidence. The best part about his confidence, however, is that it's based on reality. Kemba is certainly not an "irrational confidence guy," a term coined by respected journalist Bill Simmons of grantland.com. It describes someone who—for some inexplicable reason—thinks they are a really, really good basketball player, despite an abundance of evidence to the contrary.

Irrational confidence guy? For Kemba, that's contrary.
Since his days at Rice High School in the Bronx, he has been a winner. And in his own words, he will bring a winning attitude to the Charlotte Bobcats organization and attempt to instill that same confidence and the same expectations for success in his teammates.

In this game, confidence is half the battle. And for sure, Kemba's got it.
No doubt, clinching a playoff berth in the increasingly tough Eastern Conference will be a huge challenge for the Charlotte Bobcats. Kwame Brown will be a free agent, and Joel Przybilla can't be counted on to have much of an impact at this point. After losing Stephen Jackson, the team is in dire need of three-point shooting. Depth is a concern, also.
What the Bobcats do have, however, are at least a few players that might be able to net pieces that fit in a trade.
Either way, in the words of the great Marcus Garvey: "He who lacks self confidence is twice defeated in the race of life."
With supporting players such as Boris Diaw and Matt Carroll, a free-agent signing or two and some luck, the Bobcats might be able to stay in the hunt for a playoff berth into January. From there, while not probable, making it in might be possible.
No. 3: Skill Set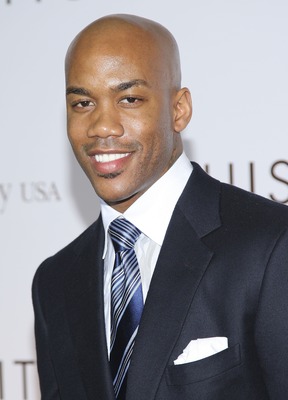 Kemba's skillset is not as advanced, but certainly reminiscent of New York City's last great point guard.
Stephen Lovekin/Getty Images
Can you do what it would take to help turn things around for the Bobcats?

Kemba: "I think I can do a lot of things, and hopefully, I'll come in and do whatever I can to help this team…"

Ok, so that was a bit of an evasive answer.

But anyone that has watched Kemba can easily see that he has feline quickness and can get into the paint at will.

The two major criticisms of his game are an inconsistent jumper and playmaking ability. For sure, Kemba needs to work on his jumper, but the same can be said for 75 percent of prospects entering into the league.

If there is one thing history has shown us, however, is that guards like Jason Kidd, Derrick Rose, Rajon Rondo and John Wall also entered the league with very questionable shooting ability, and in each case, they were able to utilize their strengths to impact games.

Although all four of the aforementioned point guards are better playmakers than Kemba, his court vision and passing ability haven't gotten the respect they deserve. Playing in Coach Cal's motion offense, and spending a lot of time at shooting guard, Kemba looked to score the ball.

But now, with a teammate that can flat-out score in Corey Maggette, we are likely to see a skill set reminiscent of New York City's last great point guard, Stephon Marbury.
Agreed, Kemba is smaller and not as strong as Stephon, but like Stephon, Kemba can get into the paint and finish at the rim. His speed and step-back shooting ability will force defenders to stay honest, and his ability to dish and make plays at the rim will certainly benefit Maggette, Bismack Biyombo and Tyrus Thomas.
No. 2: Motivation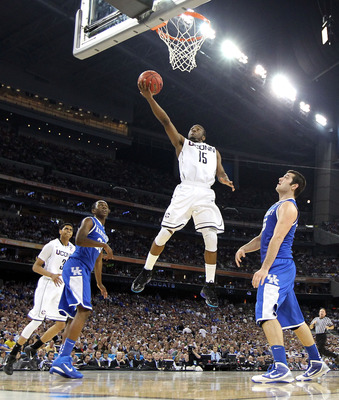 Don't overlook Kemba's success over Knight's Wildcats
Andy Lyons/Getty Images
Despite your accolades and success to this point, you were taken ninth overall. Do you feel like you have something to prove?

Kemba: "I definitely [have something to prove]. I leave with a big chip on my shoulder. I respect everyone that went in front of me, but, you know, things happen for a reason. I'm gonna go in there, keep working hard, and hopefully, good things happen for me."

Of course, you hear that all the time. A player is motivated because they were "passed over" by a few teams.

But here, that might actually be the case.

All things considered, Kyrie Irving, the first overall pick in the draft, will probably be a great professional point guard. His body of work is very limited, but showed enough to warrant being selected first overall. But is it not fair to question whether or not three solid years and winning should be valued as highly as potential?

And while Brandon Knight has looked great in his lone season at Kentucky, Kemba Walker brings more experience and the impressive claim of leading his team to an NCAA National Championship. As stated, Kemba led his Huskies to a 14-0 record in tournament games this past season, and coincidentally, his Huskies bested Brandon Knight's Wildcats in both the Maui and the NCAA tournaments.

Without looking back at his laundry list of accolades, being selected as the third point guard and ninth overall player in a draft many considered "weak" is the type of thing that can motivate someone with the heart of a champion to try just a bit harder.

The Bobcats certainly hope that's the case.
No. 1: Pedigree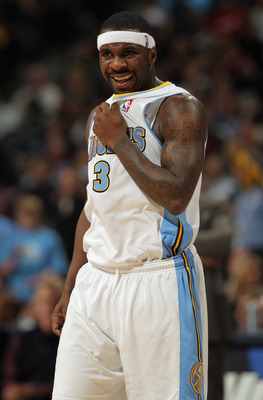 Ty Lawson was passed over, too. How's that looking now?
Doug Pensinger/Getty Images
At what point did you realize you were a special talent and had a chance to go pro?

Kemba: "Probably my senior year when I made the McDonald's game, that's a huge accolade. The majority of McDonald's [All Americans] go to the league, so from there, I felt I had a strong chance of making it."

Make it, he did.

And not without some impressive credentials.

Kemba never missed a game in his three-year career at UConn and graduated one year early with a B.A. in sociology. That might not translate to skills on the court, but it does say something—he is willing to put in work.

Team accomplishment aside, take a look at Kemba's personal accolades: the Lute Olson Award, Bob Cousy Award, Big East Tournament MVP and NCAA Tournament's Most Outstanding Player.

Kemba is the quintessential "Pedigree Guy," a term I coined to describe guys like Shane Battier, Jameer Nelson, Ronnie Brewer, Tyler Hansbrough and Ty Lawson. Those are guys that come from a good pedigree and have skills that should translate in the NBA. History shows us that—at worst—they will have long productive careers as professionals. That's more than can be said for more than 65 percent of all players that are drafted.

Despite that, we have seen over and over again, general managers often opt for untapped potential over proven results. It's something that I can't quite understand.

What I can understand, though, is the Charlotte Bobcats selecting Kemba Walker with the ninth overall pick of the 2011 NBA draft, despite having D.J. Augustin on their roster. The prospect of adding a player like Kemba with the ninth pick is too difficult to turn down. When situations such as this arise, most general managers will opt to take the best talent available and figure the rest out later.
Just ask the Detroit Pistons who—despite not having him in for a workout—selected Brandon Knight with the eighth overall pick. This befuddled everyone since the Pistons already have a very crowded backcourt with Rodney Stuckey, Will Bynum, Ben Gordon and Richard Hamilton.

But in Kemba, the Bobcats are getting more than just untapped potential; they are also getting somewhat proven results. In Kemba, they are also getting a confident player with a good skill set and the motivation to succeed. That doesn't make Kemba a great player, but what it does do, is give anyone a reasonable expectation that he can succeed in the league.

And in five years when we look back at history, the Charlotte Bobcats might have proven themselves to have gotten one of few gems in the 2011 NBA draft.
---
For more 2011 NBA draft coverage, stay tuned to Bleacher Report for NBA draft results and NBA draft grades.
Keep Reading

Charlotte Bobcats: Like this team?