2011 NHL Draft: The Road to Minneapolis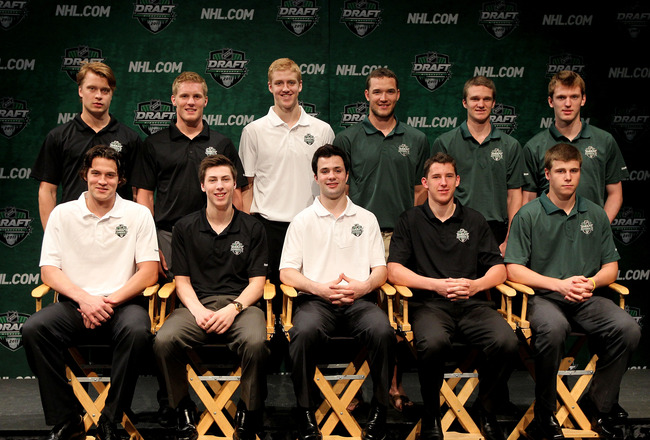 Cream of the 2011 crop
Nick Laham/Getty Images
The Road to Minneapolis began long before anyone even knew it would end there. There were published reports about Ryan Nugent Hopkins and Adam Larsson (currently projected as No. 1 and No. 2 prospects in the 2011 entry draft) as early as the 2009 entry draft. It is fair to assume that NHL scouting staffs had them on their radar for at least the previous season. So, the Road began at least as early as Fall, 2008.
NHL scouts traveled thousands of miles and spent up to 400 nights each in hotel rooms. They interviewed countless coaches, teammates, friends, billet families and parents of prospects as well as the prospects themselves and filed as many as two dozen reports a year on the best of them.
Along the way, there were surely twists in the road. A scout might have certain targets in mind in any given week of travels, but he always has to be open to a relative unknown who might be of greater value. That's how Bobby Orr was "discovered," for example.
In the end, all the traveling, watching, interviewing and reporting have just one objective. That objective is to ensure that on draft day, Steve Tambellini, Greg Sherman, Dale Tallon, Lou Lamoriello, Garth Snow and the other 25 NHL general managers are as well prepared as can be to make the choices that will decide the future of a franchise.
What will that choice be? Will they trade the pick or try to move up for a certain targeted prospect? Will they stand pat and pick the "best player available"? Or decide that the available talent is so evenly matched that it's worthwhile to trade down and obtain more picks and prospects?
I will look at these options from a NY Islander perspective. Feel free to comment as to how your team should or might approach them.
Trading the Pick

Paul Stastny highlights

Trading a first-round pick, especially one as high as the fifth overall, which the Islanders possess, is not something a team should be in the habit of doing. Eventually it leads to the depletion of the franchise prospect pool and thus to the decline of the franchise.
There are times, however, when the fortunes of a franchise, the available prospects, and the fit of a particular player make such a move seem reasonable. Garth Snow seems to think that 2011 may be that time for the Islanders. He has said repeatedly that he will be exploring such an option right onto the floor of the Xcel Energy Center tonight.
There are several very good reasons for this.
The Islanders have been trying to get a new arena for quite some time now. A referendum has been set for August 1 in Nassau County to decide this. A big acquisition now might create a positive spin that would change some voters' minds.
Although the Islanders struggled mightily in the early part of last season, their second-half surge suggested that they may be ready to at least contend for a playoff spot. A great new talent could put the Islanders over the top and continue Islander hockey well into the second season.
Then there's John Tavares (or JT). JT has said repeatedly that he is committed to the Islanders and I believe him. But a big addition, a yes vote on the arena, and a very competitive 2011-12 season, would really seal the deal on him extending prior to next July.
Who should the Islanders trade for?
Paul Stastny's name has come up repeatedly in rumors. He would be a great addition to the Islanders. Jack Capuano could either move JT to wing, as some have suggested, or he could put Stastny on the second line with Team USA mate Kyle Okposo and Austrian speedster sensation Michael Grabner. Either way, the Islanders would explode offensively.
What's in it for the Avs?
The No. 5 pick and the No. 11 acquired from St. Louis would likely enable Greg Sherman to trade up and select Adam Larsson AND Gabriel Landeskog. Evgenyi Nabokov would likely be part of the deal as well, giving Colorado a cheap veteran backup goaltender. The savings resulting from trading Stastny and acquiring Nabby's dirt cheap contract could enable Colorado to acquire Tomas Vokoun and settle its goaltending woes until Calvin Pickard is ready.
Trading Up

Adam Larsson

If there is one player in this draft that almost all Islander fans would agree on, it is Adam Larsson. He is big, physical and talented and, as a right-handed shooter, would be the perfect complement to left-handed Mark Streit in the top pairing. Also, Mark is one of those rare players who is a great mentor and makes others play better. He and Larsson would be the perfect fit.
Another reason Larsson would be perfect is Calvin DeHaan. DeHaan is Streit's heir-apparent and will undoubtedly have a fine career. He is, however, small for an NHL defenseman and has already been injured several times. A big physical pairing partner would seem like a must for the Islanders.
The problem is that the Islander late-season surge and New Jersey's lottery win moved the team's draft position from a possible third to fifth. That would seem to put the Islanders out of the running for Larsson, currently the second-ranked prospect. There is hope however.
Forwards tend to reach their full potential sooner than defenders. For that reason, they tend to get picked earlier and even the best defensive prospects can slip in the draft.
This year would seem to be no exception. Ryan Nugent Hopkins is sure to be the No. 1 pick. Although Colorado is very interested in Larsson, they are likelier to pick power forward Gabriel Landeskog. Dale Tallon has never picked a European in the first round, is deep in defensive prospects, and needs offense. He is likely to pick Jonathan Huberdeau.
That leaves Lou. Lamoriello has a propensity for drafting defense and drafting Swedes, so Larsson would seem to be an obvious move for him. There are, however, other factors to be considered.
The Devils are very deep in defensive prospects, but have no top-six quality forward prospects. There is a Swedish power forward center prospect named Mika Zibanejad (Z-Bad) who is rumored to have caught Lou's eye. He is coached by the same guy who coached Jacob Josefson, and he says Z-Bad is better. Lou needs a power forward and a center. Z-Bad might be perfect.
Finally, Lou will be very cap-challenged this summer and lacks a second-round pick. The Islanders have a very inexpensive veteran goalie in Nabby and two second-round picks. Nabby and the No. 50 pick might be enough to get Larsson for the Islanders.
Standing Pat

Dougie Hamilton

If trading the pick or trading up do not work out, the Islanders will need to focus on the board in front of them. If there is one player who seems head and shoulders above the others, they will just pick that player. That guy could be Dougie Hamilton.
Hamilton has exactly the same qualities (size, physicality, top-pairing talent, right-handed) that make Larsson appealing for the Islanders. He is just not as NHL-ready as Larsson and may not have his upside.
Hamilton has some special qualities that may make him very appealing to the Islanders. He is very intelligent and well spoken and is thought of as a likely captain or assistant captain in the future. He also has great character and hockey-sense. These are all qualities Garth Snow prizes.
One Twitter comment stated that the Islanders were the only team Hamilton visited prior to the draft. That may be an indication of his future.
Trading Down

Z-Bad

If there is no clear "best player" available at No. 5, the Islanders might trade down for players, picks or prospects.
One likely target who visited Long Island is Z-Bad. He is a big, talented and physical right-handed center who would be a great fit with the Islanders. Although the team is very deep at center, they lack a right-handed one.
So, one road ends. But for the teams and their prospects, another begins.
And the scouts? They take a brief vacation and then hit the road...to the 2012 NHL draft.
Keep Reading

New York Islanders: Like this team?