Jimmer Fredette Will Fit in Exceptionally Well with the Sacramento Kings
June 25, 2011
Mike Stobe/Getty Images
Since he was drafted ninth overall Thursday night, questions have arisen about how successful Jimmer Fredette will be as a pro and how well he could possibly fit with the Sacramento Kings.
As someone who watches the Kings every night and someone who had the honor of watching Jimmer grow from a floppy haired, scrawny freshman into the most feared offensive player in all of college basketball, let me tell you the answer to both questions.
He will make it as a professional, and he will fit in exceptionally well in Sacramento.
The Kings have been searching for a backcourt running mate for their franchise player, Tyreke Evans, since he arrived two years ago. It's been musical chairs of sorts, with Kevin Martin, Beno Udrih, Francisco Garcia and Marcus Thornton each having had an opportunity to start alongside Evans.
The fact that the Kings have lost 115 of their 164 games since Tyreke was drafted indicates that each of those experiments have, by and large, failed.
Tyreke Evans is a bit of an enigma, simply because he is anything but conventional. He's a beast of a guard that is nearly impossible to keep out of the lane. For all his physical gifts, however, the kicker is that he has the jump shot of Bismack Biyombo and the play-making skills of Yinka Dare (read, not good).
The obvious solution is to match him with a guard who can shoot. A guard who has the handle to create opportunities for himself, and for others. A guard with a high basketball IQ to make up for Evans' lack thereof. A guard who doesn't need to dominate the ball.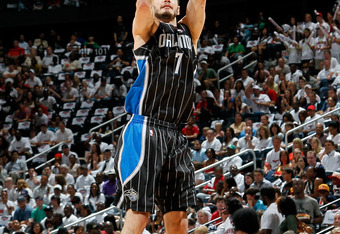 Kevin C. Cox/Getty Images
That guard is Jimmer Fredette.
Pundits have speculated for months who Jimmer will emulate at the NBA level. Will he be limited to just serving as a deadly spot shooter, like J.J. Redick or Matt Carroll? Will he be a complete bust, like Adam Morrison?
Will he be instant offense off the bench, like Eddie House, J.J. Barea or Jason Terry? Or could he become an All-Star caliber playmaker/shooter extraordinaire like Mike Bibby, Steph Curry, Mark Price or dare I say, two-time MVP Steve Nash?
Having not played a single minute on an NBA floor, there is no way to say with any certainty what Jimmer Fredette will become.
But I know what he won't become. His play-making skills (he averaged more than four assists per game in each of his last three years at BYU) suggest that he is far too skilled to just be another white stiff who can stroke it.
For what it's worth, I think Jimmer Fredette and Stephen Curry are going to have very similar NBA careers.
Nobody thought Curry would perform as well as he has in his first two seasons, but there are simply too many similarities to not make the connection. Both played for small programs where the difficulty of their opposition was questioned, and both shot extraordinarily well from the field, three-point line and free-throw line in college.
Both carried their small schools to enormous success. Both led the NCAA in scoring their final seasons in college. Both possess incredibly high basketball IQs and neither had definitive positions at the NBA level.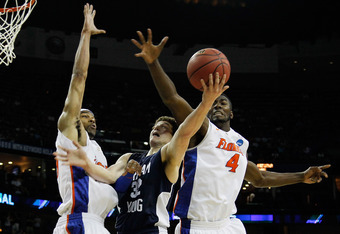 Kevin C. Cox/Getty Images
There are questions about how well he fits in to the Kings and their roster of young, ball-dominating players. Between Evans, DeMarcus Cousins, Thornton, and the newly re-acquired John Salmons, there will be a lot of one-on-one play and domination of the leather.
Jimmer can fit in seamlessly, as he can play off the ball and space the floor for them, as well as anybody else on the roster, easily.
The challenge for the coaching staff will be to get the young players to play together, to pass up decent shots for good shots and to pass up good shots for wide open shots. Is Paul Westphal a strong enough presence to demand unselfishness from this collection of young talent?
In college, it was Jimmer Fredette and four schmucks. Opposing defenses had one goal when playing BYU these last few years: don't let Jimmer kill you. They put bigger players on him, they put better athletes on him and despite all of that, he remained consistent and performed remarkably well.
The fact that he still led his team to impressive 30-6 and 32-5 records the past two seasons speaks a lot to his leadership skills and his ability to single-handedly carry a team.
The incredible thing about Jimmer is how efficient a scorer he was in college, despite the green light he had from the coaching staff. There have been countless combo guards who scored the hell out of the rock collegiately, but few have done so as economically as Fredette. 
The other tiny, little secret that nobody talks about is that Jimmer can create his own shot, a hard-to-find trait at the NBA level. In college, the ball was in his hands nearly every possession. There was no dynamic point guard to set him up, and there was no elite big man in the post to alleviate pressure.
The entire offense was built around his limitless shooting range and his ability to find a way to get that jump shot off.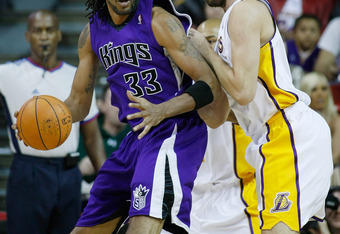 Ethan Miller/Getty Images
His critics quickly point out that he spent his four years dominating inferior competition.
To that, I counter with the fact that Jimmer torched defensive standout Kawhi Leonard and his San Diego State Aztecs several times, he exploded in the Mountain West Tournament each of the last two seasons and he statistically performed better in the NCAA tournament than he did during the regular season. 
Fredette has a chance at winning the starting point guard spot from day one. Beno Udrih was unloaded to Milwaukee, leaving Jimmer, Tyreke Evans and Marcus Thornton to share the 96 available minutes at the guard spots.
With Evans' formidable dribble-drive attack coupled with Thornton's all-around offensive brilliance and Fredette's aforementioned talents, the Kings' backcourt has the potential to give a lot of NBA defenses headaches for years to come.
Naysayers will point out that his defense is a major area of weakness. By his own admission, his defense left a lot to be desired in college. But the difference is this: Jimmer isn't going to carry the enormous burden of an entire university on his shoulders at this level.
Expecting any player to dispense incredible levels of energy defensively, while still asking him to run the entire offense, is unrealistic. For the first time in his life, Jimmer is going to be playing alongside some damn good basketball players. As a result, he will finally have some legs for the defensive end.
I just watched Brian Cardinal defend LeBron James in the Finals on the perimeter for extended minutes, so I'm willing to surmise that Jimmer can be an adequate defensive player at this level as well.
During the Kings' disastrous 17-win 2008-09 season, their starting unit was Beno Udrih, Kevin Martin, Francisco Garcia, Mikki Moore and Spencer Hawes. Just three years later, the Kings will trot out a virtual who's who of recent college standouts in Jimmer Fredette, Tyreke Evans, John Salmons, DeMarcus Cousins and Samuel Dalembert (pending his unrestricted free-agency status).
In a Western Conference that just witnessed the Lakers get embarrassed in the second round, the Spurs get punked in the first round, and the defending champion Mavericks have an average age of over 31, the Kings could rejoin the playoff conversation sooner than people think.
Let's just hope there's a season next year.