The Most Painful Moments in Sports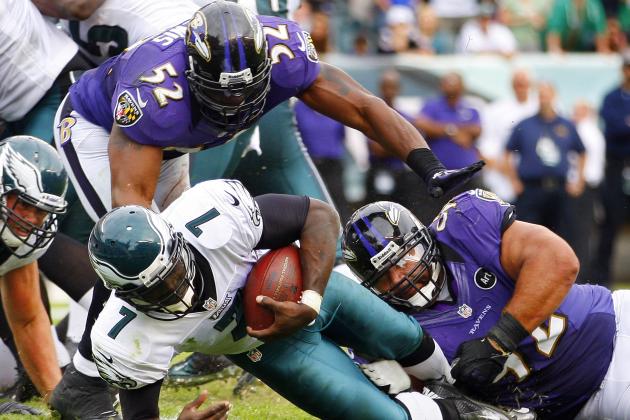 Rich Schultz/Getty Images

The Eagles losing the NFC Championship Game to the Bucs in the final game ever played at Veterans Stadium. Bill Buckner letting the ball roll between his legs. Chris Webber's timeout.
Sports is full of heartbreaking losses and painful moments.
But this list isn't about that sort of painful moment. Nope, this list is about the hardest hits, craziest knockouts and the many wince-inducing nut shots.
If this slideshow doesn't make you cringe from time to time, you simply feel no pain.
To the slides!
Begin Slideshow

»
It's impossible to isolate only a few huge hits from football for a slideshow like this...so here is a football compilation I think you'll enjoy.
BOOM!
While we're at it, why not throw a rugby compilation in the mix?
This should stir up the age-old debate—who is tougher, rugby players or football players?
There are simply too many to awesome knockouts to compile, but this video has some incredibly painful ones for your viewing pleasure.
Or you could just watch Roy Jones Jr. destroy people.
Okay, one last compilation for your pain-thirsty pleasure—the hockey check.
So if you combined the knockout compilation with the hockey compilation, this is the child they would have spawned.
Nasty punch right here.
One man's celebration is another man's aching man parts.
This is the danger of pumping yourself up before games by watching Bruce Lee films.
If this guy had ever seen Old School, he would have known how this event was done.
Ironically, Corazzin—the guy kicked directly in the Johnny Walker on the video—plays the striker position.
Not in this video he doesn't.
Nothing kills a moment faster than a teammate sliding in to celebrate with you and breaking your nose.
Poor form, bro.
This has gotta be one of the coolest kicks I've ever seen.
This is embarrassing for both of them.
As hard of a hit as you will ever see.
What are the odds of something like this happening? Honestly, this is one of those "He couldn't do that if he tried!" moments.
Except nobody would ever try to replicate what happened to this guy.
Amazingly enough, he walked away from this.
There are a slew of skiing crashes out there, but for my money, this is the most insane to watch.
I remembering seeing this live and feeling thankful I hadn't eaten anything in a while.
Legs aren't supposed to move in that direction.
Seriously, legs are not supposed to move in that direction.
Given the nature of extreme sports, there are probably thousands of painful wipeout videos that could be included.
But I have never seen one that was as brutal as this.
Be sure to hit me up on Twitter (@TRappaRT) along with the entire B/R Swagger team (@BR_Swagger). Also, be sure to check me out on the Sexy Metal Pants Blog and Twitter feed (@SexyMetalPants). Coming soon: The Sexy Metal Pants Podcast!