2011 NBA Draft Results: Grading Every Trade of the First Round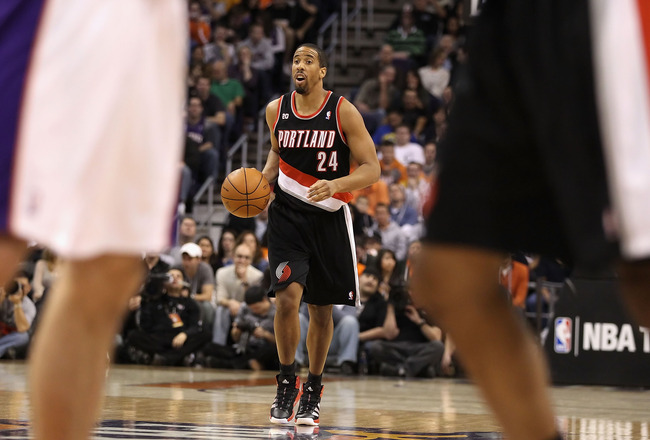 Christian Petersen/Getty Images
The 2011 NBA draft brought us many surprises.
Almost every other pick it seemed like a trade was being made, or that something out of this world was about to happen.
In yesterday's escapades, many capable players were traded, like Portland (er, Denver's) Andre Miller.
Read on as I grade each and every trade that went down within the first 30 picks last night.
Also, be sure to follow me on Twitter @JosephFafinski. I'll make it worth your petty follow.
Blazers-Nuggets-Mavs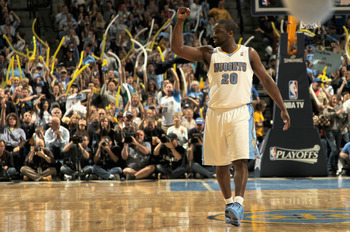 Doug Pensinger/Getty Images
Blazers receive: Raymond Felton (from Denver); rights to No. 57 overall pick (from Dallas)

Nuggets receive: Andre Miller (from Portland); rights to Jordan Hamilton (26th overall pick); future second-round pick (2013 or 2014) from Portland

Mavs receive: Rudy Fernandez (from Portland); rights to 2007 draftee Petteri Koponen
Grades:
Blazers: A
Boy, did the Trail Blazers get a steal here.
They acquired a sure-fire All-Star in the future for a second-rounder and guy who couldn't find his niche in Portland?
I can't wait to see the Felton/Wes Matthews/Gerald Wallace/LaMarcus Aldridge/free agent center lineup next year!
Nuggets: C+
Miller, an 11-year vet, is brought back to the place he played from 2003 to 2006. He will become a mentor to current starter Ty Lawson in the final years of his career.
Jordan Hamilton might be a solid pro someday.
Mavs: B
Wait, so the Mavericks gave up the 26th and 57th overall pick for Rudy Fernandez?
That's a pretty solid deal considering the guy hasn't hit his full potential thus far, and he's only 26 years old.
Bobcats-Bucks-Kings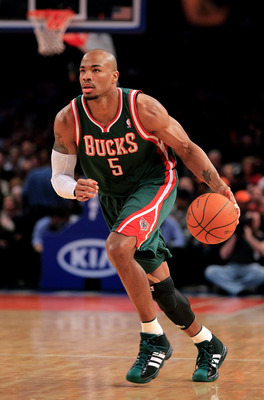 Chris Trotman/Getty Images
Bobcats receive: No. 7 overall pick Bismack Biyombo (from Sacramento); Corey Maggette (from Milwaukee)
Bucks receive: No. 19 overall pick Tobias Harris (from Charlotte); Stephen Jackson (from Charlotte); Shaun Livingston (from Charlotte); Beno Udrih (from Sacramento)
Kings receive: No. 10 overall pick Jimmer Fredette and guard John Salmons (from Milwaukee).
Grades:
Bobcats: A-
Not too much changed here. They got their man in Bismack Biyombo.
Bucks: C
All those mediocre players have got to take a toll on their salary cap. In essence, they downgraded in the draft in exchange for unneeded or aging players.
Kings: C
The Kings received a player they already had on their roster years ago, and went down in the draft order.
Huh?
Rockets-Wolves-Bulls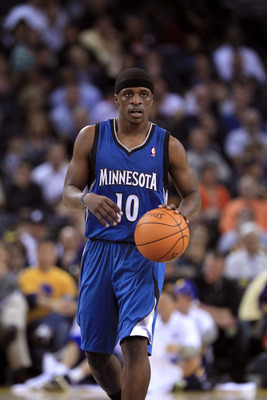 Ezra Shaw/Getty Images
Rockets get: Jonny Flynn, rights to Donatas Motiejunas (No. 20 overall pick); Chandler Parsons (reacquisition via the No. 38 overall pick)
Timberwolves receive: Brad Miller; rights to Nikola Mirotic (No. 23 overall pick), 2013 first-round pick; rights to Norris Cole (No. 28 overall pick)
Bulls receive: Rights to Nikola Mirotic (from Minnesota)
Grades:
Rockets: B
All they really did here was upgrade a pick and get Jonny Flynn while giving up a future first-rounder.
Apparently, now Flynn's on the trading block, though.
Timberwolves: B
Well, at least they received a future first-rounder.
Bulls: C
Pacers-Spurs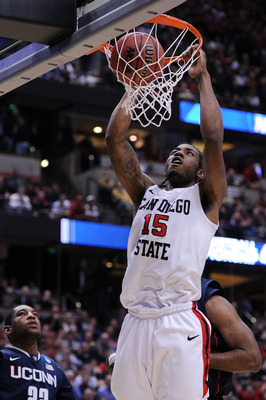 Harry How/Getty Images
Pacers get: George Hill; 2005 second-round pick Erazem Lorbek

Spurs get: Rights to Kawhi Leonard (No. 15 overall pick); rights to Davis Bertans (No. 42 overall pick)
Grades:
Pacers: B
I understand it makes sense to trade for a point guard when you only have one legitimate one, but it sure is hard to pass up a guy like Kawhi Leonard.
Maybe I'm just a little high on the Aztec, but that's my belief.
Spurs: A+
This trade is an A when you look at it straight up. When you realize Richard Jefferson is the incumbent small forward, it goes up to a plus.
It could be an A-plus-plus when you discover they also acquired a second-rounder.
Bravo to the Spurs on this absolute steal.
Nets-Celtics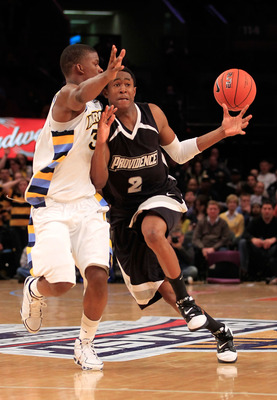 Chris Trotman/Getty Images
Nets receive: Rights to Marshon Brooks (No. 25 overall pick)

Celtics receive: Rights to JaJuan Johnson (No. 27 overall pick); 2014 second-round pick
Grades:
Nets: A-
In swapping for Marshon Brooks, the New Jersey Nets have found a potential backcourt mate for Deron Williams.
Maybe Brooks will give him another reason to stay.
Celtics: B-
JaJuan Johnson is a solid talent and could become a contributor in the NBA someday, but for now it's hard to give up a guy who could potentially replace Ray Allen once his career comes to a screeching halt.
The only saving grace from a D was the second-round pick.
Heat-Wolves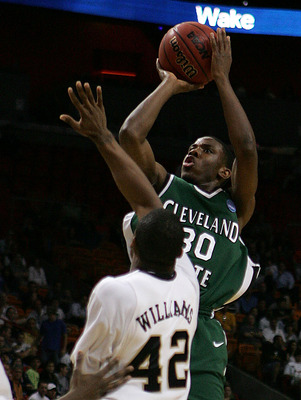 Marc Serota/Getty Images
Heat receive: Rights to Norris Cole (No. 28 overall pick)
Timberwolves receive: Rights to Bojan Bogdanovich (No. 31 pick overall); future second-round pick; cash considerations
Grades:
Heat: D+
In making this trade, the Heat gave up too much. It's not like Norris Cole was a fringe-lottery pick either.
The Heat should've at least tossed in one of their many point guards (cough, Eddie House) rather than a future second-rounder.
Timberwolves: B+
A surprisingly good move by David Kahn brings in a future second-rounder, and some more money for the T'Pups.
In any case, the Wolves promptly swapped Bogdanovich for another pick.
---
For more 2011 NBA draft coverage, stay tuned to Bleacher Report for NBA draft results and NBA draft grades.
Keep Reading