NBA Draft 2011 Results: Is Kemba "Slice" Walker Charlotte's Next "Answer?"
June 25, 2011
Mike Stobe/Getty Images
Will former McDonald's All-American Kemba Walker—the man I call "Slice"—answer the questions surrounding the point guard position in Charlotte? 
Let's slice it up, shall we? We shall, if you weigh in and tell me what you think about the nickname.
One of the most talented point guards you will ever see, Walker is a Bronx native. Point guards who hail from the basketball Mecca—New York City—are usually phenomenally talented. 
Drawing huge crowds to the playground parks in the shadows of high-rise projects in the city of basketball heaven, the Big Apple is known for its hoops legends from Harlem to Hollywood. 
The city has produced colorful big screen names like Richard "Pee Wee" Kirkland, Earl "The Goat" Manigault, Dwayne "Pearl" Washington and Rafer "Skip 2 My Lou" Alston.
The list continues with Jamar "The Pharmacist" Davis, Stephon "Starbury" Marbury, Kenny "Homicide" Williams, Ed "Booger" Smith, Sebatian Telfair and Kenny Satterfield. 
Satterfield also attended Rice High School (Harlem)—like Walker. He left college one school year earlier than Kemba to enter the NBA draft. Kenny played for the University of Cincinnati, the Denver Nuggets and the Philadelphia 76ers before taking his talents overseas.  
Slice Walker now oversees the New York playgrounds—whether it's Holcombe Rucker Park, Orchard Beach or in the Bronx.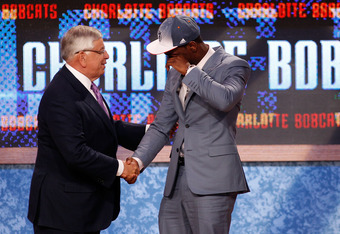 Mike Stobe/Getty Images
He starred at his neighborhood playground, Parque De Los Ninos, but his talent knows no city line.
Walker is also a defensive force between the lines. At the 2007 Nike Super Six, he held Derrick Rose to nine-of-19 shooting. 
The epic event was a point guard showcase for the century, featuring perhaps the nation's then-top three prep point guards (Rose, Tyreke Evans and Walker). 
Staged at Madison Square Garden, in one matchup, Walker's team defeated Rose's Simeon Career Academy (Chicago), 53-51. Rose missed all seven of his three-point attempts.
All three elite guards played in the McDonald's All-American Game—Rose in 2007. Walker and Evans were teammates in the 2008 game—Evans won the MVP and eventually NBA Rookie of the Year (2010).
Before the Bobcats drafted him, several NBA teams were courting Walker to help solve their problems.  He's probably every bit as quick, jiggy and talented as another dude known as "The Answer"—Allen Iverson. 
According to rivals.com, Iverson's off-court issues prohibited him from playing in the vaunted McDonald's All-American game.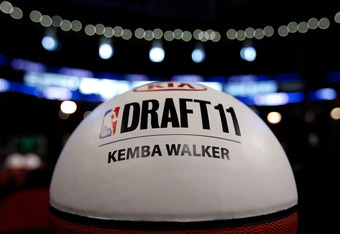 Mike Stobe/Getty Images
Cooking his opponents like American staples: Big Macs, Happy Meals and Quarter Pounders with Cheese, Walker fries opponents. 
Leaving college after his junior season, though, Kemba's three-point shooting percentage (33) needs work, like Iverson's did. 
A.I. often shied away from his own three-point shot during his NBA career. He didn't have to shoot threes because Allen could mad dash to the cup in no time flat.
Listed at 6'0," 165, Iverson's three-point shot attempts per game decreased from a high of six during his rookie season (1996-97) to 3.4 in 82 games with Denver (2007-08). 
When A.I. averaged a career-best 33 points per game, he shot threes at 32.3 percent. Last season, the NBA's three-point percentage leaders shot it around 47 percent.
Iverson's shooting star of a cousin, Kuran—a 6'8" prep power baller rated No. 5 on rivals.com's list of sophomores—says Kemba Walker is his favorite player. Tweeting on March 5, 2011, A.I. said it all in a few words by comparing Walker to himself—a lightning quick future Hall of Fame player from Georgetown University.
Listed at 6'1" in shoes and 184 pounds, Walker looks like Herschel Walker compared to Iverson and has a killer instinct for the ages. He's has also drawn high praise from Iverson's former college coach in the Big East—John Thompson.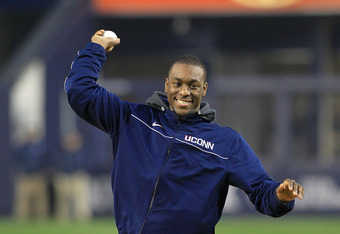 Chris Trotman/Getty Images
After hearing Thompson's praise, Walker's coach at the University of Connecticut, Jim Calhoun, told the Register Citizen what he thought: 
"We've had some very quick kids, but no one's as quick as him (Walker).  And now he has the (mid-range) jump shot, which has made him a much better basketball player." 
UConn's campus is about two-hours driving range from the Bronx. Walker's highlights of driving the basketball lanes and baselines could be a major motion picture. One would see everything from ankle-breaking ball-handling to knock out buzzer beaters. 
A rock-handler supreme, like a young Allen Iverson, he loves to play cat-and-mouse with the basketball. You would, too—cats and cattetes—if you could get jiggy with the ball and had handles like A.I. and Slice.
Their trademarks—unable to be curtailed changeup crossover dribbles—are capable of embarrassing the best ball hawks and rolling the most flexible ankles.
Creative coaches make mismatches for their best ball-handlers by utilizing the pick-and-roll—an NBA staple play. I look forward to watching Kemba slice up defenses while he runs it. 
I also anticipate a lot of spectacular layups from the play-caller, who can score in the paint like A.I., or Tony Parker. The NBA could be like a Bronx playground for Walker.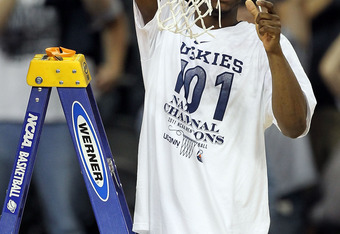 Andy Lyons/Getty Images
Well into the 2010-11 campaign, he was leading the NCAA in scoring—averaging 26.1 points per game, while leading the Big East in steals. 
After he boogied to the tune of leading UConn past Pittsburgh to the Big East Championship Game, almost breaking the defender's ankle—seriously—to end the game, the highlight became  another trophy to add to his case. 
Walker's epic shot sent UConn to the finals of the blockbuster 2011 Big East Tournament. The Huskies went on to beat Rick Pitino's Louisville Cardinals to win the league title. 
Walker then became the major force in the NCAA Tournament. Named the NCAA Men's Division I Most Outstanding Player—MVP of the Big Dance—he's reportedly a good dancer, who has performed at the Apollo Theater in Harlem. 
Among his many trophies, Walker won the most recent Bob Cousy Award for the top point guard in America. He also won the 2011 Lute Olson Award for the most outstanding non-freshman in men's Division I basketball. 
He smoothly killed the other non-freshmen in the Final Four on the way to leading UConn to an NCAA championship—something Iverson couldn't do. Both were Big East studs and will go down as NBA legends at the point guard position. 
As a former point guard, I love Kemba's game like newlyweds love cake. When I played point guard, I was a defensive menace. Wherever the ball was, I wanted to be caked to it. Playing like the game in this manner requires excellent physical conditioning.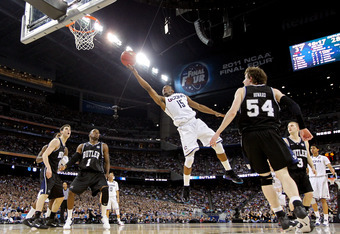 Streeter Lecka/Getty Images
Walker is perhaps the most physically ready guard talent in the draft, in my opinion and according to Greg Anthony, who said so during the Prospect Park broadcasts on NBA TV. 
Kemba turned 21 years old last May, and he should be one of the most mature guards in this class to make the jump. Like Iverson, he has hops—a 39.5 inch vertical—experience, leadership and a deadly dribble that will drive NBA opponents off their rockers. 
Kemba's game is off the rockers and you probably first heard his nickname "Slice" from this writer. Let me be the first to say covering the 2011 draft has been real. 
Now, I'm about to really take cover under a palm tree, while allowing my mind to cruise for more story ideas. Hit me up with any ideas you may want to read about.
Catch me next time on Lake's Slice Report. By the way, Walker is the answer to the Bobcats' next question in Charlotte.