2011 NBA Draft: How Will the First Rounders Pan Out?
June 24, 2011
Mike Stobe/Getty Images
Who's up for a little honesty? Everyone? Okay, good. Since we're being honest here, let's just admit something; this draft kind of sucks. 
Alright, it really sucks. 
There is not one no-brainer perennial All-Star (first time since 2006). 
There are even just a few guys who most "experts" (I always have to put "experts" in parentheses because it seems like these so called experts screw up just as much as they're right. Experts in the majority of fields do not suffer from this plague.) agree could potentially be All-Stars. 
Bottom-line: If your team sucked this year to get a high lottery pick, they picked a bad year to suck. (Still, it's probably not a good idea to trade away your high lottery pick just to get rid of a fat, overpaid point guard because it could end up getting you the No. 1 pick. Just saying.) 
However, it is generally agreed upon (and I agree as well) that this draft is filled with a wealth of role players who will be solid contributors on NBA teams. While there is no LeBron James or Derrick Rose in this draft, there might be two or three Jamal Crawfords or Aaron Afflalos. Of course anybody would rather have a Rose, but anybody would also like to have Crawford over Nikoloz Tskitishvili. 
So there will be some decent NBA players coming out of this draft. Also, there will be some Tskitishvilis, as there always is. So which ones are which?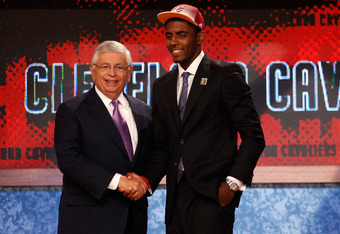 Mike Stobe/Getty Images
That's what I'm here to figure out. 
Mock drafts and things of that nature are basically pointless. Trying to figure out how a player will fit on a team on the chance that they might pick him. Why waste time making a mock draft, when you can evaluate how a player will do once he's already in a determined situation? Now, that's much easier. 
A bad situation has a dramatic effect on a player's career. Many busts might not have been that if they had been thrown into more favorable scenarios. Darko Milicic is probably the most intriguing example. Would Darko actually developed on a team where his confidence wasn't shattered and he spent his game days watching basketball instead of playing it? Could he actually have been the "manna from heaven" David Kahn suggested he could be? We'll never know, but if a time machine is invented, well, having Darko go somewhere else in that draft would probably be pretty low on the to-do list, but it might eventually happen.
Back to reality, and not thinking about the many wonders Darko could have achieved.
There are eight potential categories for every draft class: Franchise Building Block, Dull Star, Sometimes All-Star, Solid Starter, Solid Contributor, Strict Role Player, Benchwarmer and Bust.
A "Franchise Building Block" is a player who consistently leads his team as a contender year after year after year. They don't miss the playoffs. They're always in the hunt, and this guy is the leader of that expedition.  
A "Dull Star" is a player who is the best player on his team, but his team doesn't really do much. He's meant to play second fiddle ("Second fiddle" seems outdated, how about "rhythm guitar?") to a Franchise Building Block, but his team never got that guy (note: it's hard to get those guys). He might lead a team to the playoffs occasionally, but there's no way on earth (Hell or Heaven) that he's leading a team to a championship.
An "Occasional All-Star" is a player who can sometimes play to the level of All-Star, making the All-Star team occasionally. Notice the name, "Occasional All-Star." These guys are better suited to be third options on really good teams or sometimes second options on good teams. Nobody wants to count on one of these guys to win them anything other than a playoff birth, however.
They're good players, just not that good. 
A "Solid Starter" is a guy who plays in the league at a semi-high level for a long time and is always going to be out there when the ball is tipped off. He can also be a sixth man, who while not on the floor when the score is 0-0, will usually be out there when the clock runs out. He'll win you some games, but he's mostly there to help out the stars.
A "Solid Contributor" is a guy who hangs around the league a while and always ends up playing minutes for somebody. Every team needs eighth or ninth guys who can play, and these guys are usually the eighth or ninth guy.
They're decent players that are always needed.
A "Strict Role Player" is a player who does one thing and that's it. "I want you to go and hit threes. I want you to go and play lockdown defense. I want you to go rebound. I want you to go foul the crap out of somebody." It's those guys. 
They're never going to be stars, but that one thing will keep them around for a while.
A "Benchwarmer" is a player who inexplicably keeps making NBA rosters. Not much of him is seen on the court, but he's always out there during shootaround.
A "Bust" is a player who never makes it. They're usually out of the league within 5-6 years, sometimes less. It's a shame when these players come along, but they do. These are divided between "Lottery Busts" and "Non-lottery Busts" because players not picked in the lottery do not have the same expectations as a lottery pick. 
Now all of that is cleared up, we'll take a look at the first round of the 2003 draft to get a feel for each of these categories. 
Franchise Building Block: LeBron James, Carmelo Anthony, Dwyane Wade
Dull Star: Chris Bosh
Occasional All-Star: David West
Solid Starter: Chris Kaman, Kirk Hinrich, Josh Howard, Kendrick Perkins, Leandro Barbosa, Carlos Delfino
Solid Contributor: Darko Milicic, T.J. Ford, Luke Ridnour, Dahntay Jones, Boris Diaw, Travis Outlaw
Strict Role Player: Mickael Pietrus, Nick Collison
Benchwarmer: Marcus Banks, Sasha Pavlovic, Brian Cook 
Busts: (Lottery) Michael Sweetney, Jarvis Hayes (Non-Lottery) Reece Gaines, Troy Bell, Zarko Cabarkapa, Ndudi Ebi, Zoran Planinic
That's a perfect draft for giving an example of all of the tiers of players. I think everybody gets the idea. Now it's time to break down this year's immortal draft. (Hint, there aren't three FBB's).  
Lottery Busts
5. Jonas Valanciunas (Toronto)
I've seen Jonas described a gritty defensive presence who is skilled offensively, but every "highlight" I've seen shows another soft Eurobig (new word) who looks semi-lost on offense. Who knows, he could develop and become a star, but I think it's more likely he's back in Europe within a few years of coming to the US of A. 
11. Alec Burks (Utah)
He's not Jimmer. Utah isn't going to be very happy with that. Also, he's not a very good shooter, but he plays shooting guard, a position for which shooting is usually a desired quality. There aren't many good shooting guards in the NBA who can't shoot, so Burks might be in a little bit of trouble. 
Non-Lottery Busts
16. Nikola Vucevic (Philadelphia)
With a name like Nikola Vucevic, how can you not be a bust?
19. Tobias Harris (Milwaukee)
Harris is an undersized power forward who doesn't do anything particularly well. Sounds like a winner. 
26. Jordan Hamilton (Denver)
Hamilton has talent, there's no doubt. Players don't just score 19 points per game in their sophomore seasons on a major conference team without talent. It's more on gut feeling (I know, very scientific) than anything else that I believe Hamilton to be a bust. I could be totally wrong and he could end up being a 15-16 point per game scorer rather easily.  
28. Norris Cole (Miami)
He's going from being "The Man" on Cleveland State to being bossed around by two of the best players in the world in Miami. That has to do wonders for a player's confidence. 
29. Cory Joseph (San Antonio)
He was not very impressive at all in college and there's nothing to suggest that he'll be very impressive in the pros. 
Benchwarmer
13. Markieff Morris (Phoenix)
A guy named Markieff just seems like a 10th man, doesn't he? Also, his skills reek of 10th man. 
17. Iman Shumpert (New York)
Shumpert's athleticism will allow him to hang around the NBA for a while. His skill level will keep him on the bench. 
21. Nolan Smith (Portland)
Smith will not be able to terrorize NBA defenses like he did NCAA defenses while at Duke. While he's not a terrible athlete, he's not a particularly impressive one either. It will be hard for him to guard anyone in the NBA, especially if he's going to be a 2-guard. 
24. Reggie Jackson (Oklahoma City)
Jackson is stuck behind Russell Westbrook and Eric Maynor in Oklahoma City. That seems to be representative of how his career will go. Always stuck behind two or three players. 
Strict Role Player
7. Bismack Biyambo (Charlotte)
Biyambo is obviously very limited offensively, but he's already a defensive monster. He's a freak athlete, with a vulture-like wingspan who leaves everything on the court. He'll get his points on ferocious dunks after cleaning up the offensive glass, but he's never going to Shaquille O'Neal or Tim Duncan in the low post. He's going to be a valuable defender in the league for a long time. 
22. Kenneth Faried (Denver)
Rebound, rebound, rebound. That's what Faried does. All day. He'll be happy to rebound his whole NBA career too.  
Solid Contributor
4. Tristan Thompson (Cleveland)
Jay Bilas proclaimed he had Thompson at seven on his "Best Players Available" board, so he wasn't a reach at the No. 4 pick. Seems like a reach to me. Shouldn't there be a pretty clear pick at No. 4, rather than an undersized, offensively-limited tweener? Thompson is too good of a dude and too hard of a worker to fail, but he's never going to be the fourth-best player in this draft. No way. 
12. Marcus Morris (Houston)
Morris is another tweener, but he'll be a solid NBA player for his offensive skill, not his defensive skill like Thompson. Morris can fill it up in a variety of ways and actually has decent moves in the post. If he can play the 3, he'll be a big-time mismatch on offense. 
19. Chris Singleton (Washington)
There's no way Singleton should have slipped this far. He's a fiery competitor who plays excellent defense and can actually score, contrary to popular belief. Does that sound like the 19th-best player in this draft? I didn't think so. 
20. Donatas Motiejunas (Houston)
Yes, he's soft, and that's not changing, but he's going to be able to score. He's a middle-class version of Andrea Bargnani, which isn't good, but it's not the absolute worst thing in the world. Not a bad value where he went.
23. Nikola Mirotic (Chicago)
Mirotic seems like the perfect European player who can succeed in the pros. He has size, offensive skill, and some toughness. Chicago will have to wait a few years for him to run with the Bulls, but that will be a perfect situation for him when he does jump across the pond. 
27. JaJuan Johnson (Boston)
Boston needs some bodies, so Johnson should get some minutes on a contender next year, which he should be ready for. Johnson can score in a variety of ways, and while he does need to get stronger, that will enable him to help any team he plays for. 
30. Jimmy Butler (Chicago)
I may just want to see Butler succeed, due to his Michael Oher-esque (think he's tired of the Oher comparisons yet?) story, but Butler really does seems like a versatile, hard-working player who will make it in the NBA. Only those with no souls want Butler to not make it. 
Solid Starter
6. Jan Vesely (Washington)
What's not to like about Jan Vesely? Well, besides the fact he can't really shoot and isn't a very good defender (yet). Let's ignore that for a second. He plays with an almost unmatched passion for the game and can really throw down. John Wall throwing oops to Jan? Gives me goosebumps. Washington was the perfect landing place. (A slight man-crush warning here.)
10. Jimmer Fredette (Sacramento)
The dude can flat out score. That's not gonna change. He can light it up from deep and he will continue to do just that. He might never be able to play a lick of defense, but it won't matter because he's going to be scoring for the points he's watching blow past him. He won't be scoring like he did at BYU, but he could very well be a 20 per game guy. 
11. Klay Thompson (Golden State)
Thompson can flat out shoot. He can flat out score (just what Golden State needed!). He's also 6'7". That's a good recipe for success in the league. 
15. Kawhi Leonard (San Antonio)
Leonard's sliding in the draft didn't make any sense. By all accounts he's a gym rat and a good kid with no injury concerns. He was projected to go high in the lottery and somehow fell right into San Antonio's lap. R.C. Buford landed a gem when he traded George Hill to get Kawhi. He can be a do-it-all starting small forward on a very, very good team. 
25. Marshon Brooks (New Jersey)
Brooks is a big-time scorer, and that's not going to go away just because he's now playing with the big boys. He can fill it up from anywhere, and when he's hot, look out! He's going to be a Jason Terry-esque player who is called on to score and that's it. And he'll do it. 
Sometimes All-Star
1. Kyrie Irving (Cleveland)
I wish a true franchise-altering player would have been available for Cleveland to take at No. 1. They deserve it more than anyone, but Irving is not that guy. He'll be good. He's a pass-first point guard, who will score; definitely in the mold of a Chris Paul. Except he won't ever be Chris Paul. He can be about 75 percent of him though, which will do Cleveland some good, at least. 
2. Derrick Williams (Minnesota)
Williams was a spectacular college player, but it's hard to see him doing what he did in college in the pros. He won't be bigger and stronger than everybody like he was in school. He won't be able to hit threes at the rate he did. He just won't. He resembles his new teammate Michael Beasley in many ways, but should be a little better than that since he isn't a crazy pothead. 
8. Brandon Knight (Detroit)
Knight did not look at all pleased when he was passed up by seven teams before being selected by Detroit. It looked as though he might start crying during his interview with the great Mark Jones. Knight seems like the type of competitor who will use that as fuel and come back and make some of those teams pay. Detroit does not give him the best opportunity to do that right away, but he'll develop into a very good scoring point guard one day. 
Dull Star
3. Enes Kanter (Utah)
I'm 100 percent convinced that had Kanter been able to play at Kentucky this year, his name would have been the first one David Stern called on Thursday night at the Prudential Center. There isn't much evidence of what he can really do, but the last time he was seen, he was lighting up other top players of his age to the tune of 34 points. He can score down low and he can pop out and score from 16-18 feet easily. He's going to be a true low post presence in a league that seriously lacks that, so he will be especially valuable.  
9. Kemba Walker (Charlotte)
I'm not afraid to admit it. I have some serious man love for Kemba. But for real, I don't see how he doesn't become a 20 per game scorer in the NBA, if not more. He's Monta Ellis 2.0, except if Monta was a good teammate. Walker is gonna score, score in bunches and he's gonna ask for the ball late in games. The dude has some major heart and some major game.
Franchise Building Block
Sorry Cleveland, Kyrie isn't LeBron. Or should I say congratulations?