NFL Fans Should Grow a Spine and Make Demands of the Owners & Players.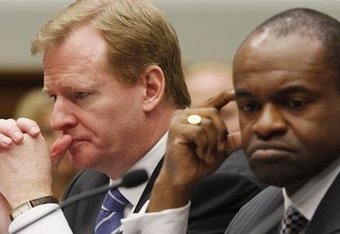 Seriously, don't you want to tell these guys it's time to do something for the fan?

NFL players are asking we, the fans, to feel sorry for them.
Have sympathy for the manner in which they are treated as mere chattel, treated as little more than plantation slaves, brutally abused and underpaid. Take a few moments and realize that without their skills on the field and unquestionable moral stances off the field, your life and that of every genetic relative would be less fulfilling. Your hair would fall out faster than nature intended. You would no longer appear attractive to the opposite sex. You would no longer be able to wear your baseball cap on backwards when attending a formal event.
NFL owners are asking we, the fans, to feel sorry for them.
Despise those ungrateful players seeking to bankrupt your favorite team. Those greedy little minions who will force them to make decisions that will leave you wailing and gnashing your teeth on those cold December afternoons with nothing more than Olympic qualifying figure skating listed under the "SPORTS" tab on your satellite menu. You will no longer be able to wear that apron emblazoned with "WORLD'S GREATEST TAILGATER" on the front. You will no longer be able to donate that $20 bill for the privilege of temporarily owning either that stark, cold parking space or the stark, cold beer from the concession stand.
We, the fans are calling "shenanigans" on both the players and owners.
NFL owners & players are close to a new contract. Or maybe not.
So instead of sitting here in our soiled gameday jerseys, the ones that go unwashed as a magical talisman until a victory in the Super Bowl, (which makes for plenty of mobile maximum size air fresheners in places such as Cleveland, Jacksonville, Buffalo and San Diego to name just a few moribund football towns), let us be proactive here.
Demand of us sympathy and both sides receive nary a hint of tears or trembling lower lip until they answer a few demands of our own.
Lower Ticket Prices
Let's start right at the more improbable demand, but the one that needs to be tossed around. Tampa Bay and San Diego actually rolled back some of their prices, so why can't every team do the same?
The NFL, like every other sports entity, champions itself as caring about the fan. After all, whether it's seat prices, foam fingers, TV ratings, satellite dish fees or merely walking around with an "I Heart the Texans" button, the fans ultimately pay the freight. And what better way to say "thanks" to an adoring and fiscally overburdened public than discounting every ticket price for at least one season, maybe two?
Eighteen teams raise their ticket prices in 2010, all because the teams were hoarding as much cash as possible in preparation for the lockout, which every owner knew was an inevitability. That average price per seat is now around $77. Try over $100 in New England and over $400 in New Orleans. The only thing "new" in these cities is the size of the barrel that common fan will have to wear when the mortgage comes due and they are locked into their football addiction.
You want the fans on your side? Cut the prices. Give that Mom with three football crazy kids a chance to attend more than one game in the high altitude seats. You can afford it. Just make it for a season, preferably two. You're in this for the long haul.
And you will be loved and admired.
Which leads us to our next unlikely but necessary fan demand.
Both Sides Need to Make Less Money
Fellows, get real for a moment. The economy is only going to get worse before it gets better, and the average fan is buried so deep in debt with failing mortgages, gasoline making some think about returning to horseback, and think for a moment about all those kids who will forever have their social growth stunted by having to choose between an iPad and going to a football game!
To quote Colonel Kurtz, "The horror. The horror."
Let's not dive into that familiar argument bottomless pit that's all about "we deserve to make as much as we can". We get it. No debate necessary. But understand that without the fans and their cash, you're out using that college degree to get a job like everyone else.
Oops. Sorry.
Show the fan you can live without having to apply for government aid on the NFL minimum $310,000 paycheck. Buy a smaller truck. Less jewelry. Fewer tattoos. Clip a few coupons. Make at least a token show that you understand what these "little people" are going through, and make it less painful for them to actually attend a home game. It will pay huge dividends in the future. Perhaps keep you off those dastardly job rolls.
And you will be loved and admired.
"Meet and Greet" After Every Game. Without Getting Paid for It.
This remains the best thing that ever came out of the Arena Football League. After every game, the players had to stick around, head for the dasher boards and sign autographs. Mandatory. And without charging ANY additional fee.
In other words, FREE.
Sound heard is mass fainting from players. Let's wait a moment for them to recover and seek to comprehend the preceding statement without checking their wallet first.
Stop seeking to extract every single dime (do we still have dimes in this country?) from the fans. Every team should hold a lottery of tickets from that game. Make it a random draw of 100 people. During the eight home games, players are divided up into groups, mixing the studs and stringers. Everyone. No exceptions. It's in the contract. This group has to come down from the locker room mountaintop and sign one autograph for every person. On a football. Cap. Picture. Human arm, whatever. And no excuses, save for having left the building to reinsert a protruding bone back into the human anatomy.
You're entertainers. People love to have that personal contact with the famous, even if they know it's forced and under duress. Stop tweeting and start talking in person.
Besides, fewer tweets will mean less chance of becoming new Headmaster at the "Anthony Weiner School of Looking for Love in All the Wrong Electronic Places".
AND you will be loved and admired. (Bonus points for players and owners who see the trend developing here.)
Get Tested for HGH and Steroids Every Year
Note to players: What are you afraid of here? That you'll be caught doing the right thing?
There is not a single logical or rational explanation to be a drug addict, which is what in essence you either already are or are becoming. All too often we hear from current and former players that the use of such drugs is vastly overrated by the media, and there aren't too many guys juicing up any more.
So prove it. Take the tests. Stop cheating. After all, that's exactly what it is. You're using a banned, illegal or just plain moronically hurtful substance to squeeze an unnatural amount of ability from your already talented fingers and toes.
Level the playing field and let we, the fans, see it straight up. Confirm to us that the guys we root for aren't cheating. As for those kids you always claim to be so concerned about in the league-sponsored public service announcements, prove it. Send a powerful and unmistakable message to the high school and college kids needling up so they can be just like their heroes.
It's cheating. You're a fraud and a liar, to your family, friends and to yourself. And it's just insanely stupid to be better at football while at the same time facing the possibility of stunted growth, shrinking testicles, higher blood pressure, higher levels of bad cholesterol, heart enlargement, stroke, heart attack, gynecomastia (the unnatural enlargement of breasts) and that "death" thing.
And yes, by coming clean, you will be loved and admired.
So while you're both butting heads and playing "Hide the Real Accounting Numbers" from each other, understand that we, the fans, aren't really ask for much. Just a little sympathy and understanding from you will make us appreciate you more, and allow for decades of beery and happy Sunday afternoons to follow.
Of course, a free foam finger or bobblehead wouldn't hurt, either.
This article is
What is the duplicate article?
Why is this article offensive?
Where is this article plagiarized from?
Why is this article poorly edited?