2011 NBA Draft Results: 10 Bold Predictions for Derrick Williams' Rookie Season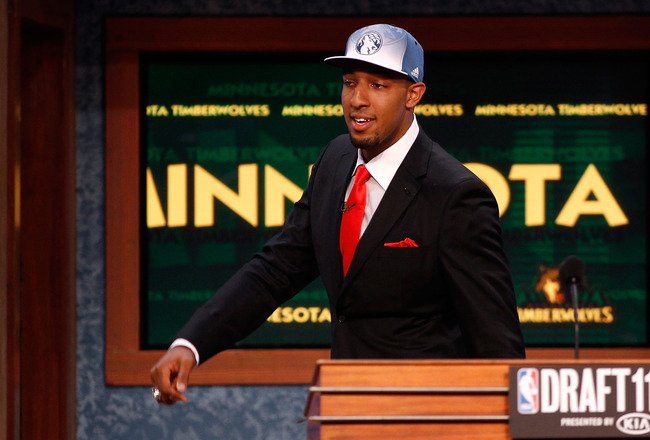 Mike Stobe/Getty Images
Derrick Williams, the now former Arizona Wildcat, was selected second overall in the 2011 NBA draft by the Minnesota Timberwolves.
There are a lot of questions surrounding Derrick Williams and his pure position on the court. Only time will tell if Derrick Williams can live up to that No. 2 overall selection and answer those remaining questions.
However, his work on the court to date is a pretty big indicator as to what we can all expect in the future.
Williams has all the physical tools necessary to be a major impact player in the NBA, and he should be very exciting to watch.
Similar to his path leading up to the 2011 NBA draft, his path from the draft to his rookie season is also surrounded with questions.
Here are the answers to those questions.
10) Derrick Williams Will Start Day 1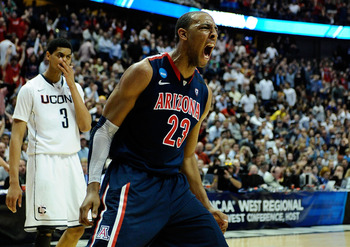 Kevork Djansezian/Getty Images
The Timberwolves have too many forwards. We know.
However, the two they should have on the floor to start the game are Williams and Love.
Derrick Williams will come into camp and take the starting spot from Beasley, because Beasley doesn't have the fight in him to keep it. This may actually end up being a good thing for Beasley. By not having any pressure on him by coming off the bench, he could improve.
Having Williams start gets the core of Derrick, Kevin Love and Ricky Rubio playing together from the get-go and gives them time on the court to gel.
It will be a rough beginning, but Derrick Williams will absolutely start.
9) Derrick Williams Will Average Double Figures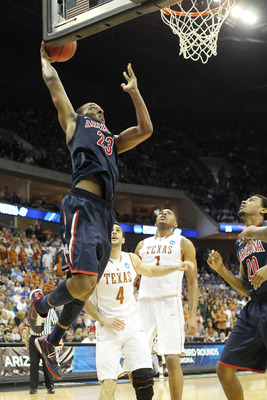 Ronald Martinez/Getty Images
This cat puts up points. Williams last season at Arizona he averaged just over 19 points per game. Not to mention the 25 points he put up in the first half against Duke in the tournament.
His offense is the best part of his game, and with his ability to shoot (and make) the three at a high rate, get to the rim and play with his back to the basket makes him a nightmare to cover.
Oh, and he gets to the line.
8) Derrick Williams Will Foul out of at Least 7 Games
Ronald Martinez/Getty Images
Derrick Williams is a phenomenal offensive player.
Defensively, he needs work. While he won several games at Arizona on the defensive end of the court, the combination of adjusting to the speed of the NBA game and the raised talent level means Williams is going to get bumped and get called for it.
His positioning on the court and adjustment to the speed will be a steep learning curve, and as a result, he could get into foul trouble early and often.
Williams rookie season will see him fouled out on the bench in the fourth quarter at least seven times.
7) Derrick Williams Will Be a Regular on SportsCenter's Top 10 Plays
Williams has hops, moves and just the right amount of swagger. He phrased it as "star power" in a pre-draft interview with ESPN.
Well, ESPN, get used to displaying this guy's "star power" on the nightly top 10.
6) Derrick Williams Will Help the Wolves Win (More Than Last Year)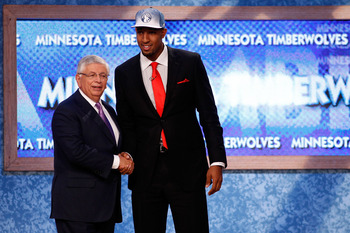 Mike Stobe/Getty Images
With the addition of Williams to the Timberwolve's roster, points will not be hard to come by.
Neither will clutch play. Derrick knows how to win and demonstrated his will to win in this past NCAA Men's Basketball Tournament by ripping the heart out of Duke and just plain wanting it more than Texas.
The Wolves' record next season will be better than last year.
5) Derrick Williams Will Dunk on Someone, Badly
This will happen. There is nothing you can do to prevent it.
This dunk will energize the Twin Cities and demoralize a franchise and a player's entire family. It will be vicious, and it will come out of seemingly nowhere.
This will be a dunk for the ages.
Laugh now, NBA, but it's coming.
4) Derrick Williams Will Shoot over 40 Percent from Beyond the Arc
The video says it all.
Derrick Williams has range and is scary efficient from beyond the arc. With Rubio setting him up, look for Williams to shoot over 40 percent from three-point range during his rookie season.
3) Derrick Williams Will Play Small Forward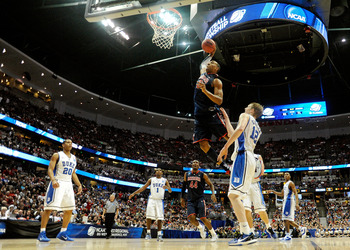 Kevork Djansezian/Getty Images
He has all the tools and, despite popular belief, is quick enough to stay with most threes in the NBA.
Also keep in mind, they will have to deal with him down on the block on the other end. This will become his official position in the league without question.
2) Derrick Williams Will out Perform Kyrie Irving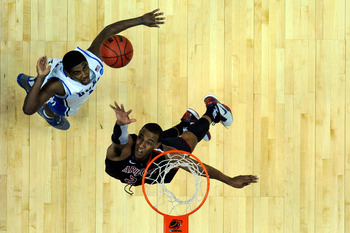 Kevork Djansezian/Getty Images
This year the No. 2 overall pick will outperform the No. 1 overall pick by a wide margin.
Partly because Kyrie won't hold up over 82 games. He missed most of his lone college college season with a toe injury while Williams played every game last year despite a major hand injury.
Given Williams athletic ability, it won't even be close.
1) Derrick Williams Will Win Rookie of the Year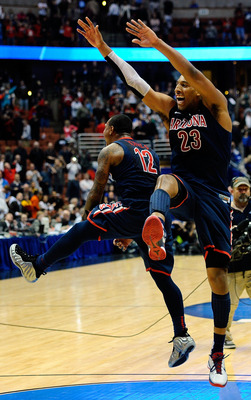 Kevork Djansezian/Getty Images
Speaking of out playing Kyrie, Williams will show the league what he is capable of in his first season and capture Rookie of the Year honors.
His ability to improve his game by leaps and bounds means he will be a bright star in the NBA for years to come.
Keep Reading