Houston Astros: Ranking Their 10 Worst Draft Reaches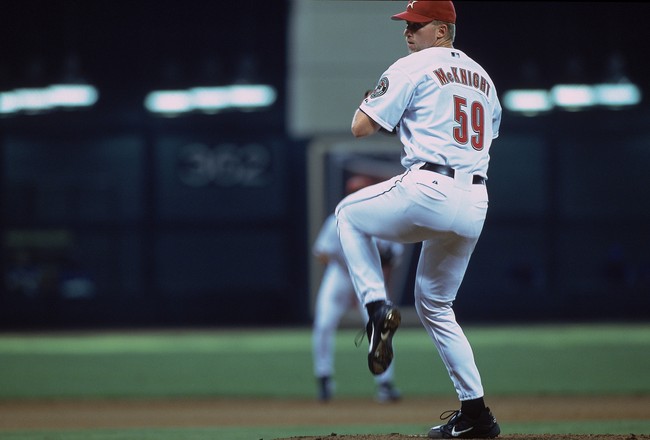 Ronald Martinez/Getty Images
The MLB draft requires a lot of skill with a dose of luck when teams select prospects. Teams have gotten better over the past few years as 60-65 percent of the first-round picks from the 2002-2005 draft classes made it to the big leagues, according to Business Insider.
Even with the increased success rate, teams make some bad choices and reach for prospects. The Astros are no exception to this rule. I have come up with the Astros' 10 worst draft reaches.
10. OF Eli Iorg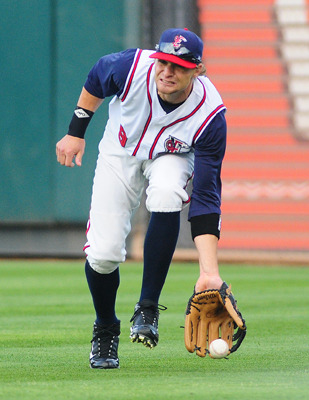 Eli Iorg was picked in the first round of the 2005 draft with the Astros' 38th pick. He only played five seasons in the minor leagues and spent most of his time at the Double-A and lower levels. He did play 20 games at Triple-A hitting .209.
Players picked after: Clay Buchholz (Boston Red Sox), Jed Lowrie (Boston Red Sox)
9. C Max Sapp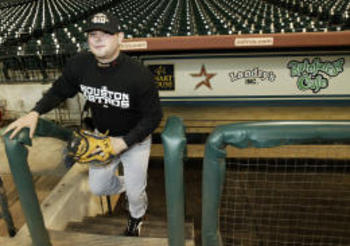 This catcher was the 23rd overall pick for the Astros in the 2006 draft. He spent only three seasons with the organization before being released by the organization.
Unfortunately, Sapp fell on this list because of things outside his control as he battled a number of health issues after being drafted. He contracted meningitis in 2008 which brought on seizures and the Astros released him in 2010.
Players picked after him: Joba Chamberlain (New York Yankees), Chris Perez (Cleveland Indians)
8. RHP Mike Nannini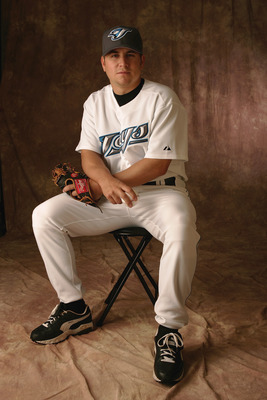 Andy Lyons/Getty Images
Mike Nannini was a supplemental draft pick for the Astros in the 1998 draft at the age of 17. He only spent four seasons with the Astros and then bounced around the minors.
In six seasons he spent time playing for the Chicago Cubs, Florida Marlins, Detroit Tigers, Oakland A's, Toronto Blue Jays, Seattle Mariners, Cincinnati Reds and Pittsburgh Pirates.
Over his 11 seasons in the minors, he had a career ERA of 4.06 which is decent, but it jumped to 5.45 in his time at the Triple-A level.
Players picked after: Adam Dunn (Cincinnati Reds) and Brandon Inge (Detroit Tigers)
7. 2B Chris Burke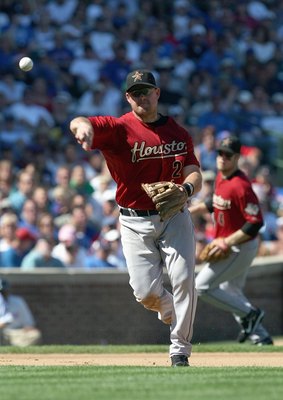 Jonathan Daniel/Getty Images
The Astros took Chris Burke with the 10th overall pick in the 2001 draft. He is one of the players with the most major league experience on this list playing six seasons, four of which came with Houston. He was traded in 2007 to Arizona as part of a trade for closer Jose Valverde.
He was a decent player and filled the role of utility bench player well, but that is not something you might expect from a player drafted in the Top 10. He finished his major league career with a .239 batting average and 23 home runs in 477 games.
Players picked after him: David Wright (New York Mets)
6. RHP Jeff Juden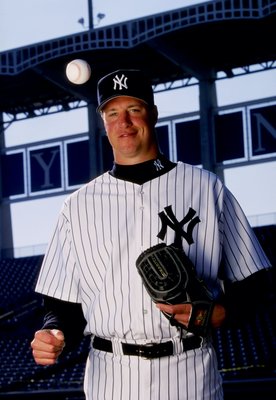 Vincent Laforet/Getty Images
Jeff Juden was selected by the Astros with the 12th overall pick in the 1989 draft. He played eight seasons in the majors, finishing his career with the Yankees in 1999. He finished with a 27-32 career record and a 4.81.
Juden was with the Astros for only two season and went 0-3 with an ERA close to six pitching a grand total of 22 innings before he was traded to the Phillies in 1993.
Players picked after him: Mo Vaughn (Boston Red Sox)
5. RHP Tony McKnight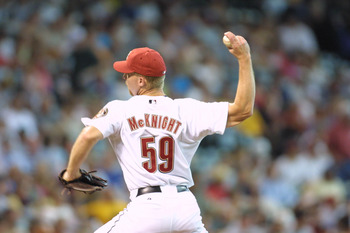 Ronald Martinez/Getty Images
Tony McKnight was drafted 22nd in the 1995 draft and made a grand total of seven starts for the Astros. He made his major league appearance in 2000 and was pretty successful going 4-1 with a 3.86 ERA.
He was traded halfway through the 2001 season to the Pittsburgh Pirates for pitcher Mike Williams. His time in baseball was short lived as he only made eight more appearances for the Pirates before being spent down to the minors for the 2002 season. In 2003, he spent the season with the LA Dodgers Triple-A team before calling it quits.
Players picked after: Carlos Beltran (Kansas City Royals)
4. RHP Mark Johnson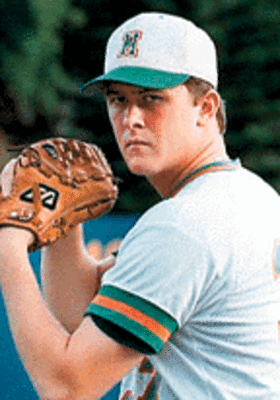 Mark Johnson, a right-handed pitcher from the University of Hawaii, was drafted in the 1996 draft 19th overall. He only lasted a little over a year with the organization before being traded to Florida in December of 1997 to complete a trade for Moises Alou. He was then traded to the Yankees in a trade that sent Mike Lowell to Florida in 1999.
In 2000, he was drafted in the Rule 5 draft by Detroit, who finally gave him his opportunity in the major leagues. However, the opportunity was short lived as he only appeared in nine games, started three and finished with a 0-1 record and an ERA of 7.50.
Players picked after him: Jimmy Rollins (Philadelphia Phillies)
3. RHP Robert Stiehl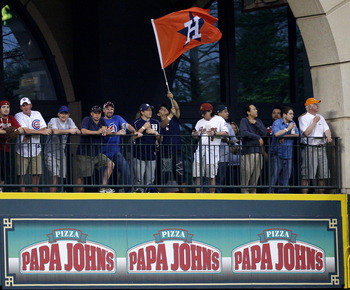 Bob Levey/Getty Images
Robert Stiehl was the Astros pick in 2000 and lasted a total of seven seasons in the minor leagues before calling it quits in 2007. He spent the majority of his time in the Single-A ranks but did play 10 games in the Double-A with little success finishing with a 7.47 ERA.
There is not much more information on this right handed pitcher and in case you are wondering that is not Stiehl waving the Astros' flag.
Players picked after: Adam Wainwright (Atlanta Braves), Kelly Johnson (Atlanta Braves)
2. OF Mike Rosamond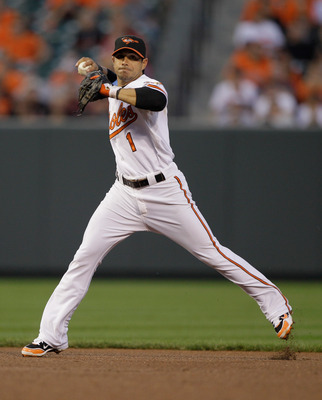 Rob Carr/Getty Images
Instead of taking OF Mike Rosamond in the 1999 draft, the Astros could of drafted Brian Roberts. The team decided to go with Rosamond, who never made an appearance in the major leagues.
He lasted with the Astros until 2003 before finishing his career with Colorado, Pittsburgh and Atlanta. His best season came with the Astros came in 2003 when he hit .273 with 11 home runs for Round Rock.
Players picked after him: Brian Roberts (Baltimore Orioles), John Lackey (LA Angels)
1. RHP John Burke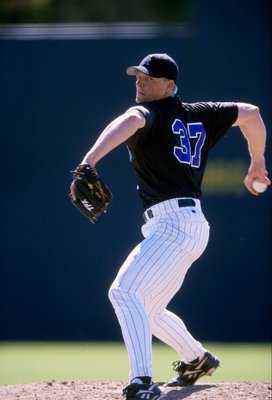 Todd Warshaw/Getty Images
John Burke was the sixth overall pick in the 1991 draft by the Astros. Unfortunately, or fortunately depending on how you look at it, Burke did not sign a contract with the Astros. He ended up being drafted 27th overall the next year by the Rockies and put together about one full year of service at the major league level.
He made his major league debut in the middle of the 1996 season and went 4-6 with a 6.75 ERA before he was sent back down to the minors in the middle of the 1997 season. He did not make another appearance in MLB.
Players picked after: Manny Ramirez (Cleveland Indians), Cliff Floyd (Montreal Expos)
Keep Reading

Houston Astros: Like this team?