2011 NHL Draft Results: Live Draft Tracker for Each Pick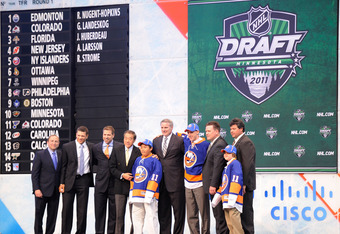 Hannah Foslien/Getty Images
Hey everyone! Kyle Nicolas here, Bleacher Report NHL Featured Columnist, and I'm happy to be live-blogging the entire 2011 NHL Entry Draft for you!
The draft doesn't begin until June 24, 2011 at 7pm E.T., but stay tuned to this blog for any sort of news, rumors, and updates about the events surrounding this, one of the most important annual events on the NHL calendar.
I will be periodically updating, so be sure to check back ever so often. Also, be sure to come back on June 24 at 7pm E.T. to follow along through the first round of the NHL draft!
So there were some big trades in this year's first round, but surprisingly there is still no confirmed deal that would send Los Angeles Kings' winger Ryan Smyth back to Edmonton, even though TSN reported three or four different terms for the deal.
Without question the real bombshell of the draft had to be the deal between the Minnesota Wild and the San Jose Sharks, sending Devin Setoguchi to Land of 10,000 Lakes.
The draft continues tomorrow morning from Minnesota, and by then things might be changing again completely.
But that's all for me for tonight! Thanks again for following along everyone!
Once again, if you liked this live blog, follow me on Twitter for news, updates, analysis, and links to new articles as I publish them!
This brings Round 1 of the 2011 NHL Entry Draft to a close.
However just before TSN signed off, they delivered details on the possibility of another deal that may have gone down.
Brian Campbell may now officially be on his way to the Florida Panthers in exchange for Rostislav Olesz. The move will free up some cap room for the Blackhawks, who will be happy to offload his $7.1 million cap hit, and will give Chicago some forward depth.
Meanwhile Dale Tallon has made some bold moves to bring the Panthers franchise back to a competitive spot, bringing some brilliant talent by drafting, and making some big trades for some key players.
The final pick of this year's first round belongs to the Anaheim Ducks, who traded away their 22nd overall pick to pick up another pick in the second round of this year's draft.
GM Bob Murray steps up to the podium and calls Rikard Rakell, a Swedish-born winger who scored 43 points last season for Plymouth to lead all OHL rookies.
He was also the youngest player to compete in the World Junior Championships this past winter.
TSN compares him to Tomas Plekanic, and he's not known for his particularly high-end offensive production, but is pretty good in his defensive game.
I will admit though, as a Ducks fan, I'm not too thrilled with this pick.
Vancouver's Laurence Gillman steps up to take the 29th pick of this year's NHL draft... to a rousing chorus of boos. It lightens a little for the thanks he gives to the Minnesota Wild, but it just as quickly resumes as Gillman calls Nicklas Jensen, a Danish-born left wing who scored 58 points last season.
He's fast, and he's got some brilliant hands, making him a good fit for the Canucks.
He's got some grit as well, causing TSN to draw comparisons to Carolina's Jussi Jokinen.
A huge chorus of boos raining down can only mean one thing: the Vancouver Canucks are on the clock - a huge rival of the hometown Minnesota Wild.
The Minnesota Wild use the 28th choice of the draft to select Zack Phillips, a brilliant offensive prospect of the St. John's Sea Dogs.
Being compared to Joe Pavelski is some very high praise, and Phillips backs that up with some great numbers, including 38 goals and 95 points for the Memorial Cup winners.
This is a huge boost for the Wild, as they pick up a stellar scorer for their system, brightening their future significantly.
This is the third member of the St. John's Sea Dogs to be drafted in the first round this year.
The Tampa Bay Lightning are next on the clock, and GM Steve Yzerman selects the flashy young Russian center Vladislav Namestnikov.
The London Knights star is very familiar with the North American game, and put up some stellar numbers last season scoring 30 goals and 68 points.
He's going to fit very well with the Lightning organization that thrives on players like Steve Stamkos, Vincent Lecavalier, and Martin St. Louis. Makes it pretty fitting that TSN compares him to Doug Weight: smaller in stature, but a quick, outstanding, and high scoring with some brilliant hands.
The Chicago Blackhawks take their pick they acquired from the Washington Capitals in exchange for Troy Brouwer, taking Left Winger Phillip Danault.
Danault is a solid two-way forward who's unafraid to get into the dirty areas on the ice and score the goals that may not be the prettiest. However, he's rather proficient at it, with 23 goals and 67 points last season.
TSN had him ranked in the mid-30's representing a pretty high jump for the young man from Canada.
However, I'm not so sure this is such a great pick for the first round. He seems like the type of guy who might not be any better than a third or a fourth line grinder of a forward. He'll score 10-15 goals a season, but that's not the type of production you really expect from a first-round forward.
BREAKING NEWS: Brian Campbell has been asked to waive his no-trade clause to be shipped away in a deal to the Florida Panthers.
Perhaps even more breaking is that TSN is reporting that Brian Campbell has agreed to do so.
A deal has not been solidified but that's a huge step toward one.
Toronto's pick: Stuart Percy, a solid defensive-defenseman who will solidify the defensive and physical system Brian Burke is bringing full-force to the Maple Leafs.
The Ottawa Senators third pick of this first round takes one of the best dark-horses in this year's draft: Matt Puempel of the Peterborough Petes.
34 goals and 69 points on a season shortened by hip surgery is extremely appealing and make him one of the best offensive prospects in this year's draft.
I think I just heard some fists slam a few teams tables after that announcement as I'm sure a lot of teams were hoping to escape this year's first round with this young sniper.
The Pittsburgh Penguins select Joe Morrow, a smooth-skating defenseman from the Portland Winterhawks.
He's a balanced defenseman, not overly physical but also not overly offensive. He'll take several years to develop, but he'll make a great defenseman soon.
He led all defensemen in points in the WHL playoffs though, a pretty appealing stat.
TSN is comparing him to Philadelphia's Matt Carle.
BREAKING NEWS: The Detroit Red Wings have traded their No. 24 pick to the Ottawa Senators for picks No. 35 and 48.
So no actual players being swapped, but Detroit no longer has a first-round pick in this year's draft.
I'm wondering if they had their eye so heavily on Oscar Kelfbom that they don't see anyone really worth it in this first round, and instead can now pick up a couple more of the players they were banking on in the later rounds.
Ottawa on the other hand now has a third pick in this year's first round.
With this recently-acquired pick, Toronto Maple Leafs' general manager Brian Burke selects Tyler Biggs, a hard-nosed, nasty, and extremely mean player from the US Development Program.
He's strong, he's burly, and he's already 205 lbs.
You want to talk an agitator, here's a pest for you. He'll make a great forward for the likes of defenseman and big-hitter Dion Phaneuf.
The Maple Leafs are really showing the thumbprint of a Brian Burke team: rough, physical, and powerful; a strategy that won Brian Burke a Stanley Cup with the Anaheim Ducks in 2007.
BREAKING NEWS: Anaheim has traded away their 22nd pick to the Toronto Maple Leafs for the 30th overall pick, and the 39th pick (in the second round).
Ottawa's second pick of this first round is Setfan Noeson, a right wing who didn't even make most experts' first round mock drafts.
The native of Plano, Texas, Noeson has some great numbers with 34 goals and 77 points.
He's a brilliant pest as well, and TSN has compared him a lot to Maxim Lapierre.
And he also could be the new spokesperson for ProActiv... he's got quite the acne issue. Just to solidify it in case you didn't know these kids are teenagers being drafted.
Commissioner Bettman makes it official: the Washington Capitals have acquired Troy Brouwer from the Chicago Blackhawks in exchange for their own first round pick (26th overall).
So Washington will not pick until the 110's in this year's draft barring any more changes.
Keith Gretzkey makes their first pick: Connor Murphy, a defenseman.
So I was wrong about the goaltender part, but Murphy will make a great addition to the Coyotes franchise that's in need of a solid defensive-defenseman.
He is a little bit of an enigma as he hasn't played a lot of hockey over the last several years due to a stress fracture in his vertibrae, but has some time to mature at Miami-Ohio.
The Phoenix Coyotes are up on the clock now, and after a huge trade that saw them say goodbye to franchise goaltender Ilya Bryzgalov, expect the Desert Dogs to pick up a goaltender. My mock draft had them taking Christopher Gibson, a stellar Finnish netminder who put up some great numbers on a losing squad in the Quebec Major Juniors.
The Edmonton Oilers are back up on the clock and it looks like the deal to bring Ryan Smyth back to Canada will not involve the Oilers second pick of the first round.
Instead the Oilers select Oscar Klefbom, a stellar defenseman from the Swedish Elite League.
He's physical, he's aggressive, and he's extremely talented. At the age of 17, Klefbom was earning ice time on the best team in the Swedish Elite League: Farjestad.
He's a bit of a hothead but give him a few years to mature and figure out the North American game and he could be an absolute rock in the future.
Chicago makes their first pick of this year: Mark McNeil, a tricky, but physical and gritty center.
Boasting brilliant statistics with 32 goals and 81 points last season, TSN is raving about his ability on both ends of the rink with his amazing strength.
He may very likely be playing in the NHL this coming season, which makes this a very good pickup this late in the first round.
Great pick for Chicago.
BREAKING NEWS: The Minnesota Wild have traded Brent Burns and their second round pick to the San Jose Sharks for Devin Setoguchi, Charlie Coyle, and San Jose's first round pick (28th overall)
HUGE!
Setoguchi just re-signed with the Sharks as well, making this a very interesting move. When you calculate it, it's three first-round picks for Brent Burns. The Wild now have a second pick in this year's first round.
The Montreal Canadiens make their highly anticipated first pick of this year's draft after a disappointing exit from last year's playoffs to the rival Boston Bruins.
After some booing of the initial French introduction and chants of "USA!" USA!" from the fans, the Canadiens select Nathan Beaulieu, a strong-skating defenseman who will make a great linemate for the young PK Subban.
TSN is comparing him to Jack Johnson of the Los Angeles Kings, showing his versatility as a defenseman.
Another St. John's Sea Dog to go in this first round.
BREAKING NEWS: TSN is announcing that the Washington Capitals have acquired Troy Brouwer from the Chicago Blackhawks in exchange for their 26th overall pick in this year's draft.
This will add some significant forward-grit to a team that needs to improve its defense if they finally want to have some playoff success.
The Buffalo Sabres make the 16th overall pick as we're now into the second-half of this year's first round.
Terry Pegula announces it: Joel Armia.
A great World Junior Championship with Finland has proven this kid has some brilliant hands, and his play with Assat have definitely earned him this selection.
When you're playing such a key role on one of the best teams in Finland at such a young age... there's not much to doubt when it comes to his talent: he's going to be a great player for the Sabres one day.
This article is
What is the duplicate article?
Why is this article offensive?
Where is this article plagiarized from?
Why is this article poorly edited?