2011 NBA Mock Draft: Cavs Getting Desperate as Focus Shifts to Valanciunas?
June 23, 2011
2011 NBA Mock Draft Has Cleveland Considering Jonas Valanciunas with the Fourth Pick
When the Cleveland Cavaliers were awarded the first and fourth picks in the NBA draft, it was supposed to be the rebirth of a wounded franchise and fanbase.
This was a city that was mortally wounded by the exodus of LeBron James to Miami last summer, and getting two top-five selections would be the cure to the basketball malaise that set in last season, as the Cavaliers hit rock bottom multiple times.
We all know that Kyrie Irving is going to be the first pick, but with the fourth, no one has any idea where Cleveland will go.
There have been whispers of dealing the pick, there has been talk of Enes Kanter and now, according to Ric Bucher, it is Jonas Valanciunas, the big man out of Lithuania.
Valanciunas has massive potential, but has buyout issues that will likely prevent him from coming to the NBA next season.
I'm calling a bluff on this one.
With Cleveland in the state that it's in, I have a hard time believing the Cavaliers would take a player who may or may not make an impact—a year from now.
This seems like a smokescreen to lure teams in who thought they had a shot at Valanciunas after his buyout issues crippled his draft stock. Cleveland has been very aggressive over the past year in trying to make moves, and one gave the franchise the top pick tonight.
Valanciunas is a top talent, but right now, with his baggage, he's not a top-five pick. The Cavaliers want to make a deal, and they're trying to lure teams into talks.
I have a hard time believing Cleveland would pass on Kanter for a player who won't see an NBA court until 2012 at the earliest.
With most reports today, you have to take them with a grain of salt. Whatever you do, don't believe the hype on this one.
NBA Mock Draft
Here is my latest mock for the first round of the draft. A lot will happen between now and then, so chances are that this mock will change before the draft.
1. Cleveland Cavaliers—Kyrie Irving
2. Minnesota Timberwolves—Derrick Williams
3. Utah Jazz—Enes Kanter
4. Cleveland Cavaliers—Jonas Valanciunas
5. Toronto Raptors—Brandon Knight
6. Washington Wizards—Jan Vesley
7. Sacramento Kings—Kemba Walker
8. Detroit Pistons—Tristan Thompson
9. Charlotte Bobcats—Marcus Morris
10. Milwaukee Bucks—Alec Burks
11. Golden State Warriors—Klay Thompson
12. Utah Jazz—Jimmer Fredette
13. Phoenix Suns—Kawhi Leonard
14. Houston Rockets—Bismack Biyombo
15. Indiana Pacers—Markieff Morris
16. Philadelphia 76ers—Nikola Vucevic
17. New York Knicks—Imam Shumpert
18. Washington Wizards—Donatas Motiejunas
19. Charlotte Bobcats—Jordan Hamilton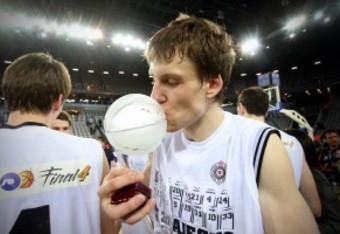 20. Minnesota Timberwolves—Chris Singleton
21. Portland Trail Blazers—Kenneth Faried
22. Denver Nuggets—Marshon Brooks
23. Houston Rockets—Darius Morris
24. Oklahoma City Thunder—Reggie Jackson
25. Boston Celtics—Tobias Harris
26. Dallas Mavericks—Nikola Mirotic
27. New Jersey Nets—Jeremy Tyler
28. Chicago Bulls—Justin Harper
29. San Antonio Spurs—Davis Bertans
30. Chicago Bulls—Tyler Honeycutt

 
For more 2011 NBA draft coverage, stay tuned to Bleacher Report for updated NBA mock drafts, B/R's Big Board of Recruits, NBA draft rumors, NBA draft results and draft grades.