NBA: Derrick Rose and the 25 Best Players 25 or Under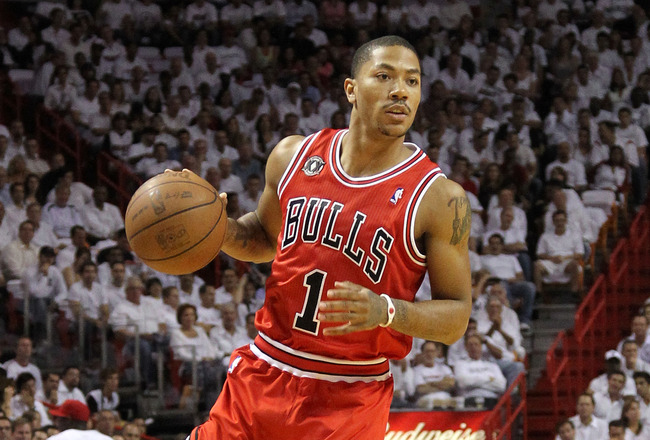 Mike Ehrmann/Getty Images
With another exciting season of NBA basketball in the books, it's time for avid sports fans to look to the future.
There is a lot of young talent in the NBA which gives fans hope there will be excitement in the league for years to come. Some of these players have blossomed into All-Stars, some are leading teams to deep playoff contention and some are waiting for their chance to prove themselves.
Anyway you put it, these players are the future we have to look forward to.
Let's start with No. 25.
25. Andray Blatche, 24, Washington Wizards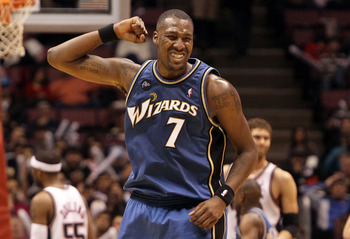 Jim McIsaac/Getty Images
Andray Blatche starts off my list.
While he is not yet a household name, he has improved his scoring and rebounding averages every year since being a pro. He is also part of a promising big-man duo along with JaVale McGee.
It will be interesting to see if he can continue to improve and help this young Wizards team.
24. J.R. Smith, 25, Denver Nuggets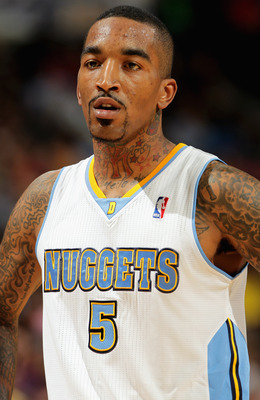 Doug Pensinger/Getty Images
J.R. Smith could be an interesting case.
He is a guy that is great off the bench, but entering this offseason as a free agent, he could easily land on another team with a starting role.
I would like to see what kind of production he could have playing 30 minutes a game. Even if he remains a sixth man, he is still productive with the minutes he gets.
23. JaVale McGee, 23, Washington Wizards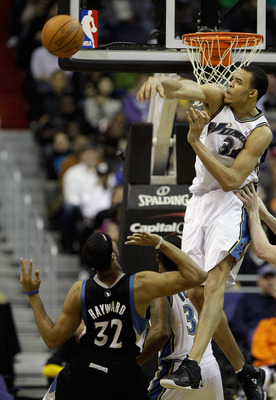 Rob Carr/Getty Images
JaVale McGee makes the list after showing signs of being a productive NBA big man.
He didn't shoot the ball much this year averaging 7.6 shots a game, but he was accurate with the shots he took, hitting 55 percent from the field. His athleticism should find him many scoring opportunities in the future with his ability to be effective around the rim.
Defensively he stays out of foul trouble, has highlight-reel blocks, and has the ability to go for double-digit rebounds every night.
22. Andrea Bargnani, 25, Toronto Raptors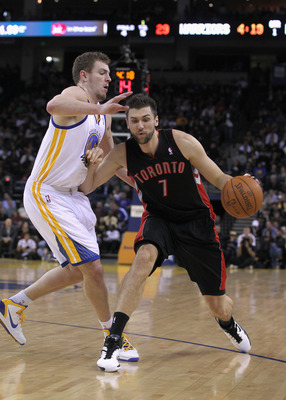 Ezra Shaw/Getty Images
The 7'0" Bargnani finally averaged over 20 points a game last year, while still putting up less than stellar rebounding numbers.
With Chris Bosh gone, the Raptors were not expected to be a playoff team, but it is a bright sign for the city of Toronto to see Bargnani have his best season as a professional.
With Reggie Williams racking up more than 11 rebounds a game, Bargnani can worry about what he does best: score.
21. Michael Beasley, 22, Minnesota Timberwolves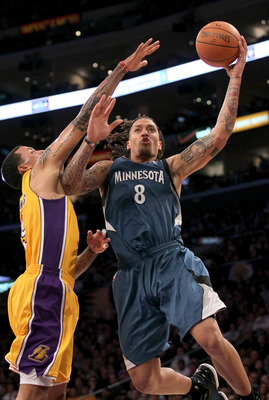 Stephen Dunn/Getty Images
After having his best year as a pro, a trade to Minnesota might have been exactly what Beasley needed.
Limiting his turnovers and working on hitting his jump shot consistently will be major factors if he wants to climb this list. If not, he could end up being just another role player.
With a talented point guard in Ricky Rubio coming to town, Beasley might find better scoring opportunities to improve his game this year.
20. Brandon Jennings, 21, Milwaukee Bucks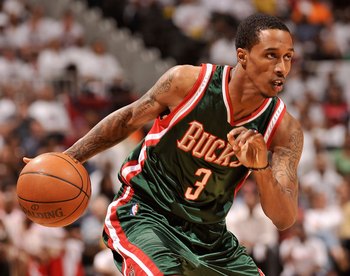 Grant Halverson/Getty Images
Jennings had an impressive rookie campaign in 2010, topping 50 points in a game, and finishing in the top three of Rookie of the Year voting.
Putting a few good scoring options around him could really open up the floor, allowing him to create better shots. Although he shot terribly from the field last year, he could turn out to be one of the elite scorers in the NBA.
19. DeMarcus Cousins, 20, Sacramento Kings
Pool/Getty Images
Cousins showed last year he has a ton of ability, but still has a lot more work to do.
For one, he needs to shoot a better percentage from the field. Maybe that means better shot selection or even work on his finishing touch around the rim, but if he figures this out he will threaten for 20-plus points a night.
Many claim Cousins has maturity issues and on a few occasions that showed. Growing up off the court will help his game quite a bit.
18. Tyreke Evans, 21, Sacramento Kings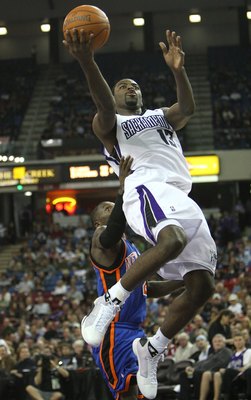 Jed Jacobsohn/Getty Images
Tyreke Evans had a down year compared to his rookie campaign. Injuries didn't help as he missed a portion of the year with foot problems.
Evans, along with fellow Calipari-coached DeMarcus Cousins, is a good start for a franchise in rebuilding mode. He has to learn to make the most out of this team and to use the people around him. Forcing up bad three-point attempts is not the way he will best use his talents.
If he comes back healthy, look for him to get back to quality form and help push this franchise out of the gutter.
17. John Wall, 20, Washington Wizards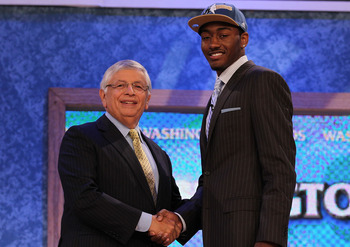 Al Bello/Getty Images
John Wall was picked No. 1-overall in last year's draft for a reason, he has a very high ceiling.
While he put on a promising rookie season he still has improvements to make if he wants to make his Washington Wizards a playoff contender.
He has to work on knocking down his mid-range jumper if he wants to be a true threat in this league. If not he could end up being a one-dimensional point guard.
Also his ball handling need some work. Yes, he finished in the top 10 in assists this year, but averaging nearly four turnovers a game just won't cut it.
Fix those problems and he will have fans doing the John Wall Dance for years to come.
16. Rudy Gay, 24, Memphis Grizzlies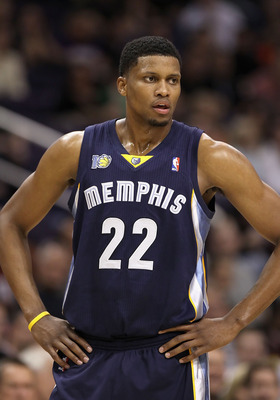 Christian Petersen/Getty Images
Rudy Gay was having a great year in 2011 before being hit with a season-ending injury.
Gay is most effective when attacking the rim and if he can do that effectively, look for him to be a future All-Star.
With the Grizzlies showing a lot of promise without him, behind Zack Randolph's performance, don't be surprised to see Gay being mentioned in a lot of trade scenarios.
15. Eric Gordon, 22, Los Angles Clippers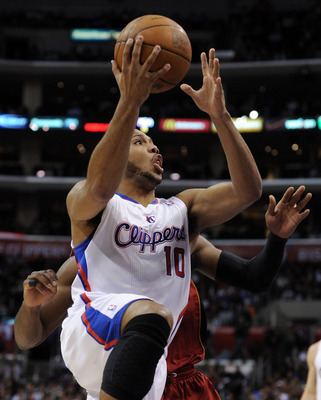 Harry How/Getty Images
Eric Gordon had a breakout season in 2011, averaging 22.3 points a game to form a great young duo with Blake Griffin. Unfortunately for him, he once again had a portion of his season cut short due to injury.
He doesn't rebound or pass well, but as long as he can keep putting up productive scoring numbers he will prove to be a top shooting guard in the league.
Don't be surprised to see him and Griffin lead this team to a playoff spot and possibly score an upset.
14. Andrew Bynum, 23, Los Angeles Lakers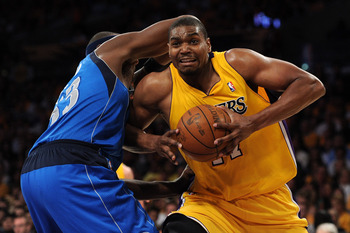 Harry How/Getty Images
Like many people, I am waiting to see if Andrew Bynum can live up to his massive potential. He hasn't played a full season since 06-07 and with injuries piling up, he could see his career falter.
If he doesn't prove to be an asset to the Lakers, he could end up a part of a blockbuster trade.
He would be much higher on the list, but he is up there with Yao Ming and Greg Oden for players who have had careers effected by injuries.
13. Stephen Curry, 23, Golden State Warriors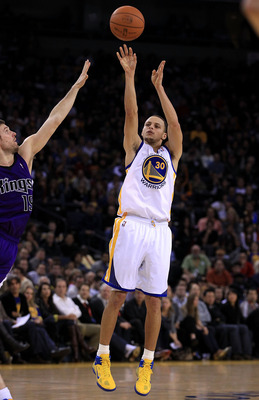 Ezra Shaw/Getty Images
One of the most talented three-point shooters in the game, Curry has shown much promise and has become one of the best point guards in the NBA.
He shows great skills while handling the ball, although I would like to see him get to under three turnovers a game. However, he does fit well in a high-tempo Golden State offense.
With Monta Ellis on the trading block, it's obvious that they want Curry to be the center of this team. With former point guard Mark Jackson at the coaching helm, it should be interesting to see what is in store for the blossoming star.
12. Brook Lopez, 23, New Jersey Nets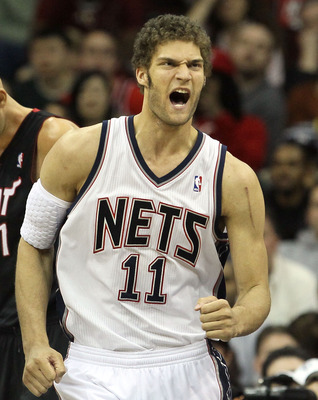 Jim McIsaac/Getty Images
Brook Lopez has become one of the best big men in the NBA.
He pulled down three fewer rebounds per game than he did two years ago, but made up for that by having his best offensive year in his young career. If he puts it all together there is no doubt he will be a regular at the NBA All-Star game.
The biggest thing he has lacked is playing with a great point guard. If Deron Williams does decide to stay in New Jersey, look for this to be a top five center/guard combo in the league.
11. Monta Ellis, 25, Golden State Warriors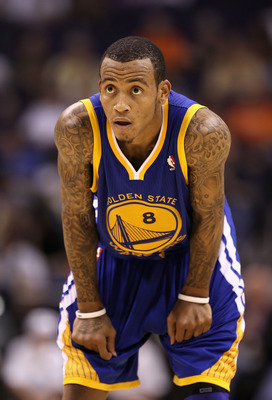 Christian Petersen/Getty Images
A popular name on the trading block, Monta Ellis proved to be a steal for the Warriors after being drafted in the second round in 2005.
He shot well from the field last year at 45 percent and also dishes the ball well at the shooting guard position averaging over five assist per game. His quickness and ability to create scoring opportunities makes him a threat to any defense.
Wherever he does end up, he could once again be a steal for a team looking to get into playoff contention.
10. Al Horford, 25, Atlanta Hawks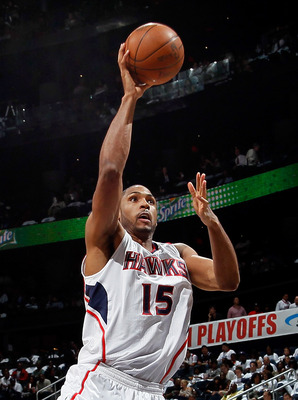 Kevin C. Cox/Getty Images
Al Horford is everything you want in a big man offensively. He shoots well from the field, hits free throws and even had a career high average in assists last year.
He is also an above-average defender as well, averaging over nine rebounds, a block, and .7 steals per game last year.
Behind Dwight Howard, he is right up there in conversation for best center in the league. I also wouldn't be surprised to see him on the trading block if the Hawks decide to rebuild.
9. Kevin Love, 22, Minnesota Timberwolves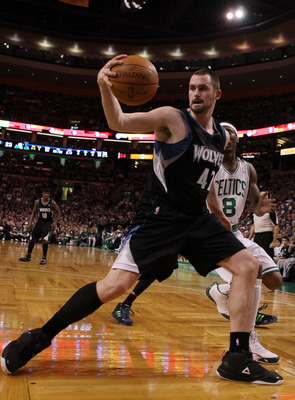 Elsa/Getty Images
The NBA's leading rebounder finds his way onto this list after making his first NBA All-Star-Team.
The NBA's Most Improved Player, Kevin Love, last year racked up a rare 20-15 season for the T'Wolves who finished a terrible 17-65. While he fills up a stat sheet well, he still has a lot of work to do.
If Love can become a better one-on-one defender, there is no reason he can't continue to climb the list of the NBA's best players.
Look for Minnesota to try and dish K-Love while his stock is high. He will produce anywhere he goes.
8. Josh Smith, 25, Atlanta Hawks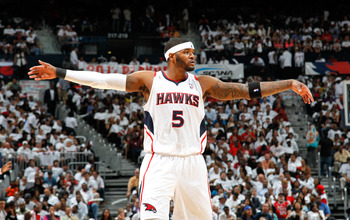 Kevin C. Cox/Getty Images
Josh Smith is a player without a true weakness in his game. He rebounds, scores, blocks shots, and has even improved his three-point shot.
Smith has put on numerous highlight plays, and has been very consistent over the past few years. He isn't a player you would build a team around, but can be one of the best No. 2 options in the game.
His is a name that has recently come up on the trading block, he will fill up a stat sheet anywhere you put him, and could put together some great All-Star years. Could he be the answer to keep Dwight Howard in Orlando?
If so, that would be the best defensive combination in the NBA.
7. LaMarcus Aldridge, 25, Portland Trail Blazers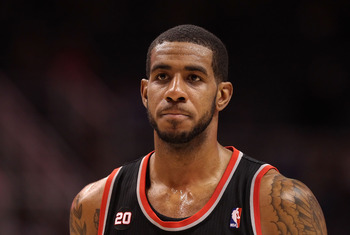 Christian Petersen/Getty Images
In my opinion LaMarcus Aldridge is the most underrated player in the NBA. The Trail Blazers would have been a complete mess if Aldridge did not step up with an All-Star worthy season.
He proved this year he has the ability to be a great leader, leading a beat up Portland team to a competitive series against the eventual champion Dallas Mavericks.
There are two scenarios that could be interesting for Aldridge:
1) How will he play with a healthy Greg Oden on board? (Although you can never count on that happening.)
2) Would the Trail Blazers consider rebuilding around Aldridge, getting rid of the older and injured players?
6. Rajon Rondo, 25, Boston Celtics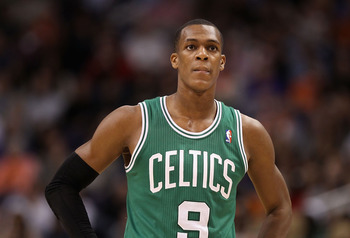 Christian Petersen/Getty Images
Boston's Rajon Rondo has worked with the Big Three to become one of the best point guards in the league.
While not one of the best scorers in the league, the former Kentucky Wildcat has made his mark by landing on the All-Defensive First Team two straight years, along with being top five in assists.
With the Celtics core aging, Rondo is a bright spot in the organization at only 25 years old.
5. Russell Westbrook, 22, Oklahoma City Thunder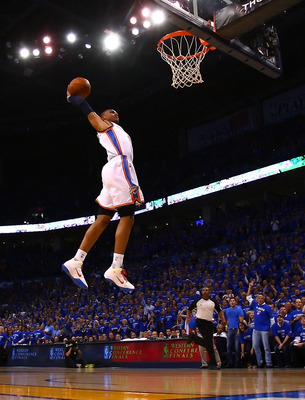 Ronald Martinez/Getty Images
Russell Westbrook and Kevin Durant are the second-best duo in the NBA, and both have All-Star futures.
Westbrook had his shot selection questioned a lot in the Dallas series, but he was still an impressive passer this year averaging over eight assists per game. His ability to get to the rim consistently makes him one of the hardest players in the league to guard, and it shows as he averaged 7.7 free-throw attempts per game last year.
I wouldn't be surprised to see him and Durant split up after a trade, but anywhere he goes he will prove to be one of the bright, young stars in the game.
4. Blake Griffin, 22, Los Angeles Clippers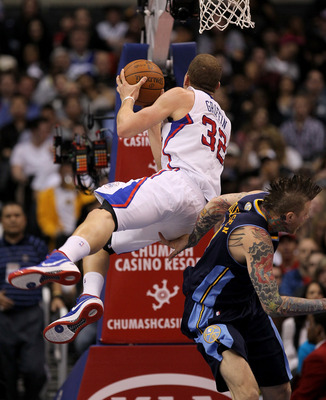 Stephen Dunn/Getty Images
I was so impressed with his performance last year I am making him No. 4 on my list.
The former No. 1 pick made a major impact after coming back from a season-ending injury to win Rookie of the Year.
Not only did he win the ROY, he padded that by winning a Slam Dunk Contest, averaging a double-double and putting on some of the best highlight-reel plays of the year.
While likely to improve, Griffin has the ability to lead a good Clippers core to NBA playoff contention for years to come.
3. Derrick Rose, 22, Chicago Bulls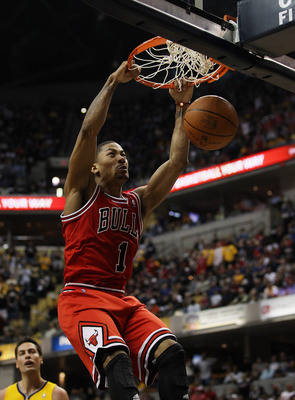 Jonathan Daniel/Getty Images
If you wonder how stacked this list truly is, you have to look at Derrick Rose. While I know I will get a lot of heat over this, I have to put the reigning MVP at No. 3.
It's an honor to win an MVP, but Rose also has the bragging rights as the youngest to win the award ever.
Leading the underdog Bulls throughout the season, Rose helped the Chicago to their first No. 1-overall seed since the Michael Jordan era.
He has improved his mid-range jumper this year, and unless you have LeBron James guarding him 82 games a year, he will continue to carve up defenses.
Crazy thing is, he has yet to reach his full potential. In a few years, he could easily be the best player in the NBA. But for now, he stays here.
2. Kevin Durant, 22, Oklahoma City Thunder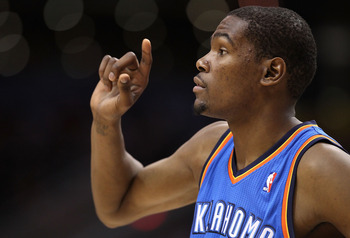 Christian Petersen/Getty Images
No question about it, the best scorer on this list is Kevin Durant.
After finishing the season with his second-straight scoring title, he once again raised his stock in the talks of best player in the NBA. Throw any defense at him he will still find a way to score, and as long as he can continue to put up his numbers he will be an MVP candidate.
His long wingspan helps him create crafty offense, along with grabbing rebounds and being a pain to score against. His skinny frame could be a problem in the future if he can't take hard knocks.
While suffering a disappointing loss in the Western Conference Finals, Durant should come back better than ever in his quest to be among the all-time greats. My guess would be a trip to the NBA Finals.
Out of everyone in the NBA, he has the best potential to be the top player in the league in five years.
1) Dwight Howard, 25, Orlando Magic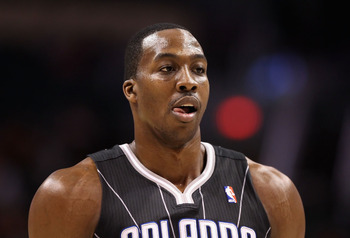 Christian Petersen/Getty Images
three-time defensive player of the year, five-time NBA All-Star and slam dunk champion are just some of the things he has accomplished in his stint so far in the NBA.
The only things he has lacked in his career so far is an NBA championship and an MVP.
While he gets to the line constantly during games, he doesn't have the free-throw shooting ability to make it count for much. Other than that, Dwight Howard is easily the best big man in the NBA.
While the top three on this list are interchangeable, Howard tops my list based on effectiveness, accomplishments and a bright future. You will continue to see him rack up Defensive Player of the Year, along with other awards and possibly even a ring.
I would love to hear some feedback, feel free to leave a comment.
Keep Reading

Chicago Bulls: Like this team?