NBA Trade Speculation: Should Philadelphia 76ers Shop Andre Iguodala to Lakers?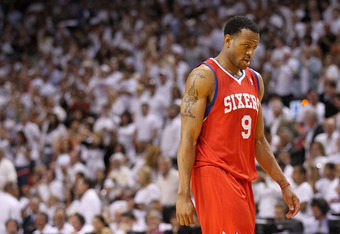 Mike Ehrmann/Getty Images
It's been no secret the Philadelphia 76ers have been shopping Andre Iguodala; Iguodala holds a lucrative contract that the Sixers would rather get rid of, and the Sixers have come to the realization that Iguodala is no franchise player, but a complementary piece.
The Los Angeles Lakers aren't looking for a franchise player; they have their guy in Kobe Bryant. What they need is a younger complementary piece, capable of helping the Lakers return to the NBA finals. Iguodala exactly suits what the Lakers are looking for, which is why the Lakers have offered both Lamar Odom and Ron Artest for Iguodala.
The Lakers need a young complementary piece; the Sixers need to create some cap room for the future. The deal makes absolute sense for both sides.
The Sixers made a costly mistake a few years ago when they offered Andre Iguodala a six-year, $80 million deal. They thought Iguodala was the type of player who could lead them to prominence if supplied with the correct complementary pieces. The Sixers thought of Iguodala as the heir apparent to the original A.I., Allen Iverson.
But the Sixers were woefully wrong, and ended up paying a complementary piece like he was a franchise player. Sure, the Sixers had a few nice playoff runs, but they were never serious contenders, always hovering around the sixth or seventh seed in a weak Eastern Conference.
The Lakers, on the other hand, were flirting with the prospect of a dynasty. They won back to back titles, and had financially positioned themselves to preserve their core.
The Lakers came into the season as favorites for a three-peat, but they suffered a devastating sweep at the Dallas Mavericks' expense, and immediately realized that their current squad may not be good enough anymore.
Both teams came to grim realizations that changes had to be made. This trade may be the move that puts the Lakers back over the top, and the Sixers in position to successfully rebuild.
From the Lakers' perspective, Andre Iguodala is a perfect piece. He's 27 years old, one of the top perimeter defenders in the league and a versatile talent. Iguodala would provide the Lakers with youth and energy. Iguodala could play the point forward position for the Lakers, while also providing them with lockdown defense. Iguodala would provide many of the same skills Lamar Odom and Ron Artest brought to the Lakers.
Of course, newly appointed Lakers head coach Mike Brown isn't planning to scrap the triangle offense and bring in his own defensive system. Iguodala would be a great fit in Brown's system because defense is his primary strength.
Iguodala is coming off a down year in which he played a career low 67 games, while averaging 14 points, his lowest since his second year in the league. Iguodala did, however, become more of a distributor as he put up a career-high six assists per game.
From the Sixers' perspective, they would get two solid veterans in Odom and Artest who would fit in nicely in Doug Collins' system, but more importantly they would rid themselves of Iguodala's hefty contract which still has three more years and $44 million left.
The Sixers would also receive Odom's contract which is set to expire after next season. The Sixers may be forced to take on Artest's contract, but in the end they would've shed more cap room then they had taken on.
From a basketball standpoint, the trade doesn't benefit the Sixers as it does the Lakers, but the Sixers aren't very concerned with contending right, but instead being more competitive and rebuilding in order to eventually contend.
The trade makes perfect sense for both teams. Iguodala is also in play for the Minnesota Timberwolves' No. 2 pick in tonight's draft.
As of now, nothing is imminent regarding a trade, but the Sixers have made it clear that when it comes to an Andre Iguodala trade, it is a matter of when rather than if.
This article is
What is the duplicate article?
Why is this article offensive?
Where is this article plagiarized from?
Why is this article poorly edited?

Philadelphia 76ers: Like this team?