WWE: Drawing Parallels; Why John Morrison Will Be the Next Shawn Michaels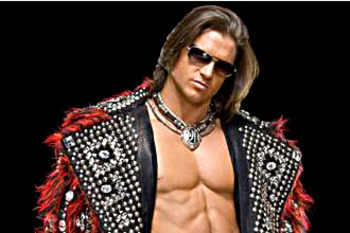 That's a bold statement for me to make isn't it? The point has been made many times before, and I'm sure many a wrestling fan would dispute me on that claim. I have kept up with the profes...I mean "sports entertainment" since I was a kid, and Shawn Michaels has always been my favorite wrestler.
From his Heartbreak Kid gimmick that struck awe in me as a child, to writing this article and thus becoming a full fledged member of the IWC who appreciates talent over muscle, I have compiled concrete evidence as to why the current WWE heartthrob, John Morrison, has everything needed to rise to the immortal level of The Showstopper.
1. Both Men Made It Big as Tag Team Wrestlers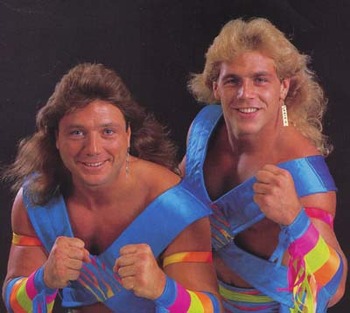 In the 80's into the early 90's Shawn Michaels was in a tag team in the AWA and subsequently the WWF with Marty Jannetty as "The Midnight Rockers" (simply "The Rockers" upon their arrival in the WWF).
Aiming to set themselves apart and not just be "pretty boys with pretty moves" as Jannetty himself put it, they worked extremely hard to prove that they were talented, and with their high flying style of wrestling (which wasn't prevalent back then) they were the tag team on everyone's lips despite never officially winning the tag team titles.
John Morrison (then Johnny Nitro) had success after being called to the main roster from OVW in 2005 with Joey Mercury and his girlfriend Melina as the stable "MNM". They won the tag titles three times, but it was in 2008 that Morrison really picked up steam with The Miz.
Their Slammy Award winning "Dirt Sheet" segment on WWE.com really gave the two the chance to showcase their mic skills as arrogant heels, and they captured tag team gold as well.
2. Both Men Had Shocking Splits from Their Tag Partners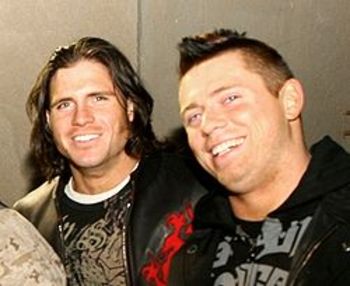 The infamous "Barbershop" segment in which Shawn superkicked his long time partner and friend and threw him through a plate glass window is well documented in the annals of wrestling history.
While the Miz and Morrison's split at the 2009 WWE Draft lottery was not quite as memorable, I still remember not seeing that particular split coming.
3. Both Men Had a Great Deal of Success as the Intercontinental Champion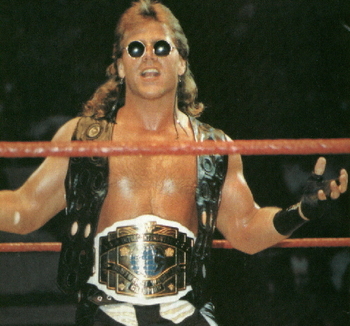 "Shawn's tenure[s] as the Intercontinental Champion were very noteworthy." is a quote from 'Good Ol' JR' Jim Ross commenting about the grandeur of Shawn's runs with, what was back then considered, the "workhorse" title.
Shawn had a slew of great matches with the IC strap around his waist including the first ladder match at a Wrestlemania against Razor Ramon.
Morrison gained his own degree of success with his title runs feuding with the likes of Jeff Hardy and Rey Mysterio.
4. 'Catch as Catch Can' and "The Prince of Parkour"

WUUUUT!?

A lot of us in the IWC have a lot of great memories with The Showstopper's speed, agility and death defying leaps. Two that pop to mind immediately for me at the jump from the ladder at Wrestlemania X, and the jump from the 15 foot high ladder on to Vince McMahon.
The Prince of Parkour has had two similar stand out moments in the last year, those being his leap from the Titantron on to Sheamus on RAW, as well as his parkour acrobatics on display at the Royal Rumble.
Both men have amazing high flying styles that always wow not only the WWE Universe, but even the hard to please crowd that is the IWC.
5. The Heartbreak Kid and the Shaman of Sexy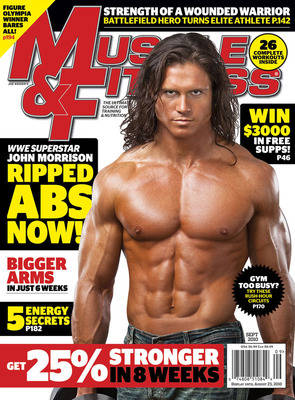 Both men are ruggedly handsome. A bit of eye candy for the ladies.
Morrison's ring attire is reminiscent of Michaels as well, both incorporating a lot of flare and crosses. Not much more to say on it.
6. Neither of Them Are Vince McMahon's "Ideal Guy"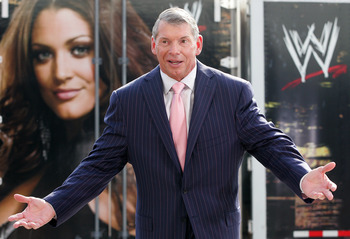 Mark A. Wallenfang/Getty Images
Both men have had to overcome hurdles in the eyes of Vince McMahon who traditionally favors bigger guys a la Hulk Hogan and John Cena.
Shawn had to bite and scratch and claw his way to immortality. Being smaller, he knew that he had to fight that much harder to make it to the top.
Morrison has had his own attitude problems as well, with the incident at Wrestlemania XXXVI, and the backstage drama stemming from Melina.
These incidents apparently lowered his stock in the eyes of Vinnie Mac, but as was the case with the volatile relationship that Michaels and McMahon had in the late 90's, if you are professional and earn the bosses respect, you can certainly go the distance.
Conclusion

Morrison no good on the mic? I think not.

(My apologies for the quality of the clip, it's the only version I could find). In summation, I believe I have shown without a shadow of a doubt that Morrison has everything that he needs to ascend into the annals of wrestling history as one of the greats.
Do I think that this is definite? Time will tell. What I do know is that all the pieces are there.
With the endorsement that JR gave Morrison in that very same match with Edge, and Morrison working on his "lackluster" mic skills (though I think the above clip proves that he has great mic skills. He isn't The Rock by any means, however) I think that it is just that.
Simply a matter of time.
Keep Reading