NFL Free Agency: Why the Houston Texans Should Not Target a Wide Receiver
June 23, 2011
Al Bello/Getty Images
With a new collective bargaining agreement as realistically close as it's been since the lockout began in March, NFL teams will soon turn their full attention to free agency. 
Although it is still unsure how free agency will work for this year as well as subsequent seasons in the new CBA, teams will look to fill their needs no matter what the rules are.
While it is obvious that the Houston Texans still have a lot of those needs on the defensive side of the ball, there has been some speculation that they will pursue a wide receiver to start opposite Andre Johnson and move Kevin Walter to the slot.
While I respect differing opinion, I believe that there is no way that Rick Smith and Gary Kubiak will target a starting caliber receiver in free agency, and furthermore, if they did it would be a monumentally foolish decision.
The thinking for signing a receiver is that Walter has lost a step and the Texans offense needs a legitimate deep threat to take some of the monopolized attention by opposing secondaries off of Johnson. 
It's not that logic that I disagree with, it's the actually signing of a free agent to serve that purpose that I can't get on board with.
Let's be clear about something from the beginning. Starting wide receivers are not cheap in free agency.  Whether you're talking about someone of Santonio Holmes' ability, who I believe is the best free agent receiver this year, or Mike Sims-Walker, who I'm not sure I would count as starter quality, the price tag will be expensive.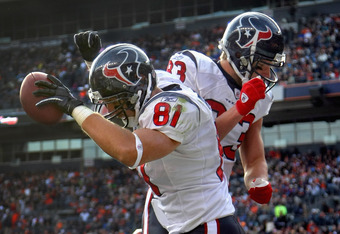 Doug Pensinger/Getty Images
How expensive?  Just look to Walter himself for the answer.  It took a five-year, $21.5 million contract including $11 million guaranteed to keep Walter from being lured away by the Baltimore Ravens in the free agency period prior to last season.
Not only is Walter's contract a great example of how expensive a non-No. 1 receiver can cost in free agency, but it is an obvious reason why the Texans shouldn't entertain signing a starting caliber wide out. 
It would be spending way too much money on an offense that doesn't have that many problems moving the ball or scoring.
The popular defense to this is that it's Bob McNair's money, so why should anyone care?  The reality is that there will be a salary cap once again once a new CBA is in place, and between Walter's contract and the $22 million over four years that was just given to Owen Daniels, there's a lot of money tied up in Matt Schaub's targets already.
All of this is to say that you should agree with the deals handed to Walter and Daniels (I happen to agree with the OD deal which is rare), but the fact is that adding another receiver via free agency would be taking up a lot of cap room for players that don't play defense. 
I'm not sure if you've looked lately, but the defense could use some help.
Even if the defense wasn't in desperate need of help through free agency, spending a decent amount of money for a Walter replacement wouldn't be that practical.  After all, you could make a good case that he is the fourth receiving option behind Andre Johnson, Owen Daniels and Arian Foster.
I was on board with drafting a deep threat receiver, but a mid-round draft pick is an infinitely cheaper option than signing one.  Now that the spending of NFL teams will once again be regulated, using a lot of valuable cap space on anyone that doesn't play safety, corner or nose tackle just isn't smart.
What's your take though, do you want to see the Texans sign a free agent receiver?  Weigh in below in the comments or let me know on twitter (@JakeBRB).