2011 NBA Draft Results: Reaction and Analysis for All the Night's Picks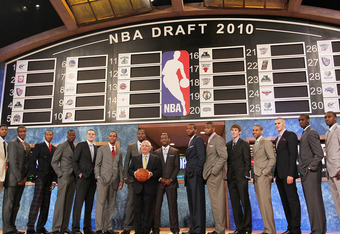 Al Bello/Getty Images
The 2011 NBA Draft is an interesting character study. It can make a team, it can enhance a team and it can also break a team.
For the Cleveland Cavaliers, having two of the first four picks—including the No. 1 overall selection—will certainly make the club and push it further along on the road to playoff contender in the post-LeBron James era.
For others, like the world champion Dallas Mavericks, the Los Angeles Lakers, Miami Heat and the other "haves" in the world of haves and have-nots, a good draft choice can only enhance the talent that's already there.
And for others, the draft can be a deal-breaker. The wrong choice can kill a franchise for years. Witness the brilliant selections made the New York Knicks in the last half-dozen years.
So tonight, Bleacher Report will break down every pick and offer up instant reactions and analysis on every player and every team.
For more 2011 NBA draft coverage, stay tuned to Bleacher Report for updated NBA mock drafts, B/R's Big Board of Recruits, NBA draft rumors, NBA draft results and draft grades.
There are rumors spreading like wildfire right now that the Minnesota Timberwolves are strongly considering passing on Derrick Williams and instead selecting Enes Kanter with the No. 2 pick in Thursday's NBA draft.
If that does indeed happen, the Utah Jazz would be all-but-sure to draft Derrick Williams with the No. 3 pick and slip him right into the starting void likely left when Andrei Kirlenko leaves via free agency.
So if that is the case, what does that mean for Kentucky PG Brandon Knight.
The Cleveland Cavaliers have the No. 4 pick in the draft, but they are going to select Kyrie Irving at No. 1, so they will not have a need for a point guard. Next up would be Toronto, but they already have both Jose Calderon and Jerryd Bayless, two promising, young floor generals.
Washington would be next at No. 6, and obviously they are set with John Wall as their future point guard. The most reasonable option would be that Knight would fall all the way to Sacramento at pick No. 7, which would be a dream come true for the Kings organization.
I don't see this happening. My guess would be that Minnesota goes with Williams and Utah takes Knight at No. 3. If not, look for there to be some type of trade, possibly with Cleveland at No. 4.
Knight is too good of a prospect to fall out of the top-five. That's the bottom line.
For more 2011 NBA Draft coverage, stay tuned to Bleacher Report for updated NBA mock drafts, B/R's Big Board of Recruits, NBA Draft rumors, NBA Draft results and draft grades.

-- Sean Merriman
This article is
What is the duplicate article?
Why is this article offensive?
Where is this article plagiarized from?
Why is this article poorly edited?