2011 NBA Draft Results: Loser- Minnesota Timberwolves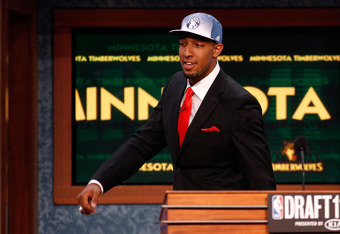 My opinion of the Minnesota Timberwolves' draft is a departure from a few opinions earlier in this chain. I agree with those writers on the evaluation of Derrick Williams' No. 2 selection. He is a fantastic talent with an NBA-ready body and mentality.
However, the rest of David Kahn's draft was nothing short of a dumpster fire in my opinion.
What I can't get past is Kahn's proclivity for drafting players he doesn't need and not drafting players (or positions) that he does need. With a surplus of small/power forwards already, Kahn went with Williams because he couldn't pass him up and not because the team needs him.
He didn't stop there, though. With the 20th pick, the Wolves selected Donatas Motiejunas, a young European forward who won't play in the NBA for a year or two. This sent me through the roof before I heard that Minnesota had traded the pick, along with the gratuitous Jonny Flynn, to Houston for another forward, 23rd pick Nikola Mirotic, Brad Miller's corpse and a future first-rounder that probably won't be in the top 18 picks.
Khan then flipped Mirotic to Chicago for picks that ended up being Norris Cole and Malcolm Lee. They kept Lee, a strong defensive guard from UCLA, and flipped Cole for Miami's 31st pick, Bojan Bogdanovic, and a future second-rounder.
After the ridiculous flurry of trades, the final haul for Minnesota is Williams, Lee, a future first pick, two future second picks and a good amount of cash. They also jettisoned Jonny Flynn via trade, which is one move that I can actually get behind for Minnesota.
What the Wolves really need, a center and legit shooter, they failed to acquire. You'd think with all the trading and pick collecting that Kahn did that he might address his team's needs, but his trades were unfocused and off topic as far as I'm concerned.
Stay tuned to Bleacher Report for all things related to the NBA Draft.
-- Jason Heim
Most recent updates:
This article is
What is the duplicate article?
Why is this article offensive?
Where is this article plagiarized from?
Why is this article poorly edited?