2011 NHL Draft: Draft Order, Interesting Prospects and the Latest Trade Rumors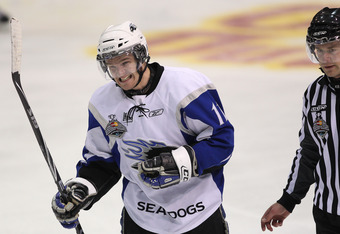 Jonathan Huberdeau
Claus Andersen/Getty Images
The 2011 NHL Draft is only a few short days away, and there is a lot of noise going on concerning several topics of interest.

Such as which team will draft where.

While the first few draft picks have been covered continuously, where are teams such as the Montreal Canadians, Boston Bruins and Detroit Red Wings picking in the first and second rounds? And who might they be aiming to draft?

There are a lot of interesting players throughout the top 50 or 60 players and I'll be taking a look at a few players who will be picked outside of the top five or 10 that could eventually be impact guys. Unlike some of the more recent drafts, there are a lot of options through each pick, and teams will be able to fill pretty specific needs without going too far off of the board.

And of course there are trade rumors swirling as the draft nears. The Columbus Blue Jackets and Philadelphia Flyers have been jamming up the rumor mill for weeks as the Jackets try to move their No. 8 pick for immediate help.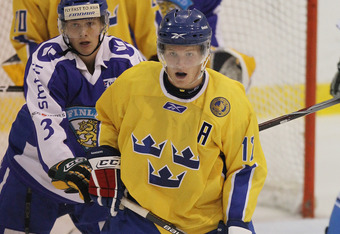 There is rarely a consensus after the first few picks of a draft. The 2011 NHL Draft is no different. While there is still a chance that Edmonton won't pick the highly anticipated Ryan Nugent-Hopkins, he is still the odds on favorite to go first overall.

Picks No. 2 and No. 3 are also near locks, as Colorado and Florida will be guided towards particular picks due to team needs. Gabriel Landeskog will probably end up with the Avs, and Florida will most likely pick up Adam Larsson. Or vice versa. But those two skaters will probably round out the top three.

But not even that is a lock with so many highly skilled options. For a clearer picture of the differing opinions, look no further than the Bleacher Report's own columnists. Here are links to several mock drafts. Check them out, and decide for yourself who you'd like to see your favorite team select when they take the podium.

Jeff Langridge shook things up a bit in his mock draft earlier this week.

Prospect guru Matthew Fairburn flexed his knowledge muscles with his latest mock draft.

Ryan Davenport predicts the draft countdown style.

Trevor Schaump takes a crack at the big board.

Adam Greuel takes a look at who he thinks will go in the top 30.

That should be enough NHL mock drafts to get you through until Friday. But with the draft quickly approaching, trades may be boiling under the surface and surprises are bound to happen. Stick with Bleacher Report for up-to-the-minute, timely draft coverage.
This article is
What is the duplicate article?
Why is this article offensive?
Where is this article plagiarized from?
Why is this article poorly edited?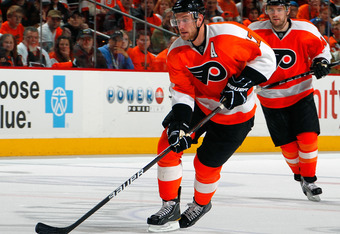 It's no secret that the Columbus Blue Jackets are shopping their No. 8 pick in the draft for more immediate help on their squad. According to Columbus Dispatch writer Aaron Portzline, GM Scott Howson is surprised at some of the players who are on the block heading into the draft.

"I've had a few surprise calls, players who might be available" Howson said.

Addressing the amount of action he and his staff have been dealing with, he said that "there's a lot going on, more than normal. Teams realize we're more open to trading a top-10 pick than we've been in the past for immediate help. That has generated some interest."

That No, 8 pick could very well turn into a player like Sean Couturier, Ryan Strome, or a few other highly skilled prospects that should make an impact at the NHL level at some point. The Jackets have long been tied to Jason Spezza rumors, founded or not, and have recently been linked to Jeff Carter of the Philadelphia Flyers.

Columbus may not have to look to the outside for quick help, however. A fact that Howson and his staff are surely aware of.

The draft contains a small handful of players who are believed to be NHL ready.

While they may not have the experience and be proven in a way the Jackets would like, that still must be considered a viable option. If he is still available the Jackets should seriously consider picking Sean Couturier—a player that was a top-5 guy until he tumbled a bit this season, mostly due to overexposure.

He could immediately step onto the team's second or third line and begin to gain NHL experience. If Ryan Johansen makes the team out of training camp, suddenly the Jackets have a few serviceable, young, talented centers.
This article is
What is the duplicate article?
Why is this article offensive?
Where is this article plagiarized from?
Why is this article poorly edited?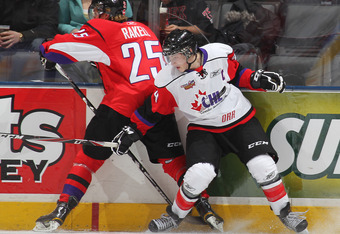 With the NHL 2011 NHL Draft only two days away, it is a great time for hockey fans to brush up on the final Central Scouting Services final rankings for skaters. Need a cheat sheet to keep tabs on who is jumping up on the board, or who your team just picked? Hurting for some video of these young guns?

Well here you go.

The final top 30 North American Skaters according to the CSS.

For more information on each skater, click on his name for video of some kind—most of them with awful, awful, awful music. How many prospect videos can have "Remember the Name" as the tune? Sheesh. (I linked a player profile if I couldn't find any video, but almost all of them are actual footage.)

Also, some of the songs used in the compilation videos has explicit language, and should be muted if that kind of thing offends you. Or you're watching these at work. Which would make you awesome. Internet high five!


This article is
What is the duplicate article?
Why is this article offensive?
Where is this article plagiarized from?
Why is this article poorly edited?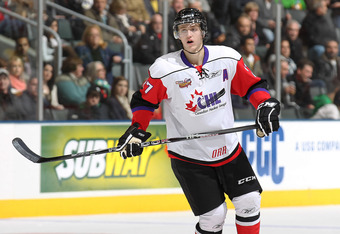 With so much attention being paid to the number of talented forwards available in the 2011 NHL draft, it may be easy to forget about the options for teams looking for help on the blueline.

Adam Larsson is the blue chip defender in this draft, but there are several other players who will draw attention in the first round.

Dougie Hamilton is widely believed to be heading to the Islanders at No. 5, and with good reason. Scouts feel that the 6'4'' defender is NHL ready with his huge slapshot, solid hands and two way hockey sense. Hamilton is a gritty blueliner, and will be a large help soon to whichever team selects him.

Ryan Murphy is a dynamic, talented rearguard that will be off the board within the first ten picks. He is a freakishly good offensive defender, and is a heat seeking missile towards open ice. The only knock on him is his size. Weighing around 165 pounds is undersized in a big way for an NHL defender, and he will need to pack on muscle before entering the NHL.

The US born Connor Murphy could easily slip into the middle of the first round. He had an injury riddled season last year, but made the most of his limited exposure. He impressed scouts with his defensive instincts, and has a good offensive upside. Strong, puck carrying defenders aren't a dime a dozen, and Murphy should be viewed as a valuable prospect moving forward.
This article is
What is the duplicate article?
Why is this article offensive?
Where is this article plagiarized from?
Why is this article poorly edited?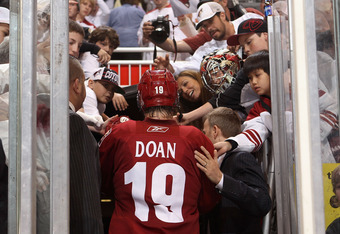 The last time a hockey team in Winnipeg made a first round selection was in 1995. With that pick they selected Shane Doan at No. 7.

Fast forward to the NHL Draft in 2011 and Winnipeg will finally make another first round selection, which as the Hockey God's have fated, is at No. 7 as well. They can only hope they pick a player who is as effective as Doan has been throughout his career with the same organization.

The team has several high quality options to select from, and will probably be a team looking to draft a marketable players as well as a talented one. The team desperately needs a first line center, and may very well look to add one in Minnesota.

If Sean Couturier or Ryan Strome slip just one or two picks they could very well end up in Winnipeg. The odds aren't particularly high, but it isn't a long shot either. There are several attractive blueliners outside of Dougie Hamilton and Adam Larsson that could jump up a few spots, as could a guy like Joel Armia, pushing one of these two down a spot.

Jonathan Huberdeau could be a wonderful addition to the franchise, and projects to be a big game center in the NHL. He will need a year or two to season elsewhere, but when the time comes this kid could be special. If he isn't picked up in the first six selections, Winnipeg will have to be giving Huberdeau a long look.

Another center—more of a power forward type—that could hear his name called by the team is Mika Zibanejad. He's considered one of the most complete players in the draft at this point, and while he doesn't have the same high level skill set as a few of the other players in the top 10, Zibanejad has plenty of sandpaper. A trait that could make him a pretty big hit up North.
This article is
What is the duplicate article?
Why is this article offensive?
Where is this article plagiarized from?
Why is this article poorly edited?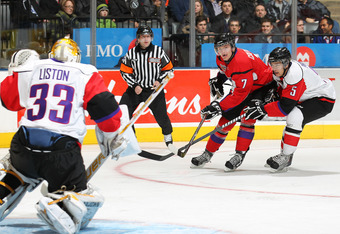 Standing at 6'4'', and already weighing 191 pounds Sean Couturier is already close to NHL size. He's a player who knows how to use his frame to his advantage, and uses it while driving to the cage.

Couturier possess great hands, and plays in every situation. He kills penalties, is effective on the power play and is a very capable on the defensive side of the puck.

A lot of mock drafts have him outside of the top five, but I honestly don't see him making it by the Islanders at No. 5.

Dougie Hamilton is the popular pick, but the Islanders already have several young and promising defensemen in the system. Travis Hamonic, Calvin de Haan, and Ty Wishart all project to be NHL caliber blueliners. While there is a lot to like about Hamilton's game, Couturier should be too good for Garth Snow to pass up.

John Tavares is already a 70 point guy, and is turning out to be the stud pivot that the Islanders were hoping for when they drafted him. Adding Couturier would give them the potential for a brutal one-two punch up the middle that has aided teams like the Red Wings and Penguins to Stanley Cups.

He's also considered to be at or near NHL ready, and the Islanders could suit him up this October. He has nothing left to prove in Juniors, and is a late '92 birthday.
This article is
What is the duplicate article?
Why is this article offensive?
Where is this article plagiarized from?
Why is this article poorly edited?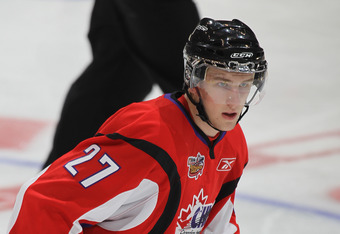 The 2011 NHL Draft presents the Detroit Red Wings a big opportunity to continue stocking their system with talented players. With some of the more important roster players aging to the point of retirement or dwindling effectiveness, the Wings will need to continue to address holes that are two or three years down the road.

While linchpin blueliner Nicklas Lidstrom decided to return earlier this week, allowing those in Hockeytown to take a sigh of relief, he can only play for so long. Brian Rafalski has already retired, and players such as Tomas Holmstrom and Todd Bertuzzi are getting towards that point as well.

Logic says that they'll pick a defender, as their system is lacking a bit after Brendan Smith and Jakub Kindl.

Swedish defenders Jonas Brodin and Oscar Klefbom should still be available at the 24th spot, and could help cement Detroit's blueline in a year or two. They both are missing offensive aspects to their games, but could develop these skills over time.

Joe Morrow would be an outstanding pickup should he slip that far down the board. He's an outstanding skater, and moves the puck well—more or less the opposite of Klefbom and Brodin. Morrow brings the O but is a little weaker on D.

There are a few forward that could entice the Red Wings as well if they have a smaller name pegged as a defender they could bring on board in a later round. Tyler Biggs is the name that jumps out at me the most, as the Wings could definitely use the size and strength on the flanks.
This article is
What is the duplicate article?
Why is this article offensive?
Where is this article plagiarized from?
Why is this article poorly edited?
The 2011 NHL Draft is unique in several regards. One of the most outstanding features of this particular draft is the number of high quality Swedish players that are leading the way out of Europe.

While there are several high risk, high reward Russians that could go in the bottom of the first round, as well as a Finnish player sprinkled throughout, Sweden really carries the banner for those across the pond.

Adam Larsson could very well end up being drafted in the top three, and with good reason. It isn't every draft that a near-can-not-miss cornerstone defensive prospect pops up. That is exactly what Larsson is.

He is the total package blueliner, with great size and ability at both ends of the ice.

While he is the shoo-in top European skater, that doesn't mean there aren't several other eye catching players available. Fellow Swedish defensemen Oscar Klefbom and Jonas Brodin are both steady blueliners that could make teams drafting later on in the first draft very happy.

While Klefbom and Brodin are missing the high end offensive acumen that would push them up the draft board, they are still solid in their own end, and teams looking to add a rock on the backend could go with one of these two players.

Mika Zibanejad should interest several teams, and end up going in the top ten as a power forward playing at center—something that is somewhat of a rarity in the NHL. The guy plays with a lot of passion, and is one of the most complete players available.
This article is
What is the duplicate article?
Why is this article offensive?
Where is this article plagiarized from?
Why is this article poorly edited?
I've noticed that it is kind of a pain to track down the 2011 NHL Draft order, especially outside of the top ten or fifteen picks, and into the second round. A lot of teams have moved their second round picks, and that muddles the matter further.

But search no more.

Here is the complete order for the first two rounds of the draft, and stay tuned for more coverage as the day progresses.

Round One

1. Edmonton Oilers
2. Colorado Avalanche
3. Florida Panthers
4. New Jersey Devils
5. New York Islanders
6. Ottawa Senators
7. Winnipeg Jets (?)
8, Columbus Blue Jackets
9. Boston Bruins (from Toronto)
10. Minnesota Wild
11. Colorado Avalanche (from St. Louis)
12. Carolina Hurricanes
13. Calgary Flames
14. Dallas Stars
15. New York Rangers
16. Buffalo Sabres
17. Montreal Canadians
18. Chicago Blackhawks
19. Edmonton Oilers (from Los Angeles)
20. Phoenix Coyotes
21. Ottawa Senators (from Nashville)
22. Anaheim Ducks
23. Pittsburgh Penguins
24. Detroit Red Wings
25, Toronto Maple Leafs (from Philadelphia)
26. Washington Capitals
27. Tampa Bay Lightning
28. San Jose Sharks
29. Vancouver Canucks
30. Toronto Maple Leafs (from Boston)

Round Two
31. Edmonton Oilers
32. St, Louis Blues (from Colorado)
33. Florida Panthers
34. New York Islanders
35. Ottawa Senators
36. Chicago Blackhawks (from Winnipeg)
37. Columbus Blue Jackets
38. Nashville Predators (from New Jersey)
39. Toronto Maple Leafs
40. Boston Bruins (from Minnesota)
41. St Louis Blues
42. Carolina Hurricanes
43. Chicago Blackhawks (from Calgary, from Toronto)
44. Dallas Stars
45. Calgary Flames (from New York)
46. St. Louis Blues (from Buffalo)
47. Florida Panthers (from Montreal)
48. Ottawa Senators (from Chicago)
49. Los Angeles Kings
50. New York Islanders (from Montreal)
51. Phoenix Coyotes
52. Nashville Predators
53. Anaheim Ducks
54. Pittsburgh Penguins
55. Detroit Red Wings
56. Phoenix Coyotes (from Philadelphia)
57. Calgary Flames (from Washington, from Carolina, from New York Rangers)
58. Tampa Bay Lightning
59. San Jose Sharks
60. Vancouver Canucks
61. Ottawa Senators (from Boston)
This article is
What is the duplicate article?
Why is this article offensive?
Where is this article plagiarized from?
Why is this article poorly edited?